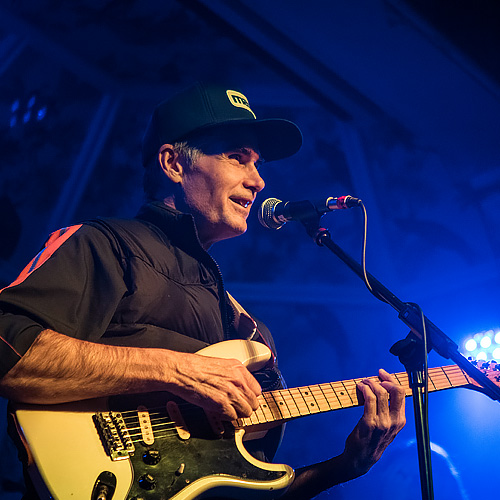 The Deaf Insitute, Manchester, 20 November 2017
Biography
Michael Davis Pratt (born March 10, 1957), known professionally as Jim White, is a southern American singer-songwriter and guitarist.
White's live shows, particularly when touring solo, can be characterized as off-beat, blending his playlist with open discussion with the audience, anecdotal storytelling derived from his own life experiences, all of which is typically humorous and insightful, with a deep sense of his feeling for the broken beauty of humanity. He has stated during shows that ultimately he wishes to return to the academic field, particularly as a professor, rather than continue as a professional, touring musician. Much of this is due to his family life, which he has stated takes priority in his life and is the reason he does not like touring very much. His sister, Katherine Pratt, teaches at Loyola Law School.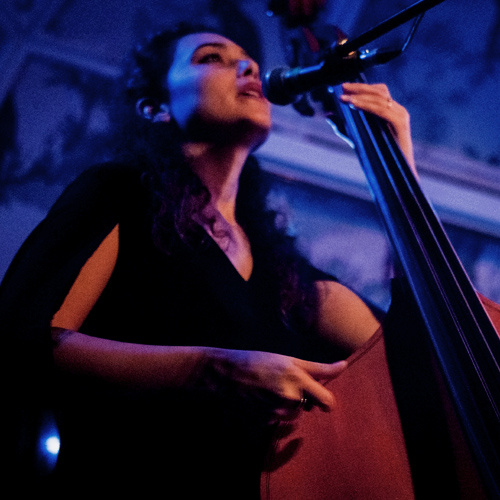 White's band has no fixed lineup, but regularly includes musicians such as Dan Nettles (Electric Guitar); Peter Alvanos, Robby Handley, Steve Bishop Maples (Bass); Rob McMaken (Dulcimer, Acoustic Guitar, Mandolin), Marlon Patton (Drums) and Mark Tulk (Keys).
White's albums often feature collaborations. On WRONG-EYED JESUS, folk singer Victoria Williams sings on the track "Angel-Land"; British electronica trio Morcheeba produced and played on three tracks on NO SUCH PLACE. Aimee Mann, Barenaked Ladies, and jazz guitarist Bill Frisell appear on DRILL A HOLE IN THAT SUBSTRATE and TELL ME WHAT YOU SEE, which was produced by Joe Henry, Tucker Martine, and Jim White himself. In an interview with David Byrne, White describes the making of the album. In 2006, Jim White collaborated with Johnny Dowd and Willie B and formed a group called Hellwood; in 2006, the band toured throughout Europe to promote the album CHAINSAW OF LIFE. His latest 2017 full-length release is WAFFLES TRIANGLES & JESUS.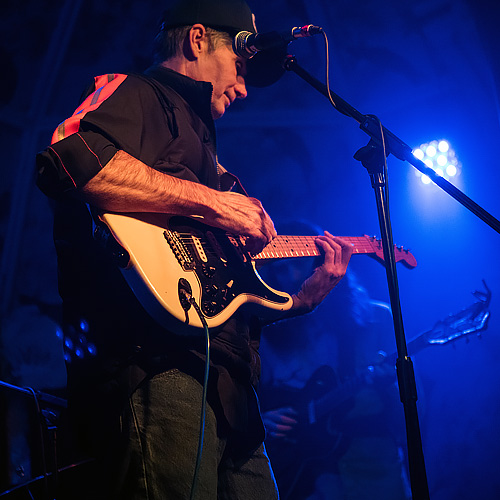 THE SHOW
Back in 1997, in the days when I actually took the Sunday Times Culture Supplement reviews and recommendations seriously, Jim White's THE MYSTERIOUS TALE OF HOW I SHOUTED WRONG-EYED JESUS! received strong acclaim. It was a time when my album collection was beginning to grow again after a break of many years. The album was nothing short of extraordinary and highly distinctive. The album's sleeve notes explain:
The congregation was much impressed with the miracle story and saluted the missionary couple with a shower of amens and praise gods. Then, as the husband commenced to speak in tongues and wail the name of Jesus just as they did in Africa, the wife pulled back a black velvet cloth off a big easel standing up on the stage, revealing a five-foot rendering of Jesus' face that she herself had painted when she was "slain in the spirit." She's given Him these pretty blue eyes, and as the crowd fell in shouting that name along with the couple, alls I could think about was how in creation could she have got Jesus' eyes so wrong. It was the most wrong-eyed Jesus I'd ever seen… The dirt farmer had started to move his hand up my leg, but when I began to shout out those words "Wrong-eyed Jesus!" in that daze I was in, well I guess it startled him somewhat because he stopped what he was doing…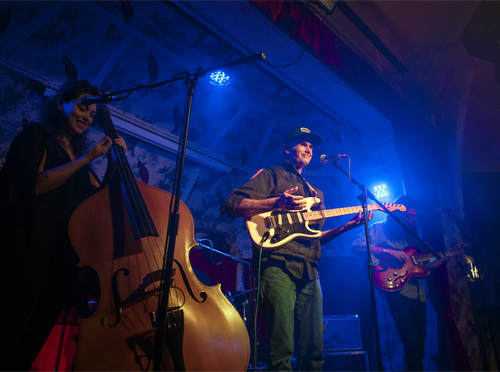 By now, if you have yet to experience Jim White and his music, you must be puzzled and not a little curious - as I was back then. It's taken a few albums and till now to witness the man perform live and where better than the intimate and acoustically blessed Deaf Institute in Manchester. What's happening to Manchester? It's becoming nigh impossible to visit the performance quarter of the city what with recently introduced exclusively bus and cycle main roads, endless road-works, increased parking restrictions and costs together with extensive 30 mph limits on dual carriageways. It's fast becoming a no-go area for people like me. So after much time taken up by finding somewhere to park I eventually make it to the venue just before Jim White and his band mounted the small stage.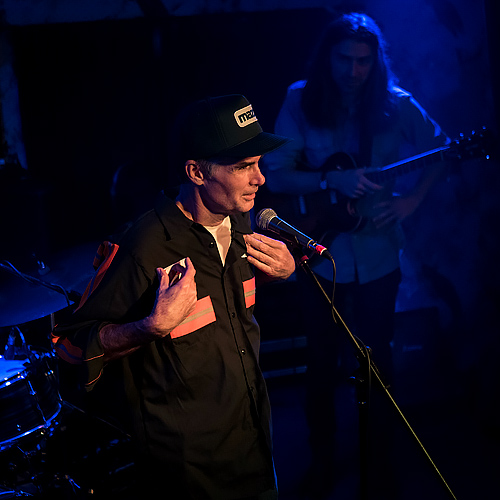 Accompanying White were the band who had played in support and included a drummer, guitarist and tall bass. The band also provided very effective backing vocals during the show. The tall, thin, hatted White looked mischievous as he looked out over the near-capacity audience and then began one of the most endearing shows I've witnessed in 2017.
In recent months I've attended shows following the acts' 2017 album releases but new songs were few and far between. Not so Mr White who came close to playing all the new songs from his excellent and varied WAFFLES TRIANGLES & JESUS album. Every song was accompanied by a humorous story such as the one which accompanied 'Reason To cry' about the Pentecostal church he attended for many years as a young man. The preacher used to break out in tongues which White could not understand. White's voice is smooth with a strong Southern drawl demonstrated so well on the upbeat and ultra-light bluegrass 'Playing Guitars' which is a song that I (annoyingly) can't get out of my head.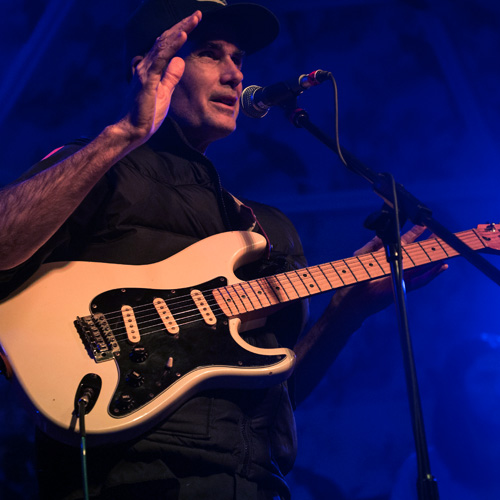 Early in the show he took off his jacket to show us his T-shirt (and hat) which he was going to auction at the end of the show for Doctors Without Borders. There were a few historic tracks such as the gentle and beautiful 'Corvair' from 2001's NO SUCH PLACE. From the same album came the darker and highly rhythmic 'Ghost Town'. Finally White closed a wonderful set with two solo performances including a superb new song 'Sweet Bird Of Mystery' which along with the new album's enigmatic and haunting opening track 'Drift Away' were my best musical moments. Jim White is a natural musician, storyteller and fine human being. This made the night very special indeed. In this very troubled world, we need a Jim White.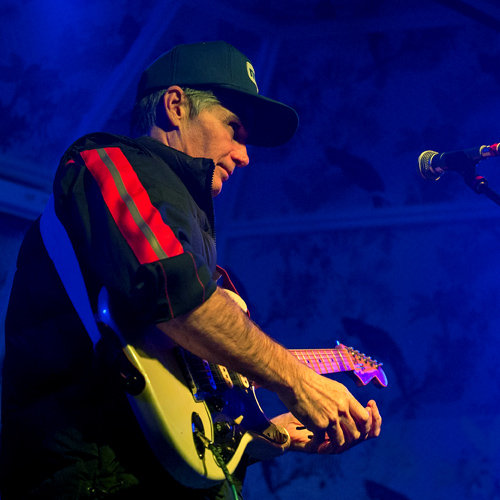 SETLIST
Playing Guitars*
Plywood Superman (2002 A FUNNY LITTLE CROSS TO BEAR)
Reason to Cry*
Drift Away*
Corvair 2001 NO SUCH PLACE)
Far Beyond the Spoken World*
Ghost Town of My Brain (2001 NO SUCH PLACE)
Silver Threads*
ET Bass At Last Finds the Woman of His Dreams*
A Man Loves His Wife (2006 Hellwood CHAINSAW OF LIFE)
Here I Am*
Static on the Radio (2013 DRILL A HOLE IN THAT SUBSTRATE)
Jailbird (2002 A FUNNY LITTLE CROSS TO BEAR)
House of the Unknown
Sweet Bird of Mystery*
* 2017 WAFFLES TRIANGLES & JESUS Album
More Show Images Here: http://www.shakenstir.co.uk/index.php/gallery/?album=3471&gallery=1999