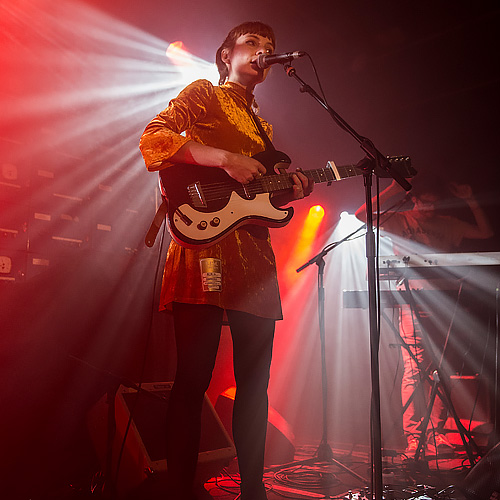 Gorilla Manchester, 21 February 2018
Over recent years, French female avant-garde singer-songwriters have begun to raise the interest of UK music journalists and the public, even to the extent of appreciating French language songs. Now this is rare over here but having reviewed albums and live shows including the fabulous Christine And The Queens - one of the best live shows I've witnessed in many years. While Christine exhibited strong pop sensibility in her music, Halo Maud has taken a heavier and darker rock route thereby offering an interesting alternative to France's traditionally strong pop diet.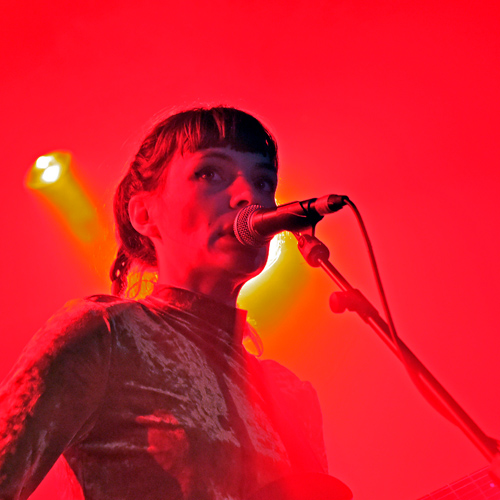 So while Halo Maud is only the support act tonight it is her performance which is my primary focus tonight. With four instrumentalists (including bass and rhythm guitarists, drummer, and keyboardist) Halo Maud chimed in with her own guitar and very well indeed. Now while Dury's show was a massive sellout it was disappointing to witness yet another (very interesting) support act with a fraction of the potential audience. But those that bothered were rewarded with a passionate and excoting short set of songs from Maud's first EP (with her debut full-length release coming in May 2018). So for us all this was an introduction to that album…
With a mix of French and English language songs this tall and attractive performer and her band proved to be something special. Maud's voice is distinctive and expressive, the songs included tangible melodies and rhythmic power and while not exactly radio-friendly (in a market dominated by Radio 1's playlist mediocrity) Maud's sincere and enthusiastic audience response indicates a promising future supported by music fans who value quality and adventure.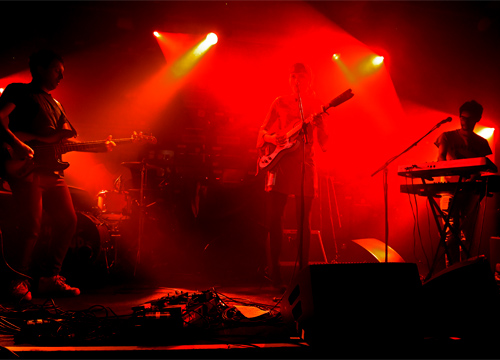 SETLIST
A La Fin
Du Pouvoir
Wherever
Baptism
Tu Sai Comme Je Suis
Des Bras
Halo Maud Background
Halo Maud was revealed to the public in 2015 by La Souterraine, a collective determined to uncover and promote French talent. Her high-brow pop, which she sees as a kind of lab in which she examines the passage of time, has already garnered the attention of French newspapers Libération, Le Monde and Les Inrocks magazine, and led her to perform with her band at La Route du Rock in August 2016, a highly influential and renowned festival in Britanny.
If the forest and boulders among which she grew up have left a mark on her inner world, it manifests itself first through her obsession with time, which "never passes at the right speed", and her marked inclination for the weightless melodies that guide her writing. Halo Maud is constantly searching, for a sound, her voice, and the meaning of just about everything. That's probably why she refuses to choose between French and English, between song structures and epic trances, between reverb-drenched vocals and intimately close breathing. She assembles and cuts up undulating guitars, percussion, and the voices of children, the elements over which she lets her voice scale vertiginous heights.
Her lyrics are also often about searching for something, and a certain idea of solitude; whether it's a matter of self-confidence, rites of passage, or loves that have come and gone, it's always somewhere between waiting and running away. Because of an unfortunate tendency to want everything, she's always attempting to be both precise and vague, to reconcile convoluted harmonies and spontaneity.
Her first EP Du Douvoir was released on March 24, 2017, on Michel Records. The 3 tracks on the EP are the product of solo experiments alongside collaborations with Maxime Le Guil (Camille, Radiohead, Soko) and   more recently, with Robin Leduc.

Tour 2018 Supporting Baxter Dury
Tuesday 27th February - Les Docks, Lausanne, Switzerland*
Thursday 1st March - Epicerie Moderne, Feyzin, France*
Friday 2nd March - Krakatoa, Bordeaux, France*
Saturday 3rd March - Atabal, Biarritz, France*
Monday 5th March - Stereolux, Nantes, France*
Tuesday 6th March - Aeronef, Lille, France*
Wednesday 7th March-  La Cartonnerie, Reims, France*
Thursday 8th March - Botanique, Brussels, Belgium*
* supporting Baxter Dury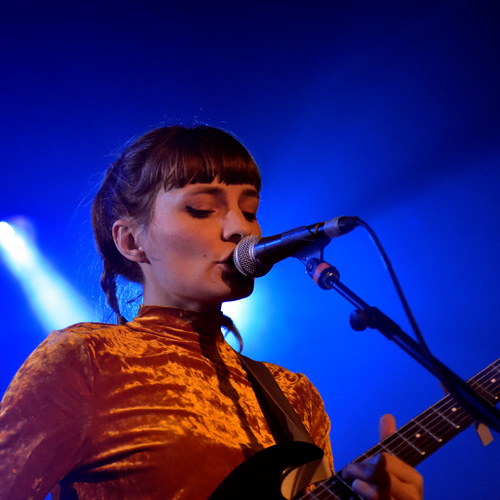 https://www.facebook.com/allomaud/
https://twitter.com/HALOMAUD
https://www.instagram.com/halomaud/