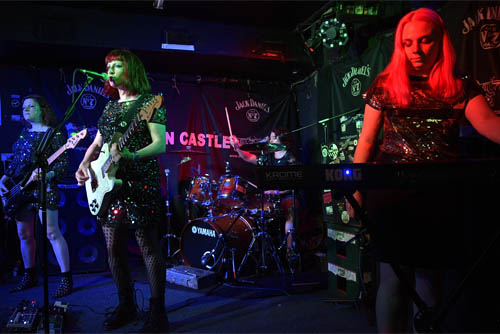 https://www.bugeyeband.co.uk/the-band#!
Band Members
Angela Martin (lead vocals, guitar)
Paula Snow (bass)
Kerrie Smith (drums)
Grace Healy (keyboard)
Angela Martin first picked up a guitar when she was 15 and hasn't looked back since, from playing gigs at Wembley to having her music featured in film and children's TV in Japan, she reformed Bugeye back in 2015 with original members from her college days. Originally hailing from East London, where she grew up believing that Sandy Shaw and her mother were one and the same person, Angela currently resides in Croydon – the original home of punk – and when not fronting Bugeye can be found sharing the best parts of her hometown in her blog the Croydonist.
Paula Snow's love of the bass came from watching Darcy Wretzky and Kim Deal play. Entirely self taught she has been in Bugeye since it was first formed through chance meetings at a sixth form college in Leyton. Her love of music started young when Sergeant Pepper was a regular sound at parties in her nan's dining room. In fact her obsession with the cover led her to study art and go on to create her own clothing designs, selling in boutiques in North London. Paula has since migrated to South London's Crystal Palace. She has the most amazing sleep abilities and can sleep standing up – literally!
Kerrie Smith started playing drums at age 11 and her life  has revolved around music ever since. She studied music at university and  has lived, taught and performed across 3 continents since then. After spending 2 years teaching and touring in India and 2 years working and performing in Montreal, she moved to London and joined Bugeye in 2018. When she  is not laying down the beat for Bugeye you will find her turning kids into rockstars at Rocksteady Music Schools.
Grace Healy started learning the piano at 7 years old, and began playing keyboard in punk bands at the age of 18. Her first pop-punk band were briefly signed, and toured the UK playing some well known venues such as Wembley Arena. Her frustration with the lack of female role models in music led her to pursue a PhD in German punk heroine Nina Hagen, exploring philosophy, gender and sexuality. She now lives and teaches music in Peckham.
The Dublin Castle is an iconic Camden venue which I had to visit regardless who was playing there during an available time slot. So off I walked and on the way had my first taste of Five Guys chips which were the best I have tasted - ever! The Castle is a really busy pub with a small stage enclosed in a corner of the venue and I sensed that the female quartet about to perform were familiar players in this part of London. As they waited anxiously for their keyboard player, who was apparently preoccupied in the loo, I could sense the anticipation of fans squeeezed up tight against the stage. When the pinked-haired Healy arrived the band struck up to perform pop tinged punk rock with an enthusiasm that was infectious. These mature ladies sounded much better than I expected and were as tight as a duck's backside. Songs were good, instrumentals more than competent but what impressed me most was their obvious love of music and cohesiveness.
Setlist
Never Let You Go, I'll Sleep Alone, Sweet Indiscretions, Disco Dancer, Is This Love, Play.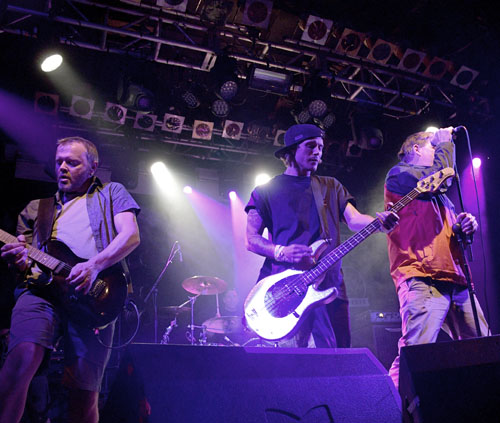 http://www.acommunication.co.uk/
Band Members
Jason Perry (lead vocals)
Mark Chapman (guitar)
Adam Perry (drums)
Giles Perry (keyboards, backing vocals)
Dougie Poynter (bass, backing vocals)
A are a British alternative rock band from Suffolk, England, which formed in 1993. They have released four albums and two live mini-albums, and had a top ten hit with "Nothing" in 2002.
The band began in Suffolk in the early 90s as 'Grand Designs', named after the song by Rush. The founder members were twins Jason and Adam Perry and their friend Mark Chapman, with bassist Stevie Swindon and the twins' younger brother Giles Perry. They cited Rush, the Beach Boys, Van Halen and the Beastie Boys among their influences.
After changing their name to A in 1993, and abandoning their early progressive rock-inspired sound for a more punk rock style, they signed a European recording contract with Warner Bros. Records UK in 1996 and released their debut LP How Ace Are Buildings in 1997. Also in 1997, the band briefly appeared in the music video for "Anthem" by the Wildhearts. A found a healthy underground reception and even had a couple of low-charting singles in the UK.
Shortly after releasing their fourth album, Teen Dance Ordinance in 2005, the band briefly split. In 2007 A reunited for a one-off gig, and have been touring sporadically ever since, most recently playing Download Festival 2018 on the Avalanche Stage. They have yet to release an album since 2005.
Back in 1999 I attended an A gig in Leeds and interviewed Jason Perry in his van. The gig at The Cockpit was amazing encouraged by a brilliant album and truckloads of media coverage. As I walked back to The Ballroom for the band's show I stopped for yet anotehr fresh orange juice from the adjacent stall whose principle I was now on first name terms… The venue was packed with a  very mixed age audience majoring on older rockers (including me!). And what a show Perry and co gave us. Perry had lost little of his leadman prowess with strong vocals, animated style and ability to connect with his audience (often with political comments which the crowd loved). I couldn't stay long as I had to return to home base to ready myself for my 200 mile journey to Chester. I could not have picked a better gig to close my festival experience and hope that I'm invited back next year. This was a great festival which provided moments I will never forget.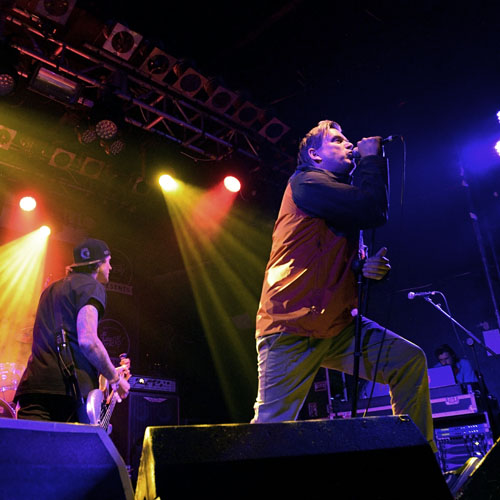 Setlist
Took It Away, Monkey Kong, Something's Going On, Starbucks, Old Folks, Going Down, I Love Lake Tahoe, The Distance, Foghorn, Nothing.