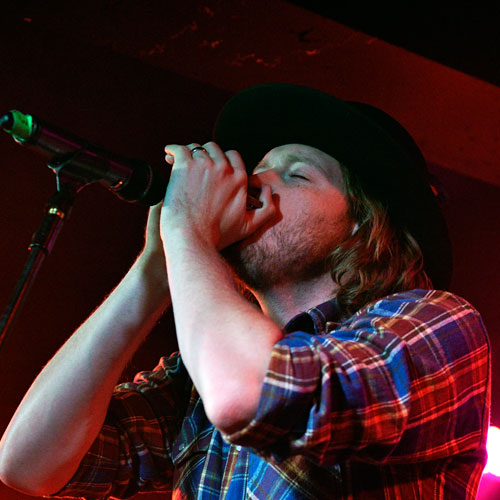 Club Academy Manchester, 1 December 2016
The Band Members
Michael Hobby – Lead Vocal
Bill Satcher – Lead Guitar
Zach Brown – Guitar and Vocal
Graham Deloach – Bass and Vocal
"I first heard "Smoke" (A Thousand Horses debut single) on US country radio earlier this year, I loved it and immediately hit the Shazam button to find out more. It seems I was not alone and over the course of a couple of months "Smoke" steadily climbed the country airplay charts to hit the Number 1 slot just prior to the release of Southernality. No mean feat when you consider that Zac Brown Band were the last country band to do it with "Chicken Fried" in 2008"
This was to be my introduction to this relatively unknown new Nashville, USA band and their music. However, word seems to have got out about this band and its debut album…Manchester University's Club Academy venue was packed and on a very cold Manchester winter's evening, the venue was humid and hot like a Summer's Nashville night.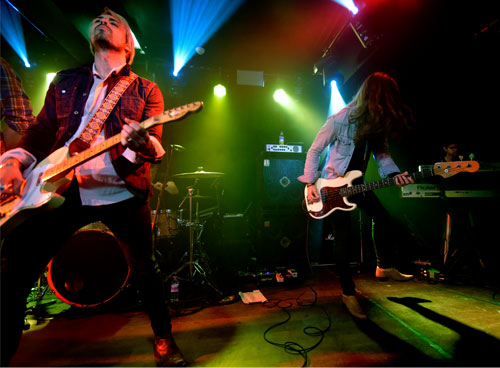 As the band mounted the stage I noticed that there were a few 'extra' players on board made up of a couple of extra musicians and two female backing singers. A brief welcome from leadman Michael Hobby and off they flew with a humdinger of an intro called 'Blaze Of Something'. This doesn't appear on the bands latest album and is either penned for the next album or a historic and much loved remnant. Be that as it may I was left in no doubt as to the country rock nature of the band's music and the crowd reaction was instantaneous.
Then came the first new song in 'Travelin' Man' full of Southern Rock bravado with relentless and heavy waves of drums and guitar backed by a class vocal and backing harmonies. Hell, there's even a tangible melody and a develish guitar solo to hold this muther together. More loud cheers and the band seems a little surprised by the warm reception from this very mixed aged crowd.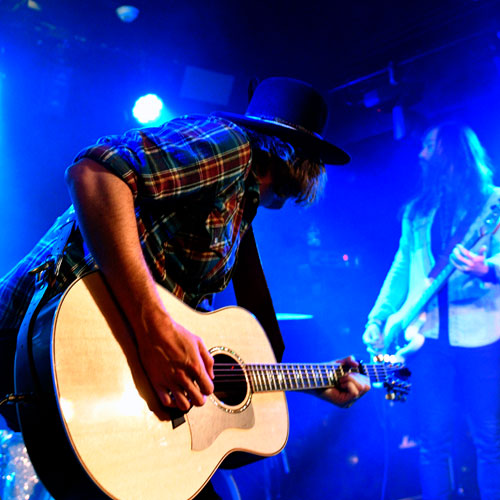 Then another newie called 'Heaven Is Close' but this time slower, more emo and a prime example on how Hobby's gruff vocal can deliver any mood or pace. It's a cowboy rock beauty made even more special with pedal steel and female backing vocals making making their musical mark! '(This Ain't No) Drunk Dial' is also somewhat toned down but feels like a hook laden radio belter in the making.
Unusually, the band opted for an acoustic set of seven more songs which garbered even more audience acclaim. Included were  more great songs from the new album including the beautiful and heartbreaking 'Back To Me' and bittersweet tale in 'Landslide'.
An encore was demanded and delivered in spades with the Stateside country rock hit 'Smoke' and rollicking ditty 'First Time'. A Thousand Horses completed one of the best sets seen and heard by me in 2016. There was more enthusiasm, love of music and skill than you could poke a stick at, and I've got to hand it to those Manchester fans who have picked a rather special winner.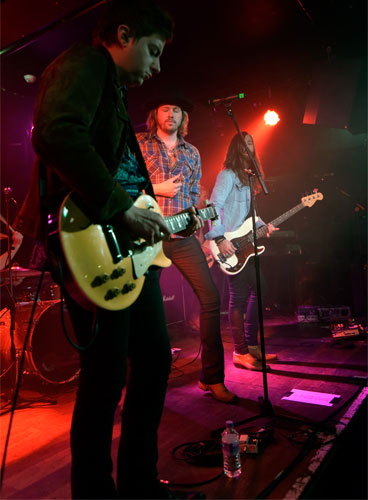 Setlist
Blaze Of Something
Travelin' Man
Heaven Is Close
(This Ain't No) Drunk Dial
Trailer Thrashed
Tennessee Whiskey
Preachin' To The Choir
Feelin' Alright
Acoustic Set
Just For Tonight
Back To Me
Hard To Handle
Sunday Morning
Bridges
Landslide
Southernality
Encore
Smoke
First Time