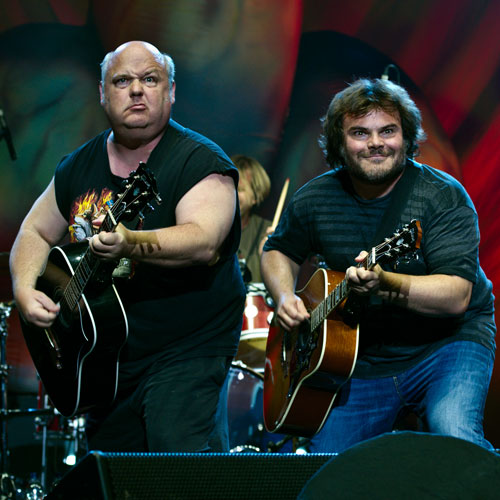 Tenacious D Interview: By Jenn Nimmo-Smith of Chuffmedia: May 2012
Columbia Records announced the release of Tenacious D's widely-anticipated Rize of the Fenix, the band's first studio album in over six years. Rize of the Fenix is the third album from the group and is the follow-up to 2006's gold The Pick of Destiny and 2001's platinum debut album Tenacious D.
You haven't released any songs since 2006, what brought the group out of it's hiatus?
K. Well, I guess…Love of the game? Yeah I'm gonna go with love of the game
J. Yeah, I'm gonna go with love of the game. Though it should be a multiple choice, you should give us all of the possible reasons as to why we came out of hiatus and then we choose one!
J. OK, let's go with love of the game.
What has Tenacious D been up to in this time?
J. What have we been up to since the last time? Well we've been working on our meditation, a lot of meditation. There's been a lot of time spent in the Himalayas. There's been a lot of exercise and diet. There's been a lot of nose to the grindstone. That's right, I've been nose to the ground stoned! We put out a DVD, about three years ago.
K. That's true. The Complete Master Works 2.
J. This time even more completer! We've been working very hard to complete a masterpiece, you know. But what else have you been up to?
K. I've made babies since last time.
J. I've been making babies too, but I just can't find them.
K. Did you lose them?
J. I don't know where they are. Maybe we'll find them somewhere on the road!
So can you tell use a little bit about the inspiration behind the songs on this album, and a bit about your songwriting process?
J. Well my inspiration was really just my children. It's kind of like when Creed found out about his baby and he wrote all those songs about it –  like 'With Arms Wide Open'. This is kinda my Arms Wide Open album. Would you agree?
K. I don't know, that's the first I've heard!
J I guess the inspiration was the haters, the non-believers, they inspired us to fight much harder. I mean, it's definitely our comeback album. We've been gone for years. What was the inspiration K, besides fighting off the haters and the critics?
K. Well every song has it's own story really. I mean, 'Low Hangin' Fruit' was inspired by sexy, you know, sex. 'Senorita' was inspired by sex. Okay so I guess there's a lot of sex in there.
J. The cover of the album is really a big raging boner. I guess the inspiration was orgasms. We should put orgasms on the special thanks list, I don't know why we didn't really.
K. Not until we get more, more and better ones.
J. I don't need more, I have all the orgasms I need.
K Really?
J. Well, if you have more orgasms then they're not as good, you know that. You've gotta spread them out. If you're gonna want an orgasm every night, it lessens their explosivity. You've got to hold off sometimes, just to have a bigger blow-out.
How are you hoping the critics will receive the new album?
K. I hope they rave about it. I'm gonna read every single review.
J. I hope that they speak the truth, my only fear is that they'll speak what they think they're supposed to think. They're gonna say what they're supposed to say oh these guys are just clowns right? We don't take these guys seriously, right?'. That kind of bullshit. It's lazy. I'm open up to critics who will really listen to it and say what they really think, as I honestly think it's the greatest album in the last seven years. And you say 'why seven Jack, why not just one year?' Well seven's just the number that came into my brain.
Have you received any feedback, have you read any reviews yet?
J. Everyone who's heard it so far has creamed, they've creamed upon it. The songs are better than orgasms, it's been proven scientifically. They've wired people brains and when they listen to the album their pleasure cylinders fire on all cylinders. K, can I get your back up on this?
K. I've read every review so far and they've varied about 90% positive. There was a bad one.
J. Who fucking dared?!
K I can't remember who it was! It said the big comeback falls short.
J. What a dick! Well my mum likes it a lot.
K. That guys either a lier or has the worst taste.
J. You know what I wanna to, I want to go back into the archives and see who he likes. Maybe, 'Well Linkin Park's new album, that's an album I can really get behind! That's an album I can really sing and dance to!'. That fucking asshole can just chew on it all day long. And when I say 'it' I mean my shit.
What's it like making music together again and being back together as a group? Is it the same dynamic or has it changed?
J. You know, it's bettter than ever, really. The older I get the more I appreciate the comradiory and the creative buzz that we get – it's been a pleasure. I love to rock. How do you spell that?
K. ROQUE?
J. I do love to roque. Roque and roll!