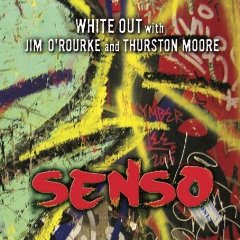 WHITE OUT
with Jim O'Rourke and Thurston Moore
'SENSO' 2xCD
Ecstatic Peace records + tapes
26th October 2009
BACKGROUND
WHITE OUT are indeed 'white' and, in transcendence of such inherent nothingness, most definitely 'out'. Lin Culbertson and Tom Surgal met in the still wild mania of 1986 New York City in front of CBGB during a Big Black show (Steve Albini's notorious Chicago trio of miscreant salutation). They were introduced by ex-Sonic Youth drummer Richard Edson and, after discovering mutual fascinations with the avant-garde marginalia of No Wave, Free Jazz, Noise Rock etc., began to play music in a secret location on the Upper East Side of Manhattan. Surgal had been playing drums his entire life informed by the majestic energy of Elvin Jones, as well as the primal insolence of Bradley Field (of Teenage Jesus & The Jerks 'fame'). Lin had come out of modern 20th XX composition studies in Madison, Wisconsin. By the mid-90s White Out had become one of the more interesting and increasingly stunning lights on a downtown scene that had grown a keen and critical eye on contemporary moves in improvised music. (Early on in this scheme, Thurston Moore had introduced Tom to No Wave guitar legend Rudolph Grey and the two men re-established Mr. Grey's incendiary Blue Humans project, incorporating Thurston on intermittent second guitar, alongside a young Alan Licht.)
Ecstatic Peace released the first White Out CD RED SHIFT in 1995, and in 2001 released DRUNKEN LITTLE MASS, an amazing recording with acclaimed multi-instrumentalist and music theoretician (and, at the time, Sonic Youth member/secret weapon) Jim O'Rourke. The UK based ATP (All Tomorrows Parties) label released the CHINA IS NEAR CD in 2005, also with O'Rourke and employing the wizardry of William Winant, an acclaimed percussionist who has worked with John Cage, Iannis Xenakis, and Cecil Taylor as well as being involved in an infamous trio with Surgal and Moore, which rears its head when the demons beckon.
SENSO is a live recording from two shows at the heralded and, sadly shut, Tonic club in NYC December 18, 2004. It was a lovely evening when O'Rourke and Moore, both of whom had played with White Out, but never together, would set the controls for the heart of the universe. Each set was its own distinct drama and captured the four players in a unified mind meld bringing the audience with them on a spirit-high journey.
THE MAIN EVENT
CD1 Fear Of Fear (Of Fear)
Okay, time to put away childish things (Lily Allen, Flo and the like), turn down the lights, light the candles, (in the cold of winter when this album will be available) stoke up that fire, light that joint specially reserved for such an occasion, and crack open a bottle of Jack Daniels - you're going to need it! Oh, and forget the sex - it just ain't gonna happen, not tonight anyway. Both CDs feature Jim O'Rourke on synth, Thurston Moore on guitar, Tom Surgal on drums and other noise-makers, and Lin Culbertson on synth and autoharp. This is a live performance and, as its title implies, interprets 'fear' and 'fear of fear' musically. Now if this was a jazz ensemble there would probably be a central thematic musical structure that facilitated improvisation within it. The impression gained here is that if there was a musical foundation it was rather loose, with the players perhaps taking a pointer from one of the other players or perhaps not. It is a discomforting 40 minute performance with an interesting open percussive ramble that holds promise; it's relatively clean and decipherable. As the piece progresses a little further it adds a variety of other instruments with drums still playing a rhythmic, highly intuitive role. In fact the latter is the most satisfying aspect to a work that becomes chaotic and devoid of any human emotion. It is overlong and for me loses direction and focus, save for the few terrified vocal flashes that punctuate the piece. Fear is a more tangible and solid emotion, even if it is often hidden under the surface, and may not be recognised as such.
Here we have chaos leading to fear, but to me, not fear itself. For example I could interpret this as a warning of climatic wipe-out, threatening life as we know it. So while an extraordinary and epic piece of improvised music, I feel that it describes impending disaster more accurately than fear, and therefore does not meet the premise of its title. I also believe it does not work at best as music alone. Around 6 years ago I attended a Boxhead Ensemble performance in Manchester where each improvised segment of music revolved around a massive matching projected video behind the semi-circle of players. It was one of the most moving performances I have witnessed and covered a host of emotions and events. This made sense, and worked.
CD2 The Eyes The Mouth
This, however, does work and meets the premise. The instrumental sounds are less abstract and chaotic, and I'm hearing a tangible music essay on the traditional form of communication being taken over by the  impersonal and disconnected sounds of the IT age we now inhabit. In fact it's an incredible piece of art-rock improvisation that may well be more in tune with the experiences and beliefs of the players who have interpreted it so well. It is also loaded with feelings of loss and loneliness; it has an emotional heart, it has humanity; that one can relate to. To me, the current malaise of no longer seeing or hearing the truth from those who we once trusted and even admired is at the music's heart. As the performance progresses it becomes angrier and more desperate, as though the result of lies is fear, chaos and death. My only criticism is that it is over-long - by the twentieth minute the message is received and understood. But it is more subtle than the first piece, and all the more terrifying for it. The later passage incorporating the interpretation of a clock ticking is a masterstroke and effective warning note as to where we are all headed…
3.5/5