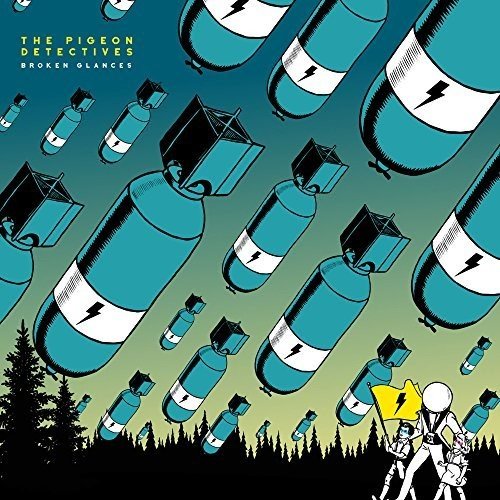 The Pigeon Detectives BROKEN GLANCES.  Dance To The Radio
Matt Bowman - lead vocals
Oliver Main - guitar
Ryan Wilson - guitar
Dave Best - bass
Jimmi Naylor - drums
Richard Formby - producer
"We've spent a decade writing songs for our fans, songs they could scream out loud and go wild to at gigs! On this album we felt we owed it to them to actually deliver something real that documents the journey we've all been on together. With this record we sat back from it a bit and it created more freedom to write without any kind of agenda, and with more emotional ups and downs across the album. That's why these songs don't necessarily smack you straight in the face like previous albums. But if you listen hard enough and take some time over the record…you'll realise it's an ode to everyone that's ever bought an album or turned up at a show."
Review
Believe it or not I have never heard the band before, so the above comments by Matt Bowman shed some light, especially on the very reflective tone of the record. Well, I think the guys have succeeded in meeting their musical objectives not least through employing a new producer in Richard Formby ("We wanted to work with someone that would challenge us in the studio and put us out of our comfort zone…We ended up ditching a lot of tunes that had a sound that could have been on the first albums as a result.").
'Wolves' opens in the style of Lou Reed's 'Walk On The Wild Side' with a brief instrumental before Bowman's clear and expressive vocal enters. The melody is strong, the instrumental passages well judged and supremely effective. It's a great opening line and a song that's both dark and light, and that should be playlisted by one and all…'Lose Control' has a darker opening with a threatening bass line, but opens out into a song with a strong and fast dance vibe. 'Munro' has a interesting and distinctive electronic opening that opens out into my favourite track. There's an ethereal vibe and the most powerful melody here. It glides along like a slithering snake and, once again, should be A playlisted everywhere.
The band has created an album of different sounds but which cleverly hold together as an identifiable whole. 'Enemy Lines' is a prime example. It's different but is thematically similar. Bowman's voice is key here but the producer has also given the instruments clarity and space. 'Sounding The Alarm' repeats the trick with another danceable number with keys and rums playing leading roles. Then guitars start up and the pace gathers for a more rocky finale. There's another monster melody and choruses that, dare I say it, should also be invading the airwaves.
'Falling In Line' opens with simple piano notes in what turns out to be the most emotional and beautiful track on the album. Bowman's voice oozes sincere expression and emotion. It's a love song that could well end up being played at weddings. It's a heartbreaker! 'A Little Bit Alone' repeats the dose but with guitars leading a slow charge. You know, the more I listen to this album, the more I think that with airplay it will lodge itself at the top of the charts for weeks.
'Stay With Me' changes sound again with a rocky vibe and exploding bass line. 'Postcards' thrusts Bowman's voice up front with subtle instrumentals not far behind. There are clever pace changes and yet another strong melody. Finally, 'Change My World' closes the album at a slower pace with a more conventional pop-rock sound with a  solid beat and a simple message. The band has created a pop-rock album with echoes of Pet Shop Boys and others you may recognise. However, the band has delivered a distinctive, highly accessible album that will appeal to a wide, global audience. I recommend it.
4/5
2017 Tour
THU 23 FEBRUARY – SAT 25 FEBRUARY Back to Ours 2017 Kingston upon Hull, UK
THU 2 MARCH Whelan's Dublin, Ireland
FRI 3 MARCH Limelight 2 Belfast, UK
SAT 4 MARCH Electric Circus Edinburgh, UK
SUN 5 MARCH Stereo Glasgow, UK
TUE 7 MARCH The Leadmill Sheffield, UK
WED 8 MARCH O2 Institute2 Birmingham Digbeth, UK
THU 9 MARCH Rescue Rooms Nottingham, UK
FRI 10 MARCH The Sugarmill Stoke On Trent, UK
SAT 11 MARCH Manchester Gorilla Manchester, UK
MON 13 MARCH Thekla Bristol, UK
TUE 14 MARCH Wedgewood Rooms Southsea, UK
WED 15 MARCH Electric Ballroom London, UK
FRI 17 MARCH La Maroquinerie Paris, France
SAT 18 MARCH De HellingUtrecht, Netherlands
SUN 19 MARCH Bitterzoet Amsterdam, Netherlands
TUE 21 MARCH Musik & FriedenBerlin, Germany
WED 22 MARCH Blue Shell Cologne, Germany
WED 22 MARCH Blue Shell Cologne, Germany
THU 23 MARCH Orange House (Feierwerk) Munich, Germany
THU 23 MARCH Feierwerk Munich, Germany
FRI 24 MARCH Soliders @ Deštné Dobruska, Czech Republic
SAT 25 MARCH Molotow Hamburg, Germany
SAT 29 APRIL Live At Leeds 2017 Leeds, UK