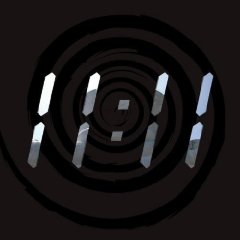 Released 7 September 2009 On Rubyworks
11:11 was recorded in Ixtapa, Mexico. The album has been produced by Rodrigo and Gabriela, with John Leckie co-producing one of the tracks. The album was mixed in Wales and London by Colin Richardson, best known for his work with Slipknot and Trivium. It's the duo's most adventurous and diverse work to-date as the 11 self-penned songs are inspired by the musicians, past and present, who have most influenced the Mexican duo.
2009 has been one of the best album release years ever with musical diversity a major feature. But if I was to pick just one to take to my desert island, it would be this one. It's a mind-blowing affair starting with the duo's opening nod to Carlos Santana. 'Hanuman' is a vivid, rhythmic humdinger that fairly explodes out of my speakers and is unmistakedly influenced by the great man. There are dramatic changes of pace with at one point the song dropping into the distance and sounding like a well-worn piece of vinyl. The song is characteristically (hugely) melodic with passages of that now familiar and fabulous Gabriela guitar drumming, while including some of the most intricate and rapid finger-picking I have ever heard. 'Buster Voodoo' is a relatively brief homage to Jimi Hendrix with a subtle blues vibe and a later segment that reflects some of Jimi's magical solo licks. Brilliant.
Next up is 'Triveni' influenced by Israeli Dud 3-piece Le Trio Joudran whose music I have never heard (which after listening to this I will have to put right). There's a distinct Latin feel to a song that rushes along at super-fast pace punctuated by superb choruses, the occasional slowing of pace, solo guitar drumming and more intricate finger-picking. This has just about everything in the mix and is outstanding. 'Logos' is influenced by that wonderful guitarist Al Di Meola. It's initially a slower, simpler, contemplative piece with a distinctly classical vibe. There's also a beautiful melody, with meandering guitar riffs that paint the most vivid pictures. The ambience then becomes more assertive and bluesy as the pace picks up, and the duo let's go big-time. Fabulous!
'Santa Domingo' is influenced by jass pianist and composer Michel Camilo. It's a vibrant, lyrical piece and arguably one of the most adventurous songs here. 'Master Maqui' (with guest Strunz & Farah) is immediately recognisable as a nod to Paco De Lucia and is another lyrical stunner. 'Savitri' completes the contemporary acoustic guitar triangle with a song influenced by John McLaughlin and Zakir Hussain who were the main protagonists behind the breakthrough 70's fusion ensemble, Shakti. The song is in two halves with the first segment being quite conventional while the second half (introduced by a few moments of silence) could be a different song as it ups the drama stakes and flies away undepinned by strong, sharp percussion and much more…
'Chac Mool' is another standout track influenced by Mexican composer Jorges Reyes. It's a simple, dark, moody slow piece with a substantial injection of percussion, but which suddenly takes a second, deeper breath as it races away with soaring lead guitar playing over its rhythmic partner. And before you know it "Atman' literally explodes out of the speakers. It's dedicated to Dimebag Darrell (lead guitarist Damageplan and Pantera) who was so cruelly slaughtered on stage in 2004. Guest player Alex Skolnick kicks in later with a superb rock riff in yet another driving standout track. You have to hear this beauty to believe it!
Finally there's '11:11′ influenced by Pink Floyd. There's distinction and originality in every groove as it takes guitar virtuosity to new levels with lonely piano notes adding a ghostly ambience in the closing passage. I even heard a bit of Dire Straits in there…
If you haven't seen or heard this guitar duo you're missing one of the most exciting musical acts to emerge in the last ten years. And if you want an introduction to the world of Rodrigo y Gabriela, this is the place to start (buy the edition that includes a live DVD). Production and sound quality - more difficult than you might think with acoustic guitar music - is faultless and of audiophile quality. This is the duo wearing its musical heart on its sleeve and in the process creating and performing one of the greatest acoustic guitar records ever released. Yes, it's that good…
5/5