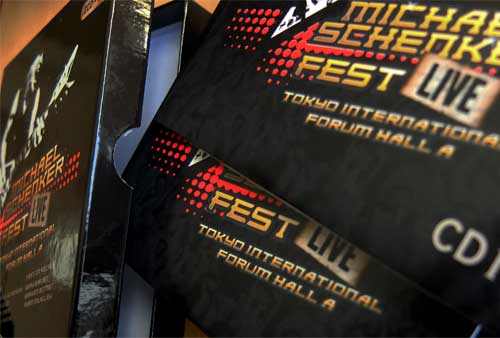 1970 - At age 15 - Michael records his first album with the Scorpions creating instant international recognition.
1972 - At age 17 - Michael joins the British Rock Band UFO for 6 Albums reaching their highest success ever.
1978 - At age 23 - Michael leaves UFO after recording Strangers in the Night becoming one of the most successful rock live albums of all time.
1979 - At age 24 - Michael opens the doors to America for the Scorpions with Lovedrive.
1979 - At age 24 - Michael starts his solo career.
FEST 'LIVE' TOKYO Review
As someone who thrives on reviewing and photographing live performances, this latest release from the amazing Michael Schenker is like manna from heaven! Last year blues rock artist Joe Bonamassa's LIVE AT THE GREEK THEATRE easily topped our list of best live albums of the year. I will be very surprised if this CD/DVD release from Michael Schenker and his wonderful band of players and vocalists doesn't top our list for 2017. if as a heavy rock fan you have overlooked Schenker or if you are a devoted fan, this release represents an essential acquisition - I kid you not.
The recording quality is impeccable and that's no mean feat given the uncontrolled atmosphere of a packed, enthusiastic Japanese 5,000 capacity auditorium. If you possess a half-way decent sterio setup, this will blow your musical mind. If you insist on digital streaming via headphones on public transport you'd better provide a sonic warning to your fellow travellers! It sounds like you're right there, wildly cheering on the band along with their Japanese fans.
Songwise, expect to hear Schenker's greatest tunes backed by some of the best rock instrumentalists and vocalists on the planet (see above). CD1 starts with an instrumental intro, 'Searching For Freedom', which sets the scene perfectly in the best Pink Floyd style. It's short and very, very sweet and of course features the guitar maestro himself backed by the sublest of drum rhythms. While the applause continues Schenker enters the auditorium then it's straight down to business with the formidable, high-speed rock of 'Attack Of The Mad Axeman' with Gary Barden's first of several fabulous vocal performances. And all that's just for starters!!!
Look, I'm not going to describe every explosive, melodic decibel of this live performance but suffice it to say that this could well be one of the finest heavy rock live recordings ever. The DVD is also one of the best I've seen. Just buy it!
5/5