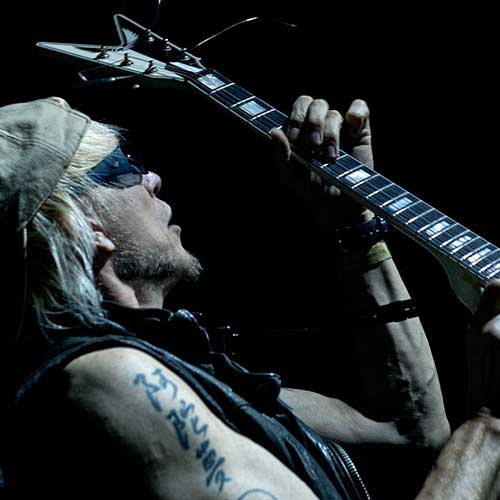 Biography
Michael Schenker started his professional career as a recording Artist in 1970 as a young hopeful talent in the Scorpions and followed this with a stint in the British hard rock institution UFO and then his own Michael Schenker Group before moving on to forming The Temple of Rock.
Over the years, Michael has not just experienced the highs and lows of life; but his development as a guitarist has been consistent, from a German Wunderkind to an experienced and technically highly skilled guitarist.
The Michael Schenker Group (abbreviated as M.S.G.) are a guitar-oriented hard rock band formed in 1979 by former Scorpions and UFO guitarist, Michael Schenker. Michael Schenker's solo career instantly took off right from the start 1980 when the eponymous debut album, "Michael Schenker Group", featuring Gary Barden on vocals, entered the  top 5 UK Album and Single Charts with Armed and  Ready, followed by the release of Live At The Budokan.
In 1982, Graham Bonnet who had just left Ritchie Blackmore's Rainbow was temporary replacing Gary Barden and recorded with M.S.G. the album Assault Attack which was to become many musicians' favorite featuring Chris Glen on bass and Ted McKenna on drums.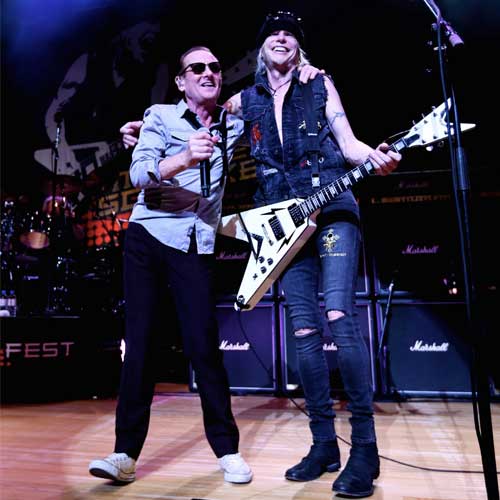 Photo By Emili Muraki
In 1986, Schenker and vocalist Robin McAuley formed the McAuley Schenker Group, which lasted until 1992. M.S.G.'s music is best described as mostly melodic hard rock with progressive undertones. Michael Schenker is famous for his black and white Gibson Flying V and for his unorthodox approach to lead guitar. Michael is sponsored by Dean Guitars and is well known in the neo-classical genre.
M.S.G. - DISCOGRAPHY
THE MICHAEL SCHENKER GROUP (1980)
Ft. Gary Barden (vocals)
M.S.G. (1981)
Ft. Gary Barden (vocals)
LIVE AT THE BUDOKAN (1982)
Ft. Gary Barden (vocals)
ASSAULT ATTACK (1982)
Ft. Graham Bonnet (vocals)
BUILT TO DESTROY (1983)
Ft. Gary Barden (vocals)
WRITTEN IN THE SAND (1996)
Ft. Leif Sundin (vocals)
THE UNFORGIVEN (1999)
Ft. Kelly Keeling (vocals)
BE AWARE OF SCORPIONS (2001)
Ft. Chris Logan (vocals)
ARACHNOPHOBIAC (2003)
Ft. Chris Logan (vocals)
TALES OF ROCK'N'ROLL (2006)
Ft. Jari Tiura (vocals)
IN THE MIDST OF BEAUTY (2008)
Ft. Gary Barden (vocals)
LIVE IN TOKYO – THE 30th ANNIVERARY CONCERT (2010)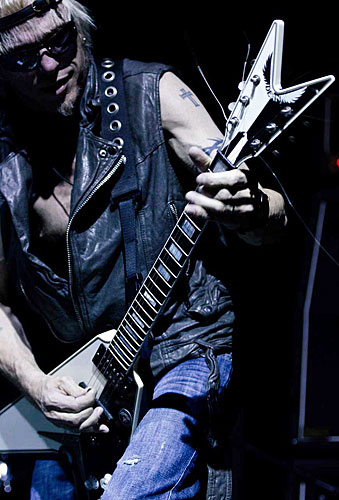 McAuley Schenker Group was a multi-national band featuring core members Robin McAuley (vocals) and Michael Schenker (guitar), a successor (and eventual predecessor) to Schenker's earlier band Michael Schenker Group. McAuley was initially contacted to replace singer Gary Barden in MSG. However, the strong partnership immediately formed between McAuley and Schenker led to the change of the name from Michael Schenker Group to McAuley Schenker Group, retaining the same initials of the previous band "M.S.G.".
Their debut album Perfect Timing, released in 1987, included their first hit Gimme Your Love. Two years later, Save Yourself was released, giving this incarnation of M.S.G. its biggest hit with the power ballad Anytime (co-written by McAuley and the band's guitarist, keyboard player Steve Mann),  the album M.S.G. Schenker/McAuley followed in 1992, followed by "Unplugged" Live in 1993.
After that Schenker and McAuley went their separate ways. Michael decided to withdraw from the spotlight of the rock scene (doing occasional recordings with UFO and MSG, but focused mainly on experimenting with music, building a recording studio and had his own record company while also focusing on his development on a personal level. 2008 was Michael's return into the loop of rock'n'roll with a reunion album with Gary Barden "In the Midst of Beauty" on inakustik and from then on Michael developed  step by step all the way back to the top again.
MCAULEY SCHENKER GROUP - DISCOGRAPHY
PERFECT TIMING (1987)
SAVE YOURSELF (1989)
M.S.G. SCHENKER/MCAULEY (1992)
NIGHTMARE: THE ACOUSTIC M.S.G. (1992)
"UNPLUGGED" LIVE (1992)
OTHER INAKUSTIK ALBUM RELEASES:
MICHAEL SCHENKER & GARY BARDEN: GIPSY LADY (2009) Ft. Gary Barden (vocals)
MICHAEL SCHENKER: TEMPLE OF ROCK (2011) Ft. Michael Voss (vocals)
MICHAEL SCHENKER: TEMPLE OF ROCK – LIVE IN EUROPE (2012) Ft. Doogie White (vocals)
MICHAEL SCHENKER'S TEMPLE OF ROCK: BRIDGE THE GAP (2013) Ft. Doogie White (vocals)
MICHAEL SCHENKER'S TEMPLE OF ROCK: SPIRIT ON A MISSION (2015) Ft. Doogie White (vocals)
MICHAEL SCHENKER'S TEMPLE OF ROCK: ON A MISSION – LIVE IN MADRID (2016) Ft. Doogie White (vocals)