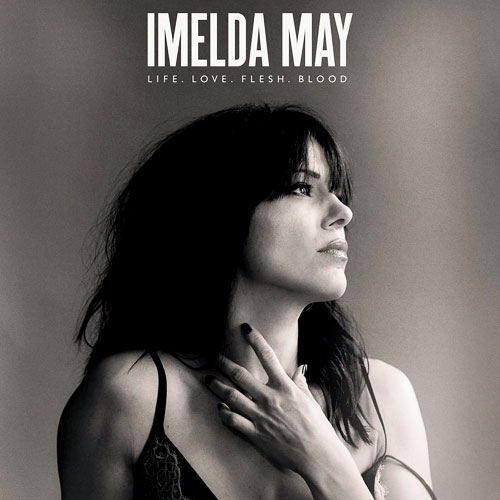 Imelda May LIFE. LOVE. FLESH. BLOOD. Decca
"I wrote 'Should've Been You' as a personal story of heartbreak, regret and eventual empowerment but when making this video I wanted it to reflect current feelings of solidarity amongst lots of women worldwide in response to events unfolding around us such as the Trump administration's approach to affordable health and maternity issues. I wanted to ask the question 'who takes care of us? We are 50% of the world and it's the people in power's responsibility to take care of women as well. It still seems like it's a man's world and in 2017 that's shocking. And I have a young daughter, which changes your perception of how you want things to be. You want to leave her a better world, you think ahead that way."
This lady has been on my radar for quite a few years now but I've never made musical contact. Maybe it was that rather silly hair and makeup which I felt may have hidden her real beauty and musical talent. Maybe it was the company she kept. Probably the lack of promotional material. Whatever it was I think I may now be getting to know the real Imelda May with this new album and natural/beautiful new look.
It's plainly obvious that May has been on an emotional rollercoaster in recent years with marriage splits, baby and more. This album goes a long way to explaining and perhaps even coming to terms… 'Call Me' is soul-driven plea for someone who is still loved to at least pick up the phone; to at least remain friends. T Bone Burnett has done a beautiful production job here which focuses very much om May's excellent and sincere vocal. It's slow, stripped down instrumentally with a pleasant melody and good lyrics.
'Black Tears' is a bluesy slam dunk of a song with Jeff Beck lending a hand with his lyrical guitar passages. May lets go with her wonderful vocal that pleads desperately, climbing from a gentle whisper to heartstopping crescendo.  'Should've Been You' should have been the best song on the album except that it's given a rather mainstream and traditional rockabiliy arrangement - it's way too loud and overproduced. Had it been calmer - both vocally and instrumentally - it would have been truly special. It's good but could have been great.
'Sixth Sense' calms things with a song that travels along at slow pace with a strong blues vibe. The instrumental passages are strong while May's voice is at its most expressive and sultry. Lyrically, the game is clear: "I swear I saw you once in a dream/Jumped out a window/We kissed in the sea/Yeah we were good/In my fantasy." 'Human' has powerful Phil Spektor type rhythm and provides May with a showcase for her wide vocal range. It has a strong melody and an honest/open set of lyrics: "But I want you to think of me/As better than the rest/I've chased away my demons/But I'm human at my best"
'How Bad Can A Good Girl Be' is Tex Mex-tinged song where May wears her primeval desires on her sleeve: "I want to peak with you/Feel you in me/Thought I was strong. Oh how I was wrong/How bad can a good girl be."  With this album I think we're getting closer to the real Imelda May. She has a great voice and songwriting ability - it would be fascinating to see her accompany herself on guitar without a band… Fans will love this album whilst people like me will be tempted to pay a lot more attention to this artist.
3.5/5