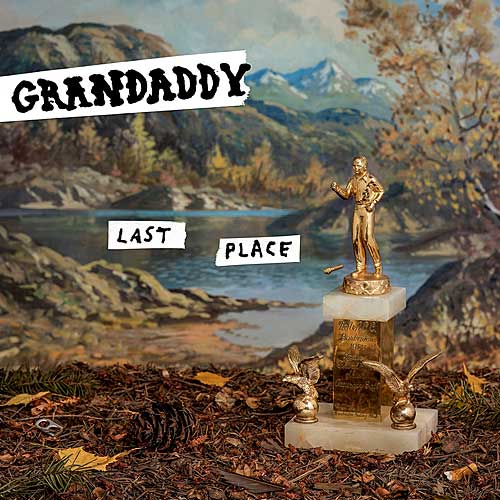 Grandaddy LAST PLACE. Grandaddy Music/30th Century Records/Columbia
"I was continually referring back to Grandaddy," Lytle says. "It was kind of cool, I went back to 'Grandaddy school' to make another Grandaddy record. In my mind, it's a pure place. It's not much of a stretch, it's kind of what I have been doing for a while and a lot of it draws of influences that I was growing up with, it's kind of a natural process to me."
"For those unfamiliar with the band, Grandaddy's sound is somewhere between ELO and Mercury Rev. It's space-rock, delivered in a trucker cap and a beard. LAST PLACE explores some of the themes that fascinated Lytle back in the day - technology, existentialism, sci-fi, and the human condition. Like previous works, it is emotional, it is funny, it is weird and it is, occasionally, very sad. Despite his qualms about digitalism and society, in music Lytle views technology as "another tool in the toolbox", he says, "to get the thoughts out of my head in the best sounding and most expeditious way as possible."
Back in 1998 I acquired Grandaddy's UNDER THE WESTERN FREEWAY album after reading some encouraging reviews. There are very few bands that have redefined genres, or started new sub-genres, especially in the world of rock. For me, Grandaddy did just that with this album. It succeeded in cementing the band's sound signature in addition to being adventurous, original, quirky but immensely moving. Like all great records, it took a little while to sink in, especially for (unsurprisingly) UK radio stations. Ultimately, Grandaddy international shows were sold-out affairs and more great albums followed. However, maximum mainstream popularity, and therefore big-bucks, alluded them.
I can think of only very few bands in the last twenty years who I can compare in terms of redefining soft rock, but Flaming Lips, Arcade Fire, Low and Sigur Ros are prime examples. Grandaddy's latest, LAST PLACE, comes no less than eleven years after their last studio album but you'd hardly know it. It struck me that because of this very long gap that are millions of potential young music-lovers who have never heard them! Such is the quality and beauty of this album that I would heartily recommend these youngsters to start by acquiring this album, and then working backwards…but after acquiring UNDER THE WESTERN HIGHWAY - a classic if ever there was one.
'Way We Won't' opens the album witha song that reminds me so much of UNDER THE WESTERN HIGHWAY. There's that wonderful, youthful and intimate Jason Lytle voice. There's the analog synth,  fuzzy guitars and solid rhythm section. Add to this Grandaddy's habitually great melodies, catchy choruses and I'm transported to a much better place. 'Brush With The Wild' repeats the recipe but adds an alt-country vibe with that wandering, distinctive guitar riff chorus line.
'Evermore' is to be the first single off the album. There's an unrelenting rhythmic hum and another huge melody as Lytle's voice ploughs on with lyrics that are typically very good: "You grieve like a freeway tree/Old and grey…no love in your leaves…" 'The Boat Is In The Bar' ups the harmony stakes while underlyin the band's narrative nature of songs - "I saw you sittin' at a table by the water/and you were going through the photos on your phone/you looked so happy and believed to be there all alone." It's a beautiful song that finishes with some very moving and slow piano notes.
'I Don't Wanna Live Here Anymore' is a slow-moving rocker while 'That's What You Get For Gettin' Outta Bed' is edged with humour and some fascinating but familiar instrumental passages. As is so often the case with this album I'm taken back to the band's illustrious sound origins. The pace slackens even further with 'This Is The Part' while the contemplation stakes are increased: "This is the part where I put up my guard/Where there is peace it's there I will not be/This is the part some call a broken heart…" Orchestral sounds make a grand entrance for thwe first time while soulful piano notes finally end the song. The album ends of two of the most beautiful songs you will hear in 2017. There's the magical and classically tinged 'A Lost Machine' which will break your heart. 'Songbird Son' is a delicate song which flows like the quietest and slowest mountain stream. The vocal is at its most fragile and thoughtful. You just have to hear it to understand it's emotive depth and beauty.
For a band to return after so long and to produce a potential Shakenstir album of the year is extraordinary. The band remains the most original and distinctive around - I can't imagine anyone else covering these and past songs.  Check overleaf for the UK's live dates coming very soon…
5/5