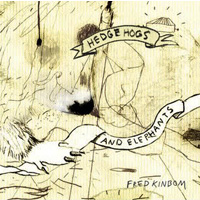 Fred Kinbom HEDGEHOGS AND ELEPHANTS (Fred Kinbon)
One mild evening in the summer of 2005, Fred was onboard a Brighton bus en route to rehearsal with his old band. An elderly gentleman (who smelt gently of drink) asked him about the instrument cases he was carrying - "What kinda guitars are them?" Fred explained that it was one acoustic and one electric guitar, and the old man got very enthusiastic and excited. It was hard for Fred - a native of Sweden - to understand his accent as the alcohol had slurred his speech somewhat, but he was definitely talking about something he liked a lot. "Do you know?!" he asked, and when he saw that Fred didn't he proceeded to swing his left hand repeatedly from left to right, right to left, across his lap. The word "Hawaii" could be heard in the mixture of speech and musical sound effects. The old man was trying to tell Fred how much he liked the Hawaiian steel guitar, or, lap steel.
This chance meeting led Fred to sell one of his regular guitars and buying an old National New Yorker electric lap steel on eBay. The first efforts were tentative, but when an acoustic lap steel - a 1930s Oahu student model - was acquired for $81 a few months later, Fred got firmly hooked on the instrument.
A year or so later, Fred started performing in public playing his lap steels - now on a Weissenborn-style hollowneck acoustic. Drawing on influences from his Scandinavian roots as well as music from various parts of the world - Eastern Europe, South and North America, Africa - his very personal brand of music and approach to the instrument, along with his strong sense of melody, has won him many fans across the globe. People often comment that it's refreshing to hear lap steel music that is "not the usual slide stuff". "Soulful" and "unique" are other words uttered more than once by listeners, and Fred being mentioned in the book Slide Rules (about slide guitar tunings) alongside lap steel pioneers and legends is a great acknowledgment that he has brought something new to the slide guitar table.
Fred plays mainly solo performances of his own compositions, but has also started playing with other artists on both acoustic and electric lap steel every once in a while - a highlight so far being sitting in with the great New York-based band Hazmat Modine in concert in Germany. As of 2009, Fred is also performing with double bass player Jim Mortimore and multi-instrumentalist Sam Walker as the Fred Kinbom Trio.
Fred has just released his first full-length lap sliding album, "Hedgehogs & Elephants", featuring 12 beautiful and unique songs, many spiced up by great guest musicians on percussion, double bass, accordion, fiddle, steel drum and more. Recorded deep down underground in the heart of Stockholm, in a Moroccan-style hut in a Lewes garden, on the edge of Fred's bed, out in the lush Sussex countryside and onboard a German train; mixed in summery suburban Stockholm and mastered deep inside the forest up in the hills of Santa Cruz, California - now it's all condensed into a little shiny disc, resting in a nice digipack sleeve, anxious for you to have a listen!
"I guess some influences should be mentioned here too, so here are some big ones: Cornelis Vreeswijk, Boubacar Traoré, Jan Johansson, Mestre Ambrósio, Hazmat Modine, Serge Gainsbourg, Jerry Garcia & David Grisman, Eastern European gypsy music - and lots, lots more! As far as lap steel guitarists go, Bob Brozman, Tom Doughty, Debashish Bhattacharya, Don Rooke (of The Henrys), Steinar Gregersen and my friend Paolo Conti are some whose playing I've found very inspiring so far."
So that's the biography, so what about the record… In a word, lovely. Kinbon has one of the gentlest voices I have heard; it flows like a trickling mountain stream. 'Isolation Song' opens this collection of songs and pretty well signposts the rest of the album. There's melody-to-burn, excellent lyrics and the mosty subtle instrumentation. 'I Love Biology' is one of my favourite tracks here because it is one of the most stipped-down songs here, with the recording emphasis placed firmly on Kinbon's voice. The melody is even stronger and the multi-layered vocals are magical. 'Nattlunk' is populated by many instruments but they never overpower the lovely vocal and lyrics ("Your face is like an open book…"), but what makes this song so special is the accordian which arrives later in the song and takes up residence, along with the wonderful percussive passages. It's another favourite. 'The Jolly Baker Of Aachen' places emphasis on the sound of baritone lap steel guitar and drums, which are nothing short of stunning. This album is gorgeous, understated, intimate, beautifully written and performed with a rare sensativity. If you'd like to hear and buy check out www.fredkinbom.com
4.2/5