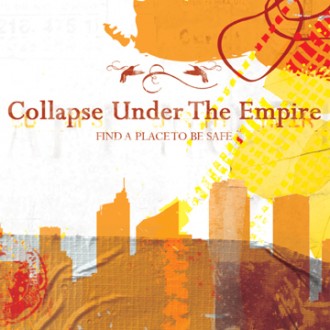 Chris Burda and Matthew Jason got together in 2007 to create and record their instrumental music under the name of Collapse Under The Empire. The band released an EP called PAINTBALL in 2008, followed by their debut digital album, SYSTEM-BREAKDOWN, in Spring 2009. For this second album the band was signed to indie label Sister Jack in Germany (the guys are based in Hamburg).
The challenge for any instrumental band is to communicate something tangible, meaningful, emotional with their music. You could call it vocalising with instruments. It's a heady enough challenge for conventional vocal bands, but for an instrumental band it's a veritable Everest to climb, especially in an art-rock style. I can think of very few bands who have successfully negotiated the challenge, while inevitably having to eschew mass-market commercial appeal and financial success. The second challenge for such a band is to render the music accessible to those who are willing to listen, via the power of melody. Godspeed You! Black Emperor, The Dirty Three, Boxhead Ensemble are three names that spring to mind; acts who have created some of the most moving music over the last ten or more years.
By implication, therefore, anybody seriously involved in creating and recording such music shows a level of dedication to their art and a firm belief in its intrinsic value. So, it is with all the above in mind that I listened to FIND A PLACE TO BE SAFE, in the hope that I may make a rare and beautiful discovery…
And I think I may have. 'Captured Moments' immediately grabs the attention with its distant intro sound that gradually builds to a rocky crescendo of sound with guitars, drums, and keyboards leading the charge. There are occasional quieter moments as if the band is preserving energy for the next instrumental rush, which inevitably arrives in the form of explosive choruses. It's in effect what it says on the tin and highly accessible. 'Crawling' exudes darkness and an element of despair as it travels along at snail's pace. Then things change dramatically for several seconds as it bursts into rocky life perhaps signifying an element of hope amongst the desperation… Everything is here including an acute sense of melody. 'Find A Place To Be Safe' exudes a mournful, ecclesiastical ambience that is compelling and thought-provoking. It travels at glacial pace seeming to gather instruments as it progresses, like picking fruit from trees that align the route. The more fruit it picks, the louder it gets until a heavy, angry guitar riff flashes in and disappears as quickly as it arrived. The final passage is epic as it gathers momentum, and then subsides slowly to revert to its mournful starting point.
'Tranquillity' opens in Gothic orchestral style before spreading its wings, with drums and keyboards driving the song along. 'Angle Of Incidence' majors on electronic sounds and an ocean-deep bass line with drums playing another key and seemingly improvised roll. It's highly rhythmic with tangible melody underpinning another seismic song. 'Decay' opens with solidly struck keyboard notes and drums beating out an angry, desolate tirade. The song is acutely descriptive as it tracks relentlessly before eventually striking out with a more raucous instrumental passage. 'Far To The Past' opens with a single piano key and drum beat rhythm before adding a swathe of instruments including subtle strings and guitar. Almost inevitably, the rocky crescendo arrives to pin you back in your seat and then fades away to nothing. 'A Smell Of Boiled Greens', 'Intelligence' and 'Conscious Of Thirty-Nine' proves the band is not a one-trick pony by taking a subtly diverse sonic route, including cleverly used Hammond and orchestral strings. 'Take A Shot On Me' concludes the album with intro sounds that reminds me of Aboriginal instruments, before a threatening bass-driven barrage appears, like an approaching steam train which arrives and passes, several times, before finally departing into the dim distance.
Collapse Under The Empire have created one dark adventure here, which is capable of grabbing you by the throat for the journey. While there is sonic diversity, there's also a consistent musical formula which can make this occasionally sound a tad repetitive. However, I remain hugely impressed by the band's ability to construct instrumental music that paints pictures of such emotional power, while remaining easily accessible. Strongly recommended.
4/5
www.myspace.com/collapseempire