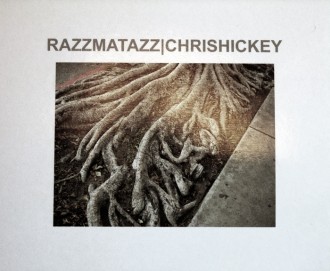 A brief e-mail from the States from an unknown singer/songwriter and within a few days I was in possession of his new album. But it's not just any album, and not just any singer/songwriter. You see this is different and primarily because Hickey set himself the task of writing and recording a song a day (on a hand-held digital recorder) during March 2009. The results were properly mastered and RAZZMATAZZ eventually saw the light of day.
Right now there's a proliferation of singer/songwriters; you can't turn a corner without bumping into one in the UK and I suspect it's the same over the pond. It gets one to thinking just what a singer/songwriter should be in essence with such diversity of style, sound and quality available now to the listener. Perhaps Hickey has struck upon the essence and lifeblood of his trade - that of turning day-to-day observation into beautiful, understated and accessible music.
Listening to RAZZMATAZZ I think he has achieved something special and unusual in this age of over-production, over-analysis and media hype. 'Only Way Track' opens the album in tumbling, gentle, melodic style. His voice is pure, simple, easy, almost detached. It's a lovely song. 'Kerouac' is a little more forward sonically with a gently plucked guitar behind another beautiful vocal performance. The song combines light and dark, spiced with humour and sadness. 'Down' is a tuneful narrative about being down and out. There's an intimacy about this (and many other songs) here that is compelling. 'The Heat The Light' is another beauty with the fragile vocal contrasting sharply with the song's subject matter of drug-taking.
'Over And Over' exemplifies the stripped-down nature of the album's songs with abrupt guitar plucking and close-mic vocal.  'Down A Long Haul' and 'Shine' are brief unadorned charmers revolving around being alone in a town, with the latter sounding as though it was written as Hickey walked along a pavement bathed in sun and shadows. 'Soft Sell' is a wandering take on our consuming, materialistic society but is transacted with care and a little humour. 'Run' is a more rocky affair which seems to be about frustration and indecision, while 'Salty Tears' is a bitter-sweet song about ambition.
Other highlights include the spoken 'Places To Go'  ("…anyway I like to stay home, but I'd like to say, it's good to have places to go, the coffee shop, the vegetarian restaurant, thanks to these people who make their lives as shopkeepers or owners, not the greedy ones not the exploiters, but the ones who scrape by to provide a meeting place where we can take green tea and take in the humanity…"), the reflective 'Nothing Is Real'  and another moving spoken song, 'What You Are' ("the blue shirt on your back isn't what you are… the place you that you were born isn't what you are, the place you died in isn't what you are… you look away and then you find it.").
It's rare to hear an artist exposing his thoughts, observations, and himself, in such a simple and direct manner. This album has moved me more than any other I have heard this year, more than that I cannot say…
4/5m/watch?v=bx2Wz_yNTrM