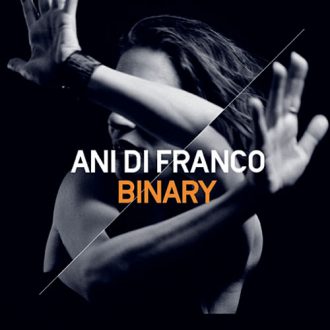 Ani DiFranco BINARY. Righteous Babe/Aveline Records
Introduction
BINARY is DiFranco's 21st studio album (in addition to 2 studio albums with Utah Phillips, 25 live albums, and 4 EPs) and comes nearly 4 years after her last. Written prior to the 2016 USA election, the songs are prescient of the current political situation in America. On the title track DiFranco reveals the larger meaning of the album:
"The binary principle is echoed throughout our bodies. With one ear we hear but only with two ears can we percive the full spectrum of depth and position. This idea that refuses now to let me go; that nothing can truly exist except in relationship with something else, is where this song and album are comng from."
The backbone of BINARY'S sound is DiFranco's long-time rhythm section of bassist Todd Sickafoose and drummer Terence Higgins. The trio is augmented with some important guests including Virtuoso violinist Jenny Scheinman and keyboardist Ivan Neville. Other contributors include the legendary Maceo Parker, Bon Iver's Justin Vernon and long-time bassist to David Bowie, Gail Ann Dorsey. The album's vital sound mixing responsibility was given to Tchad Blake (The Black Keys, Pearl Jam)
The Review
In this roundup of some of the most interesting new albums from female artists I open with one of the most artistic, skilled, original, prolific, independent and inspiring artists of the last twenty-five plus years. My first aquaintance with DiFranco came with her 1998 album LITTLE PLASTIC CASTLES which I still believe to be one of her best. I was also fortunate enough to witness a couple of (relatively rare UK) live performances in Manchester which cemented my belief that she is one of the world's greatest singer/songwriters.
'Binary' opens the album in rapid pace and with Latin flavour with Higgins rampant and sharp on drums. DiFranco spits out the vocals and polemical/social lyrics in powerful and expressive style. It's an explosive opening. Next is the much slower, contemplative and utterly beautiful 'Pacifist's Lament' which DiFranco delivers in a style which forces one to listen and take note of the serious message underlying it. The song also has, argiably, teh strongest melody here and is well worthy of copious airplay (well, one can hope!). The brasss section moments and vocal harmonies add to an already wonderful musical cocktail.
Another slower song follows in the mesmerising 'Zizzing' which opens in stripped down style with wandering vocal choruses wafting in and out. Plucked guitar and spasmodic drum beats pepper this song along with gorgeous multi-layered vocals. There's a dreamy ambience to the song and a sound that is deeply intimate: it's as though DiFranco is conversing with thhe listener. It's wonderful. 'Play God' is next and is the first single off the album. It's also one of the most emotive and political here: "Just one thing that a man needs/To be truly free/This is the modern world/And that one thing is money/But there are two things/That a woman needs/Control over her own body…" and "I'm my brother's keeper/Every chance I can/I pay my taxes/Like any workin' man/And I feel I've earned/My right to choose/You don't get to play God/I do/You don't get to play God/I do/You don't get to play God/I do." The mood is slow, sombre, serious, dark even with scattered drum beats and double bass adding to the drama.
'Even More' is another favourite of mine with it's earthy acoustic guitar moments, telling rhythm section and multi-layered vocal choruses. 'Sasquatch' has the most adventurous and original sound here with DiFranco's voice interjecting between a variety of instrument and percussive sounds.
BINARY offers a wide diversity of sound and pace, in fact more than I can remember from past releases. It also includes a fascinating variety of generic influences including blues, soul and jazz. It is a very fine album and highly recommended.
4.5/5