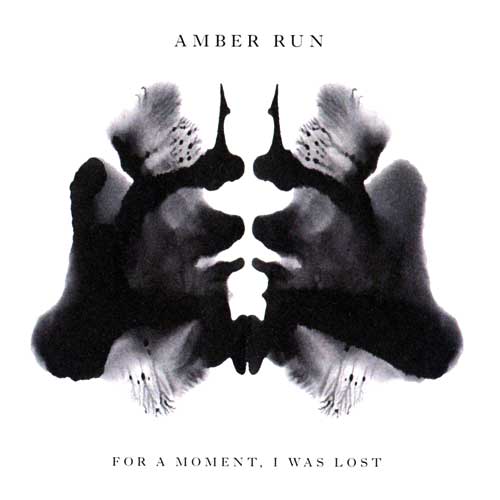 Amber Run FOR A MOMENT, I WAS LOST. Easy Life Records/Sony Music Entertainement
Band Members
Joe Keogh - vocals, guitar
Will Jones - guitar
Tom Sperring - bass guitar
Harry Wyeth - keyboards
Glyn Daniels - drums (on album)
Producer - Ben Allen
"The new album trims the fat from previous music, and gets down to the bare bones of the songs. We're songwriters, and where our last album was a collecton of songs written in our youth, these new songs are, for us, a timely response to more recent experiences."
The way an album opens generally provides a strong indication as to how good an album is. 'Insomniac' opens this one in epic style. There's a strong melody, radio-friendly choruses, great lyrics, a passionate vocal and instrumental arrangement that is nothing short of a triumph. 'No Answer' is next and slows the pace fractionally. It's unperpinned by another strong melody, mixed pace that speeds up like a bullet train. The vocal is tremendous and instrumental performances add deep drama.
So far the lyrics are good and seem to point to a male on male romance. Or could it be that the subject in question be the music industry? Take the following: "Oh my friend/you remind me of someone that I used to know/you've got his eyes/You've got his shadow/But when did you/become the kind of man to dance at funerals?/Are you lost?" 'Island' is track 3 and one of my favourites. It's an easygoing ballad which throws the quality vocal into sharp focus as the wonderful lyrics are sung: "You think you're pretty special don't you?/Handsome face, and fairly cultured/A devil in the dark." Towards the end the pace gathers as Keogh's voice becomes more emotional. Geat song. Check out 'Haze' with its multi-layered vocals passages and contemplative vibe. Just wonderful!
There are twelve songs here ranging in quality from great to very good. There are echoes of Keane and Coldplay but the band has created something of their distinctive own helped by excellent song-writing and superb performances. It's a moving album with welcome divirsity of pace, and production which brings it all together beautifully. This is adult pop-rock of inspiring quality and worthy of endless airplay. Highly recommended.
4.5/5
UK Tour 2017
Feb 18 Plug, Sheffield
19 Feb Welly, Hull
22 Feb Stylus, Leeds
23 Feb Academy 2, Manchester
24 Feb SWX, Bristol
25 Feb Forum, London