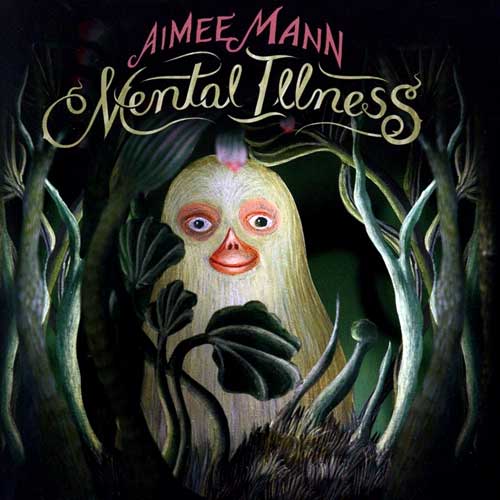 Aimee Mann MENTAL ILLNESS. SuperEgo/Membran
On this eleven-track album, the Oscar-nominated, Grammy-winning Aimee Mann remains a student of human behavior, drawing not just on her own experiences to form the characters in the songs but tales told by friends. "I assume the brief on me is that people think that I write these really depressing songs," Mann says. "I don't know - people may have a different viewpoint - but that's my own interpretation of the cliché about me. So if they thought that my songs were very down-tempo, very depressing, very sad, and very acoustic, I thought I'd just give myself permission to write the saddest, slowest, most acoustic, if-they're-all-waltzes-so-be-it record I could; I mean, calling it 'Mental Illness' makes me laugh, because it is true, but it's so blunt that it's funny."
In addition to her solo albums, she has appeared on many film soundtracks, most notably the song score for Paul Thomas Anderson's MAGNOLIA, with "Save Me" landing her Academy Award and Golden Globe nominations for Best Original Song.
Review
For me, opening song 'Goose Snow Cone' sums up Aimee Mann so well… There's a calmness and natural ease that makes one sit back and relax. The song arrives with a strong melody, beautifully judged acoustic arrangement  and some very pleasant vocal harmonies. It's folk-pop of the highest order. 'Stuck In The Past' has a stronger rhythmic underbelly while travelling along at slow-medium pace. Mann knows a good melody when she sees one while she also recognises the value of strong choruses, and of course lyrics that make sense. 'You Never Loved Me' is a bittersweet tale with some very effective backing vocals. Now ehile the songs are about romance gone wrong, she creates a more opimistic sound although I would prefer a little more angst!
'Rollercoasters' features a simple picked guitar backdrop against a vocal that this time echoes a sense of sadness, perhaps even inevitability. The vocal harmonies are lovely while the lyrics are excellent: "Rollercoasters and ferris wheels/You like how it feels/Round and round til you lose yourself in the air/All those complicated deals/Your desperate appeals/Calling out to a god you know isn't there." 'Lies Of Summer' sees the arrival of superbly arranged orchestral strings and another example of that distinctive, fluid, easy voice. 'Patient Zero' has a more rhythmic sound and flows along at faster pace. More orchestral strings arrive as Mann travels the note scale seamlessly.
'Good For Me' is dominated instrumentally by piano which throws Mann's voice into sharper focus. The song is simple without the over-production that so much music today suffers from. This is my favourite album track.
There's eleven very good songs here with good variation of pace and mood. The arrangements are magical while Mann's writing and singing scream integrity, honesty,  confidence and welcome understatement. Listen and relax!
3.5/5