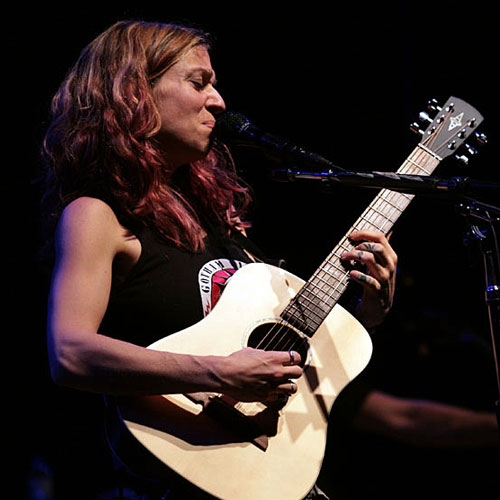 DiFranco herself noted that "folk music is not an acoustic guitar – that's not where the heart of it is. I use the word 'folk' in reference to punk music and rap music. It's an attitude, it's an awareness of one's heritage, and it's a community. It's subcorporate music that gives voice to different communities and their struggle against authority."
Although much of DiFranco's material is autobiographical, it is often also strongly political. Many of her songs are concerned with contemporary social issues such as racism, sexism, sexual abuse, homophobia, reproductive rights, poverty, and war. In 2008, she donated a song to Aid Still Required's CD to assist with the restoration of the devastation done to Southeast Asia from the 2004 Tsunami. The combination of personal and political is partially responsible for DiFranco's early popularity among politically active college students, particularly those of the left wing, some of whom set up fan pages on the web to document DiFranco's career as early as 1994. DiFranco's rapid rise in popularity in the mid-1990s was fueled mostly by personal contact and word of mouth rather than mainstream media.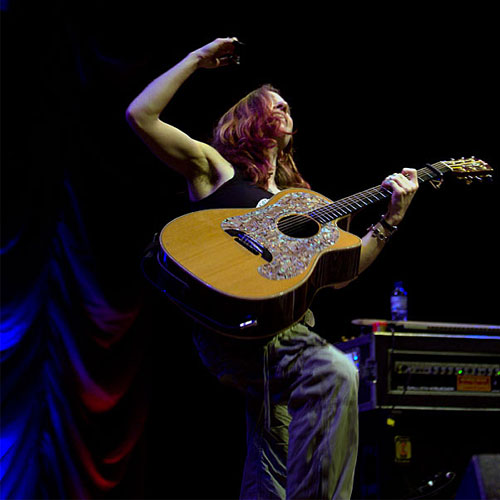 DiFranco has expressed political views outside of her music. During the 2000 U.S. presidential election, she actively supported and voted for Green Party candidate Ralph Nader. She supported Dennis Kucinich in the 2004 and 2008 Democratic primaries. Kucinich appeared with her at a number of concerts across the country during both primary seasons. DiFranco went on to perform at the 2008 Democratic National Convention.
DiFranco has described herself as an atheist. On the subject of religion, DiFranco has stated:
"Well, I'm not a religious person myself. I'm an atheist. I think religion serves a lot of different purposes in people's lives, and I can recognize the value of that, you know, the value of ceremony, the value of community, or even just having a forum to get together and talk about ideas, about morals – that's a cool concept. But then, of course, institutional religions are so problematic."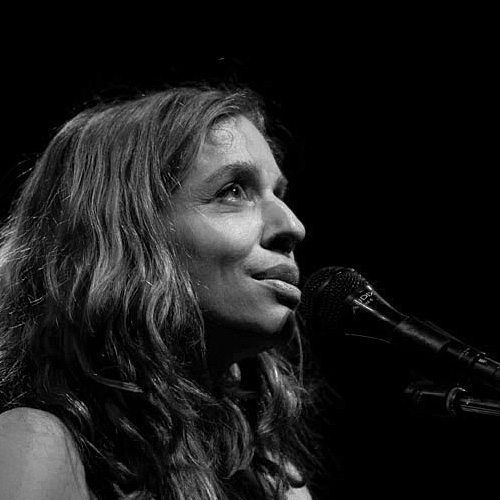 Ani cites her anti-corporate ethos for the main reason she decided to start her own label. This has allowed her a considerable degree of creative freedom over the years, including, for example, providing all instrumentals and vocals and recording the album herself at her home on an analog 8-track reel to reel, and handling much of the artwork and packaging design for her 2004 album Educated Guess. She has referenced this independence from major labels in song more than once, including "The Million You Never Made" (Not a Pretty Girl), which discusses the act of turning down a lucrative contract, "The Next Big Thing" (Not So Soft), which describes an imagined meeting with a label head-hunter who evaluates the singer based on her looks, and "Napoleon" (Dilate), which sympathizes sarcastically with an unnamed friend who did sign with a label.
The business grew organically starting in 1990 with the first cassette tape. Connections were made when women in colleges started duplicating and sharing tapes. Offers to play at colleges started coming in and her popularity grew largely by word of mouth and through women's groups or organizations. Zango and Goldenrod, two music distributors specializing in women's music, started carrying DiFranco's music. In general they sold music to independent music stores and women's book stores. In 1995 Righteous Babe Records signed with Koch International for DiFranco's release of Not a Pretty Girl. Her records could then be found in large and small record stores alike.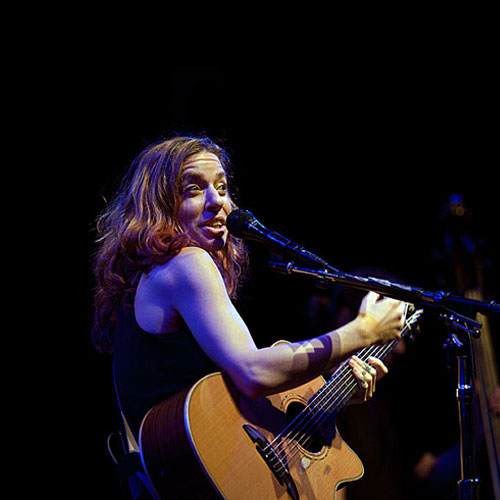 DiFranco has occasionally joined with Prince in discussing publicly the problems associated with major record companies. Righteous Babe Records employs a number of people in her hometown of Buffalo. In a 1997 open letter to Ms. magazine she expressed displeasure that what she considers a way to ensure her own artistic freedom was seen by others solely in terms of its financial success.
From the earliest days of her career, Ani DiFranco has lent her voice and her name to a broad range of social movements, performing benefit concerts, appearing on benefit albums, speaking at rallies, and offering info table space to organizations at her concerts and the virtual equivalent on her website, among other methods and actions. In 1999 she created her own not-for-profit organization; as the Buffalo News has reported, "Through the Righteous Babe Foundation, DiFranco has backed various grassroots cultural and political organizations, supporting causes ranging from abortion rights to gay visibility."
During the first Gulf War, DiFranco participated in the anti-war movement. In the early 1993 she played Pete Seeger's Clearwater Folk Festival for the first time. In 1998 she was a featured performer in the Dead Man Walking benefit concert series raising money for Sister Helen Prejean's "Not in Our Name" anti-death penalty organization. DiFranco's commitment to opposing the death penalty is longstanding; she has also been a long time supporter of the Southern Center for Human Rights.
In 2004 DiFranco visited Burma in order to learn about the Burmese resistance movement and the country's fight for democracy. During her travels she met with then-detained resistance leader Aung San Suu Kyi. Her song "In The Way" was later featured on For the Lady, a benefit CD that donated all proceeds to the United States Campaign for Burma.
On the home front, DiFranco has also been outspoken defender of democracy. During the 2004 presidential primaries, she openly and enthusiastically supported liberal, anti-war Democrat Dennis Kucinich. Congressman Kucinich appeared on stage with her at several concerts and she spoke positively about him from the stage at many more of her concerts. After the primary season ended, and Kerry was the clear Democratic candidate, DiFranco wrote an open letter of conditional support for independent candidate Ralph Nader. The same year she launched a "Vote, Dammit" tour of swing states encouraging audience members to register to vote. In 2005 she lobbied Congress against the proliferation of nuclear power in general and the placement of nuclear waste dumps on Indian land in particular. In 2008 she backed candidate Dennis Kucinich in his bid for the presidency.