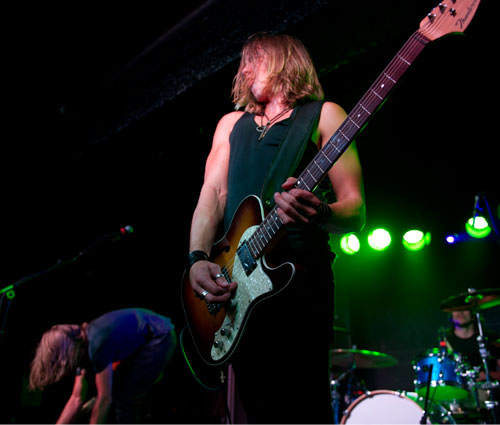 Time for Tracer but first a little info about them:
"The band released their debut LP via Mascot's Cool Green Recordings on October 3rd 2011. Following the release of the album, the band toured the UK and Europe as support to Royal Republic. In 2011, their single "Too Much" was A-listed on Planet Rock Radio in the UK for three months. The band generated over 50,000 views for their Too Much video on YouTube. In December 2011, Planet Rock started A-listing Tracer's second single "Devil Ride". With a sound reminiscent of 90's grunge/stoner rock mixed with the everlasting bravado of 70's classic rock, Tracer is a driving, massive guitars, clever hooks and raw uncompromising vocals. Forming out of the ashes of blues prodigy band The Brown Brothers in 2004, Michael Brown (Vocals and guitar) and Leigh Brown (Vocals and Bass) teamed up with drummer Andre Wise to make Tracer. With 2 independent releases, 2 international tours and now a record contract under their belt, Tracer is a band that takes every little chance, every crazy idea, and commits everything they have to it."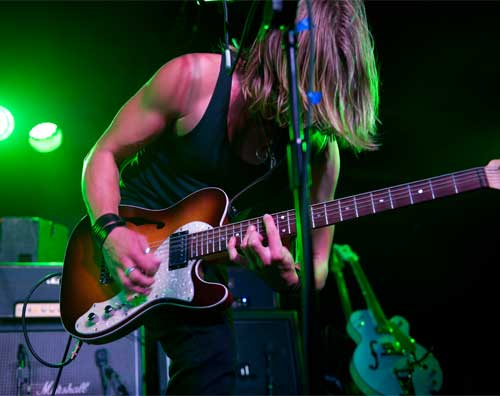 With such great new young bands coming out of Australia over the last 5 years and some superb album releases, I was expecting fireworks but then worried that maybe I was expecting too much. Fear not me of little faith… As I waited for the show to start I wondered how a relatively unknown band could sell out a show with no airplay on national terrestrial radio airplay, and generally little media support. So I asked the question of a couple of fans who both responded that Classic Rock mag provided the initial info and then Planet Rock digital radio's airplay sealed the deal. The thought immediatley struck me, 'what if the band had secured national airplay on say Radio 1 with millions of listeners - where would they be today?" It's just another example of the publically funded BBC actually holding back and even killing great music with its TV and Radio airplay policies.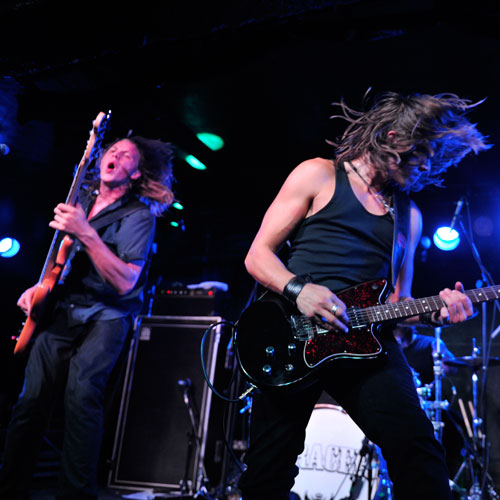 A few weeks ago I was lucky enough to attend a Seether gig and I was reminded of it by Tracer. Both are 3-piece and both provide a stunning modern take on old style rock 'n' roll. As I've often written before, you can be the best band on earth but without great songs you're nowhere. Tracer, like Seether, have songs that explode with melody, hooks, intelligent lyrics and mind-blowing rhythm. Take the opener 'The Bitch' (from the new album) with its threatening, rumbling opening passage that quickens pace as the vocal enters. The song ebbs and flows
with the rock solid rhythm section and a vocal that transforms from a quiet hum to full-on passionate rebel yell at the twist of a switch. Fabulous.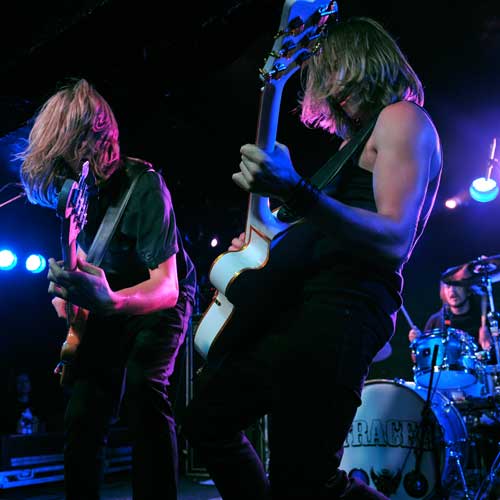 Then 'Devil Ride' is saddled with its clever changes of vibe and pace and storming guitar riffs straight off a Stones record. This song should be blaring out over BBC Radio 1 day-in, day-out and from the players of those dramatically overrated BBC rock DJs. 'Wrecking Ball' did just that before 'Louder Than This' provided the best blues moment of the night with its deathly pace and ocean deep bass vibe. Michael was incredible while bother Leigh would chip in with lead and backing vocals here and there through the show.
A couple of songs arrived that I didn't recognise ('Don't Forget My Name'and 'End Of The Samurai') before the absolute moving beauty of 'Voice In The Rain' that left its emotional mark on me and no doubt an audience who by this point were besides themselves with joy and total admiration. Medium paced rocker 'Spaces In Between' rolled along nicely before eventually my song of the night regretfully closed proceedings. 'Walk Alone' is the trick question; it slips in very quietly before morphing into one of my heavy rocks songs of the year with its monster melody; hook, line and sinker choruses; and performances which deliver the package by Royal mail Most Special Delivery.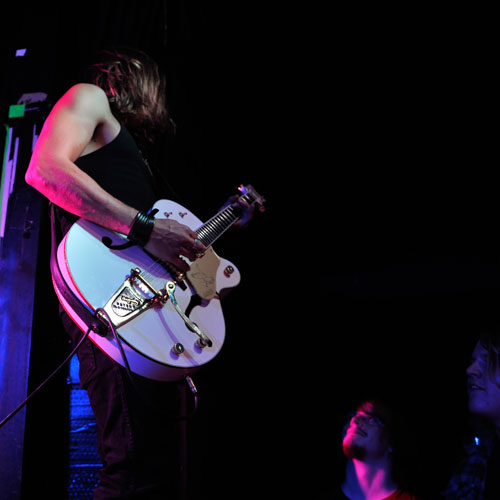 This was a stunning performance by three young (and for the ladies, good looking) men skilled and passionate about their chosen craft. Killer punch after killer punch was landed with hardly room to breath in-between. But at the same time the guys were able to connnct with their audience (covering all age groups) and feed off the enormous enthusiasm shown.
The band is returning for more UK concerts in September 2012 and will be releasing a new EP. I strongly recommend both without reservation. This was one of my best rock show nights in recent years, and one to remember when I have to resort to listening and walking-aid devices.
TRACER – UK September 2012 Tour Dates:
26 September  Wolverhampton Slade Rooms
27 September  Manchester Academy
28 September  Newcastle Cluny
29 September  Glasgow ABC
30 September  Leeds Cockpit
3 October       Nottingham Rescue Rooms
4 October       Bath Komedia
5 October       Gloucester Guildhall
6 October       Poole Mr Kyps
7 October       Brighton The Haunt
Setlist
The Bitch, DEvil Ride, Wrecking Ball, Louder Than This, Don't Forget My Name, End Of The Samurai, Voice In The Rain, Spaces In Between, Son Of A Gun, Walk Alone
Check out the Shakenstir Gallery for more exclusive live performance images