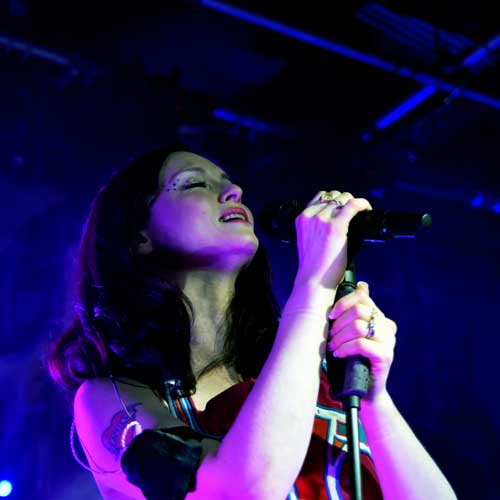 Sophie Ellis-Bextor
Gorilla Manchester, 22 February 2017
The Band
Phil Wilkinson - drums
Richard Jones - bass
Ciaran Jeremiah - keys
Seton Daunt - guitar
Gita Langley - backing vocals, violin
Cat Parker - backing vocals, violin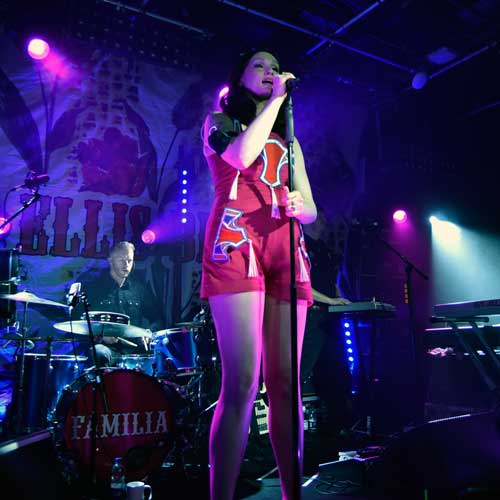 Sophie Michelle Ellis-Bextor (born 10 April 1979) is an English singer, songwriter and model. She first came to prominence in the late 1990s, as the lead singer of the indie rock band The Audience. After the group disbanded, Ellis-Bextor went solo, achieving widespread success in the early 2000s. Her music is a mixture of mainstream pop, disco, nu-disco, and 1980s electronic influences.
Her solo debut album, Read My Lips, was released in September 2001. The album reached number two in the UK Albums Chart and was certified double platinum by the British Phonographic Industry (BPI). The record experienced international success, selling more than 2 million copies worldwide.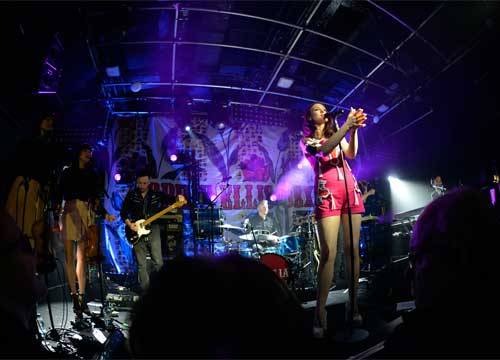 In 2016, Ellis-Bextor announced that the new album was inspired by her most recent visit to North America, particularly Mexico. It was titled FAMILIA, a title that implied a sound closer to that of her earlier albums. Referring to FAMILIA, Ellis-Bextor explained that she "wanted something with a Spanish or Italian feel." The album, her sixth, was released on 2 September 2016.
Out of the darkness sneaks Ellis-Bextor in front opf a full band including 2 violists/backing singers. She opens with two songs from her latest album, 'Wild Forever' and 'Death Of Love'. Now I haven't heard her new album but was told by another who doesn't usually follow the disco-pop mainstream that the new album is very different and rather good. And sure enough the opening gambit is more adult pop than dancefloor frippery. Also noticeable is a harder bass rhythm which sounds promising.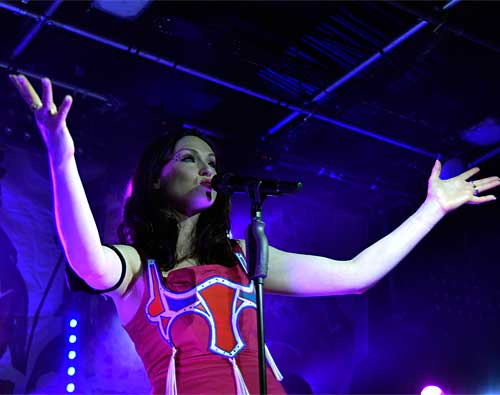 Two more new songs follow in 'Unrequited' and 'Hush Little Voices' botrh for me two of the nights highlights. While I appreciated thsi change of tone, the audience I felt was less sure and the feeling of 'old is best' coul;d be sensed and confirmed with the massive response to the folk-pop of '13 Little Dolls'. Ellis-Bextor showed commendable skill and ease at communicating with her auidence even explaining what's been happening to her songwriting. Then followed a 2-song acoustic set of songs picked by here fans. 'Mixed Up World' and 'Get Over It' met with huge acclaim and a lot of noisy audience participation.
I have to say I was pleasantly surprised by the quality and tone of her voice which is distinctive despite the fact that at times she seemed to struggle a tad with higher notes. The strings and backing vocals worked a treat especially in the final song 'Here Comes The Rapture' with its classical undertones and substantial emotive beauty.  She's been around for awhile but I suspect there's more mileage in those long, slender legs.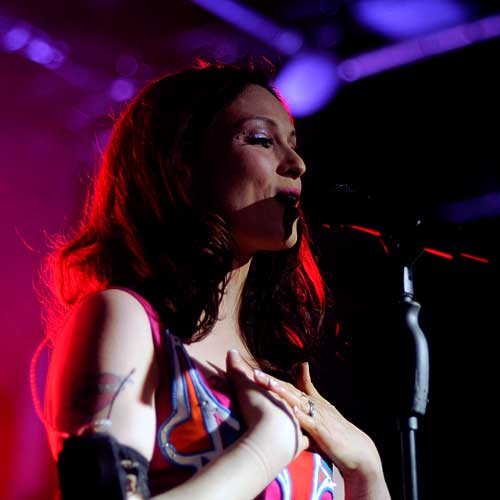 More Images Here: http://www.shakenstir.co.uk/index.php/gallery/?album=3455&gallery=1983