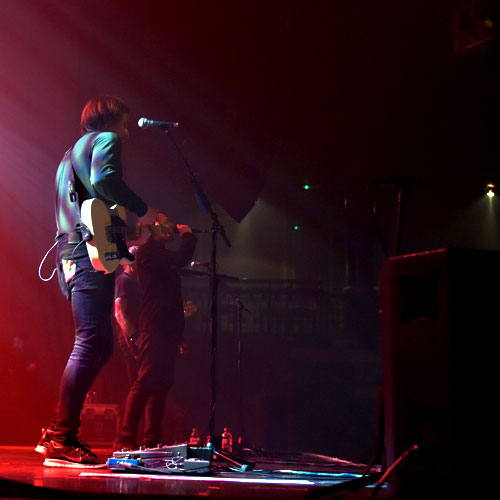 Biography
Mew is a Danish alternative rock band, consisting of Jonas Bjerre (lead vocals), Bo Madsen (guitar), Johan Wohlert (bass) and Silas Utke Graae Jørgensen (drums). Johan Wohlert left the band in 2006 before the birth of his first child, but made a return in 2013 while the band were in the studio, before making his first live appearances since his departure in 2014.
Whilst their music may be classified as indie and on occasion progressive rock, the band's guitarist Bo Madsen said "I usually say we are 'indie stadium.' A mix between 'feelings' and 'thinking' is usually good
Formed in 1994 in Hellerup, an upper-class suburb of Copenhagen, they had a profound impact on the Danish indie scene, emerging alongside the likes of Carpark North, Swan Lee and Saybia, amongst others, in 2003. They released their debut album A Triumph for Man in April 1997 and its follow-up Half the World is Watching Me in 2000. At the 2003 Danish Music Critics Award Show, Mew won the awards for "Album of the Year" and "Band of the Year".
Their first major commercial success came with Frengers, released in 2003, described as "a work of quiet brilliance, aiming for the epic without straying into the bombastic, offering cerebral arrangements while keeping things accessible." The album was well received. After a European tour supporting R.E.M. they began to attract wider attention.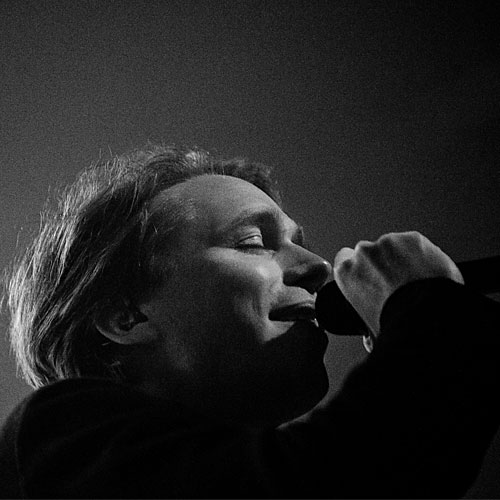 During summer 2012, Mew premiered two new songs, with the working titles "Boy" and "Klassen", that were in the running to feature on their sixth studio album, at shows in Scandinavia.
On 23 January 2013, Mew announced that they were no longer signed to Sony and would release new music independently. On 9 April they confirmed that they had started preproduction on their 6th studio album with producer Michael Beinhorn. They commenced the recording of the album on 6 May with producer Michael Beinhorn and engineer Frank Filipetti, who engineered the bass and drums for the album.
On 25 September, they released an iOS app entitled Sensory Spaces in conjunction with B&O Play. The app contained, amongst other things, a preview of a new song, "Making Friends", which will feature on the upcoming album. In November 2013, "Making Friends (13)" was made available to stream via Spotify and as a free download via the Sensory Spaces website. The band pointed out that it wasn't a single, but a thank you to their fans for waiting while they completed the upcoming album and that the album would contain a different version of the song.
On 6 May, guitarist Russell Lissack of the band Bloc Party visited Mew's studio and recorded parts for one or two songs which will feature on the new record.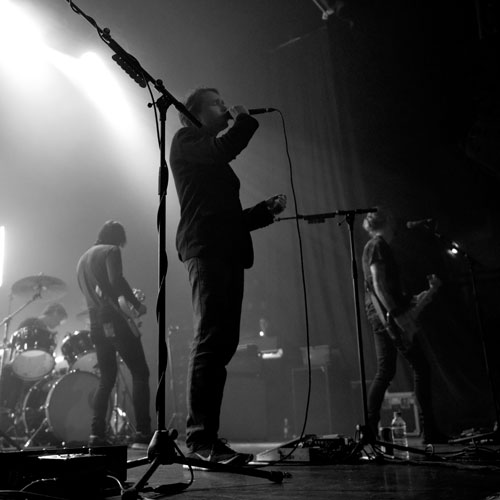 During a concert at NorthSide Festival in Aarhus, Denmark on 14 June 2014, Johan Wohlert was formally reintroduced as a member of the band and he played live with the band for the first time since 2006. While the band were onstage, fansite mewx.info posted an article confirming that he had been involved in the writing and recording of the upcoming album.
As of the Northside show on 14 June 2014, the new songs that have been played live and may be in the running to feature on the new album are tentatively titled "Making Friends", "Klassen", "Russle", which is thought to feature a guitar part by Russell Lissack, "Witness", "Changes" and "Boy". It is unknown what these songs will eventually and officially be titled, and, aside from Making Friends, which of them will feature on the upcoming record.
The band announced on 19 January 2015 that the sixth album, + -, will be released on 27 April through Play It Again Sam. They also released the first single off the album called "Satellites".