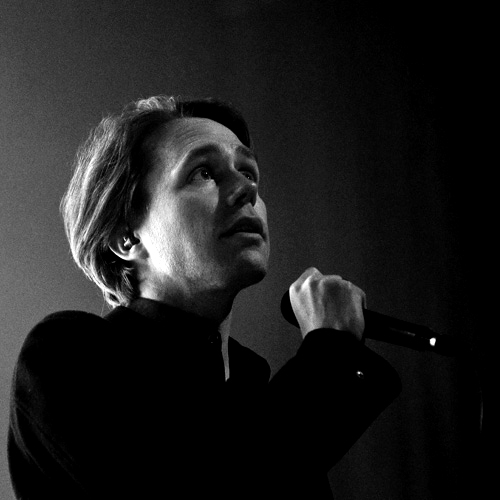 Manchester Ritz, 19 May 2015
My first encounter with Danish band Mew was back in 2003 when the album FRENGERS popped through my letterbox. I loved it but never recieved any further information regarding the band until a few weeks ago. The occasion was the release of the band's latest album - some 6 years in the making. +- is a strange name for an album that proved once again that Mew is one of the most distinctive, emotive and accessible bands out there. Along with the album the band announced a rare UK tour and for the first time, in a long time I will be able to witness Mew live. I expected a lot…
First up in the impressive Ritz Manchester venue is a Liverpool based trio called All We Are with players from Britain, Brazil and Norway. They describe their music as 'psychedelic boogie' which had me foxed both before the set and after it. Now sound management standards are getting worse but this set was atrocious sonically. I couldn't hear a thing and am none the wiser as to how good or bad they are. But it concerns me when a band are not concerned about how they sound to an audience. I was not impressed although a few audience members managed to shout their approval (for what I will never understand).
It was not to be the only disappointment on a night of strong anticipation.
MEW ARE:
Jonas Bjerre – lead vocals
Bo Madsen – guitar
Johan Wohlert – bass
Silas Utke Graae Jørgensen – drums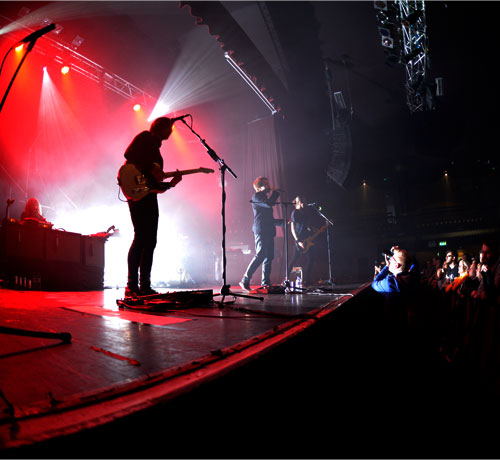 One by one Mew band members wandered onto the stage starting with drummer Silas Utke Graae Jørgensen who started work immediately introducing the show's opening salvo, 'Witness', from the new album. Jørgensen's drumming was central to this rhythmic humdinger of a show opening. Jonas Bjerre's gorgeous high-pitched voice was perfect as the song rushed to it's conclusion to massive applause from an almost capacity audience. Next up another new album stunner in the melodious and epic 'Satellites' which for me musically sums up this band. Great harmonies and pop-rock that is original and infectious. Bo Madsen on guitar is already stalking the large stage like a cat on heat while in the background keyboards, drums and bass thunder on below a video backdrop. On record this sounds great, on stage it's rockier and just as good.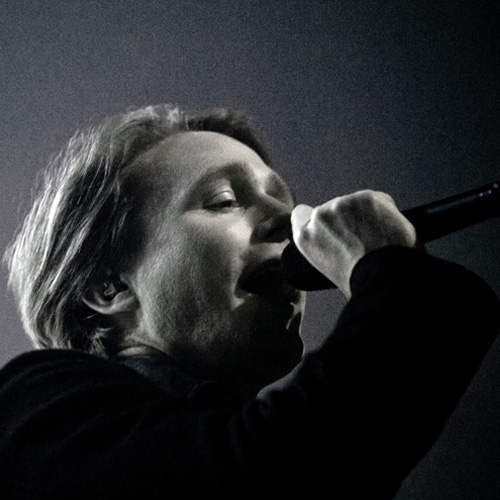 But there's a problem… I'm desperately trying to take pictures of a band in darkness. Yes, darkness! Somebody has forgotten that the huge bank of Ritz spotlights exist and are available to use for even the most incompetent of lighting engineers. Frankly, this angered me. It made Mew out as a lazy band unconcerned about it's audience who had paid big bucks to be there. Hell, it was dreadful and inexcusable. Even the sound was nothing to write home about. What the band has to remember is that this is not just a performance, it's a show .
Thankfully, the setlist that followed was top notch including songs from my favourite FRENGERS album plus songs from NO MORE STORIES and AND THE GLASS HANDED KITE. Despite the darkness the band performed with skill and passion . Best audience reaction of the evening was to 'Am I Wry? No' with Madsen stunning guitar riffs although my beloved FRENGERS tunes came close. A wonderful performance flawed by lack of attention to vital technical details. This could have been the show of the year…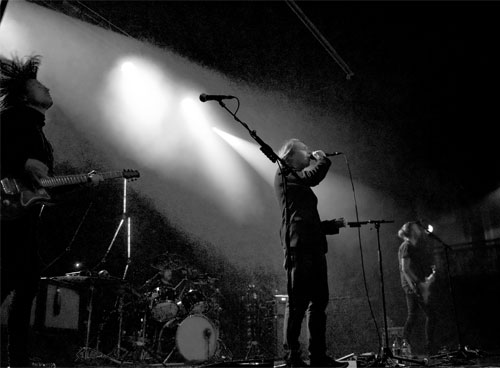 SETLIST
Witness
Satellites
Special
The Zookeeper's Boy
The Night Believer
Beach
Silas The Magic Car
Snow Brigade
She Spider
Water Slides
Am I Wry? No
156
Apocalypso
Saviours In Jazz Ballet
Medley (Clinging To A Bad Dream, The Zookeeper's Boy, Louise Louisa)
My Complications
Comforting Sounds