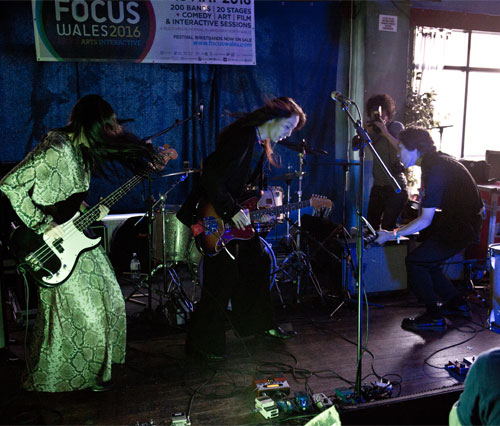 Qujaku
Remember I said this was part of a music festival…? I picked up a programme on entering the venue and saw acts from a variety of countries including Japan. Immediately on Meilyr finishing his short set I went around the corner to a temporary stage within the same venue and there witnessed a performance by 5-piece Japanese band Qujaku.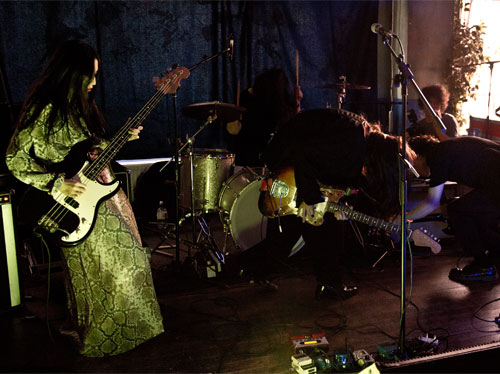 Every Japanese band I've seen over the years plays a type of rock/pop that is explosive and cathartic. Qujaku were no exception. Underpinning the thrashing guitars was a steady rhythmic beat from a highly skilled drummer. Looking around the full audience I perecived that they were in a state of shock at the ferocity of the instrumental attack, and loved it! Not metal but definitely mental.
https://www.facebook.com/Qujaku-346412282159781/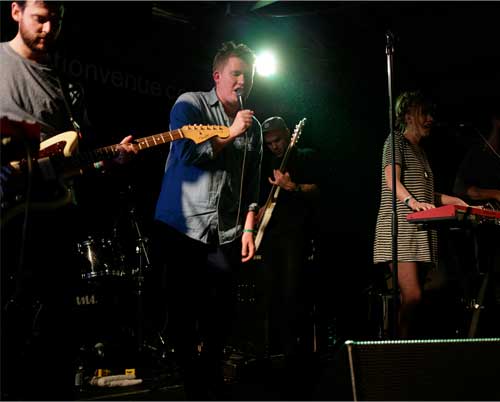 Los Campesinos!
At 9pm the last gig set at the venue turned out to be a band I have seen previously and liked. Los Campesinos have one of the busiest recording careers of any UK based band. Formed in 2006, they have released 6 albums plus a number of EPs. The band's current lineup consists of Gareth Campesinos! (vocals, glockenspiel, keyboards), Kim Campesinos! (vocals, keyboards), Tom Campesinos! (guitar, vocals, keyboards), Neil Campesinos! (guitar), Rob Campesinos! (vocals, guitar, keyboards, glockenspiel, percussion) and Jason Campesinos! (drums). The band has released five albums since their formation: "Hold On Now, Youngster…" (2008), "We Are Beautiful, We Are Doomed" (2008), "Romance Is Boring (2010), "Hello Sadness" (2011), and "No Blues" (2013).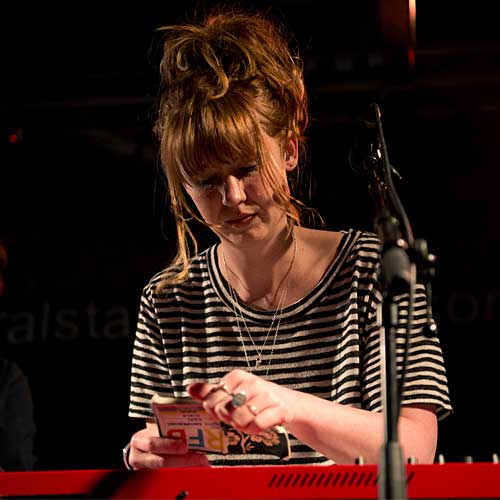 What you might well call 'one very happy family'.
The band were in their element as they transversed their back-catalogue. Gareth C pounded out the songs in his usual animated, hard-hitting style while the instrumental support was great. Sound-wise, the band had made a far better fist of sound management and actually sounded far better than expected. The band has a loyal following in Wrexham, where they have performed several times, and were even rewarded with some raucus backing vocals. One couldn't fault the performance while the band's enthusiasm was nothing but infectious. The setlist was also excellent and featured all their 'greatest hits'.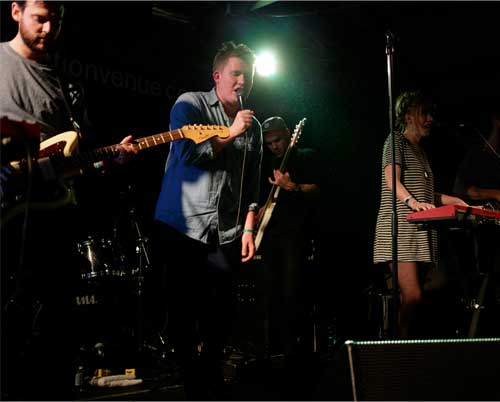 Setlist
Romance Is Boring
What Death Leaves Behind
By Your Hand
Hello Sadness
Straight In At 101
Knee Deep In ATP
We Are Beautiful, We Are Doomed
Avocado Baby
You! Me! Dancing!
The Sea Is A Good Place To Think Of The Future