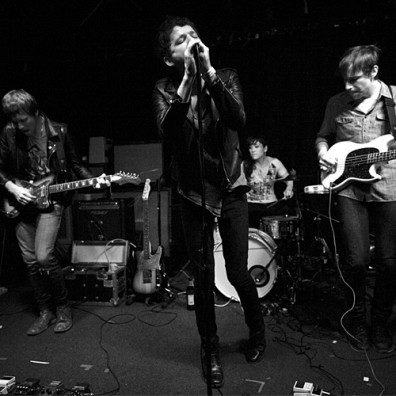 Crocodile's songs began circulating around the Internet after their friends in No Age named the band's song "Neon Jesus" as one of their Top Ten shredders of 2008. Unprompted, the forward-thinking Fader Blog posted two more stunner tracks, "I Wanna Kill" and "Summer of Hate." Stereogum recently named them 'Band to Watch' and described them as "The Velvet Underground swinging Jesus and Mary Chain." Really though, Crocodiles are just a great new rock duo hollering some fine tunes.
San Diego is a sleepy military town, stuck between Tijuana and the bright lights of Los Angeles, but this isn't Surf City, USA. The beaches may be home to students and tanners, but they're also home to hell's angels, jocks, drug casualties, and the medicated rich. Warplanes rumble in and out of the naval base, and as in countless American cities, the kids here are bored. Charles Rowell and Brandon Welchez met as teenagers amidst this overwhelming feeling of emptiness. Playing in various groups since then, the duo struck out on their own as Crocodiles in April of 2008. They quickly self-released a 7″ single and used it as an excuse to escape their hometown, first touring up and down the West Coast and then venturing across the whole of the U.S.
Crocodiles debut album, Summer of Hate, is born of the same alienation and frustration that fuelled Charles' and Brandon's initial pairing. Poppy vocal melodies are crushed with harsh electronic drums or lifted and left floating in spaced-out noise and echo. Loud, wiry guitars jab wildly like mutant synapses skirting along a tightrope drone. This band is AWESOME! Together with other instrumentalists in the band on the night, they tied for first place in my rankings of the finest rock bands at Sound City 2010. Forget the Killers and Kings Of Leon because this band tell you musically how it really is, and live in a way that is utterly compelling. Another mental note…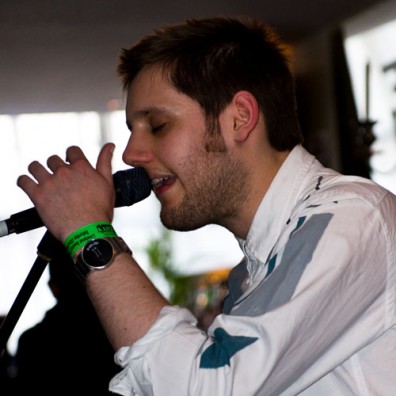 A couple of months ago we featured Mr Fogg's album (MOVING PARTS) in one of our radio shows and to-date have played just about every track on it. Mr Fogg is a UK-born alternative pop artist, who made his name touring countries including Iceland - where he recorded his debut album Moving Parts. He also played Reading Festival, Iceland Airwaves, Truck Festival, Secret Garden Party in the past and has some exciting UK shows coming up in 2010. MOVING PARTS was recorded at Greenhouse Studios in Reykjavik, and co-produced by long-term Bjork-collaborator Valgeir Sigurdsson. Mr Fogg's remixers include Rennie Pilgrem, Jakwob, Poirier, Ólafur Arnalds and Rudi Zylgadlo. He had just returned from L.A, where, under the creative direction of legendary Tony Kaye (of American History X fame), he filmed a video for the 'Moving Parts' single. The beauty of events like Sound City is one gets to discover acts and see those in action previously only heard on record. So it was back to the 33-34 in Parr Street (next to the famed recording studio) to catch him live for the first time. But all was not well. The bar/club had been double-booked and Mr Fogg ended up playing above the intrusive chatter of a birthday party group. But he soldiered on and confirmed my view that 1) His new album will figure strongly in our end-of-year best list. 2) No current pop artist can write such meaningful, beautiful and accessible pop songs. I loved what he did.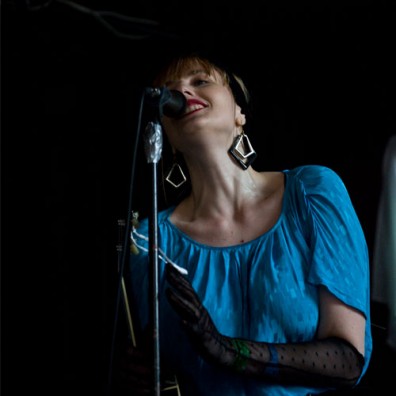 Christine Owman is as leftfield as you can get: "There's so much you have to do when you're alive. I hate the conventional part of me who struggles with keeping up with what the ideal woman is supposed to look and be like, what latest innovation that'll make me happy or what a happy life is supposed to be like. I struggle with convention every day. It feeds me with unnecessary cravings and makes me compare myself with unrealistic visions. Living today, at least in my generation, equals to the eternal search and race towards getting acknowledgement from others - getting seen. There once was a saying 'I think, therefore I am.' Today's version of that is 'You see me, therefore I am.' I don't need to stand out of the crowd. I just don't want to be a part of it."
With Tom Wait's rhythms, PJ Harvey's sensual attitude, Elliott Smith's reserved vocals, the mystique of Twin Peaks combined with Bjork's fresh originality, this lady blew me away. It was a mesmerising, sincere performance from this Scandinavian artist now residing in Liverpool. Complete with a video backdrop relevant to each song, various instruments, and 2 mics to provide different vocal sounds, Owman had the small audience captivated. The interesting thing was that she hasn't the greatest of voices, but, the combination of her deep sincerity and ability to communicate her feelings openly, combining instruments and multi-media, was inspiring. It was the most moving performance of Sound City 2010 and lovely example of 'performance art.'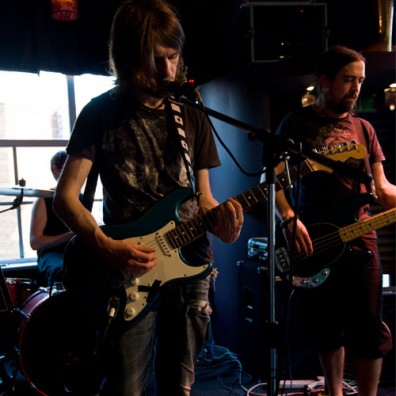 I have just received Butterfly Explosion's new album and only had time to hear a couple of tracks briefly before Sound City arrived. But fortunately this Irish band dropped in on the event on Saturday night on their way home from their three-week tour of Europe. Gazz Carr - rhythm guitar and vocals, John Coman - drums, Conor Garry - bass, and Jay Carty - lead guitar arrived in a beaten-up transit, unloaded and within thirty-minutes were enthralling the small audience with their heavily instrumental songs. Here's some background:
"The Butterfly Explosion is a band from Ireland that blend powerful spiraling music with delicate vocals to form rich soundscapes of beautiful melodies, gliding between moments of ethereal dreampop and explosive sonic bliss."
"The debut album 'Lost Trails' was released digitally March 2010 on Revive Records and to Irish record stores in April. 'Closer', the first single, had already received extensive airplay from Ireland's leading alternative music shows. Within a couple of weeks of the album release, more tracks such as 'Chemistry', 'Insulate Dreams', 'Sophia' and 'Tracing Stars' began to stir interest in the USA and with the album entering an increasing number of stations' Top 30 play-lists, 'Lost Trails' broke into the CMJ 200 college radio charts, rising to #121 after one month. This jump in exposure was also reflected on Last FM where they charted at #5 in the hyped artists chart the week after the album's release. Formed by guitarist/vocalist Gazz Carr, Butterfly Explosion had previously released two critically acclaimed EPs before recording began on the debut album late 2008 with producer Torsten Kinsella (God Is An Astronaut). Their epic live shows have seen them be championed by many as one of the most promising bands to emerge from Ireland in recent years."
I came away deeply impressed and the following night played a track from the album in my representation of the best I had seen at Sound City. I talked to the guys after their gig and they are the most modest and pleasant bunch you could hope to meet. Sonically, their music reminds me of Floyd, Dirty Three and Mogwai - a heady mix! Now I've listened to the album several times I'll state categorically that I'm looking at an album of the year…