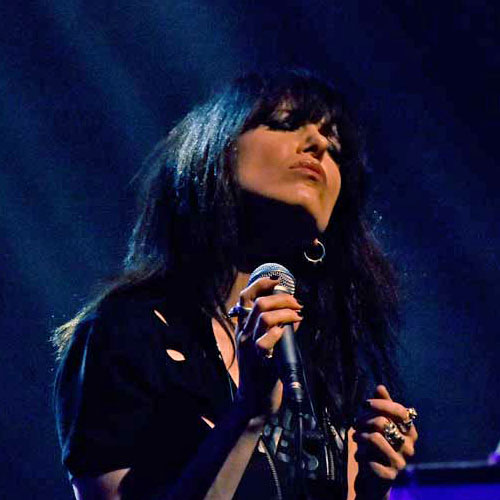 Imelda May & Jack Lukeman Live
Liverpool Philharmonic, 15 May 2017
I've wanted to witness an Imelda May show for many years despite the fact that I've never heard her on record. The reason for my interest therefore has been through the multitude of good third-hand reviews May has received for both her recordings and live shows. But I have had my niggling tiny doubts, namely that 50's hair and makeup together with her devotion to a style of music that I don't exactly hate but don't love either.
A few months ago I received her latest album LIFE. LOVE. FLESH. BLOOD. which revealed a new and more natural look together with songs that were obviously deeply personal and more rock than billy. It seemed to me that a rather silly mask had been stripped away to reveal a very beautiful woman with a real talent for songwriting, and a voice to match.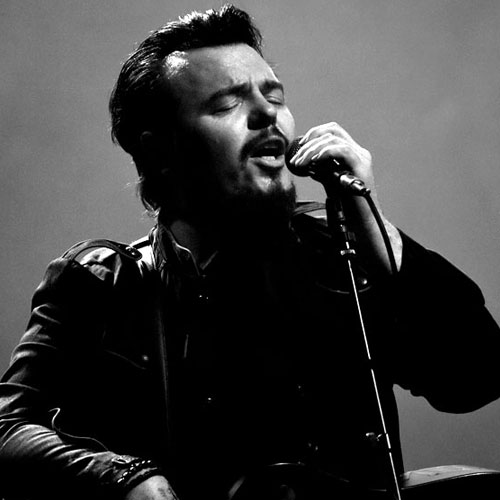 The venue was the hallowed and acoustically sound Liverpool's Philharmonic on what must have been one of the wettest nights of the year. The audeince, somewhat predicably, was largely middle-aged with more youthful fans notable for their absence. Supporting May on the night was one of Ireland's finest and most durable singer/songwriter talents. I first and only experience of Luke Jackman was a live recording of 1998's Liss Ard Music Festival which included a couple of his songs. I was impressed but like May, this is my first real life opportunity to see him.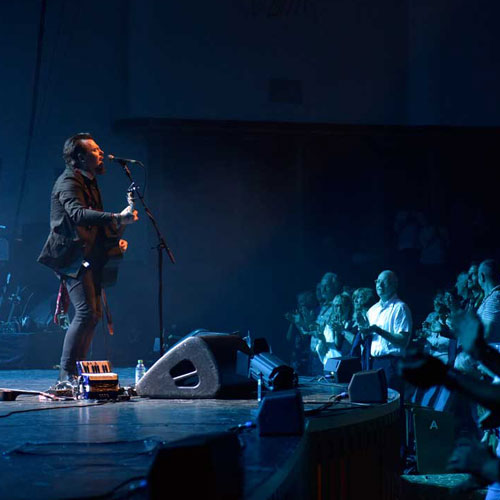 Playing alone with his guitar Lukeman proved to be an explosive live performer with a powerful voice. In addition, he quickly connected with his audience (who probably didn't know him from Adam) at one point getting them to all stand up and join in on 'King Of Soho's' rousing chorus. May couldn't have picked a better warm-up act. I didn't recognise his songs with the exception of one that that is a favourite of mine and reminds me of my deceased father. 'Ol' Man River' is a classic song from the musical SHOW BOAT with music by Jerome Kern and lyrics by Oscar Hammerstein II. It's about the struggles of early African Americans: "I gets weary Sick of trying I'm tired of living Feared of dying But ol' man river He's rolling along." It's been covered by many artists including the late, great Sinatra and most notably by baritone Paul Robeson. Lukeman's version was very good and my highlight of his delightful set. Then came another of my favourite songs, this time from Jacques Brel. 'Amsterdam' is nothing short of epic and Lukeman's version no less passionate. Judging from the large number of punters buying from his merch stand afterwards he had made many new friends.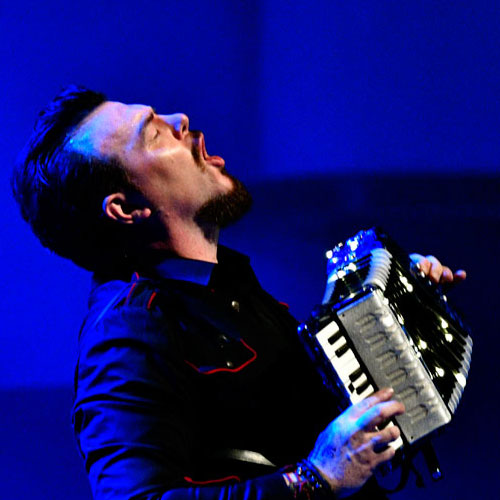 In sharp contrast to the solo Lukeman arrived the massed ranks of Imelda May's entourage. I lost count of how many musicians accompanied her but just about every big band instrument was covered by the time May hit the stage. She looked wonderful and wild with her all-black outfit and unruly matching hair. Now for the first song I've come to expect a degree of fireworks from artists and especially from those with an army of musicians at their beck and call. But no. May sat on a chair stage-centre and sang the most emptional and down-beat song from her new album. 'Call Me' is a simple soulful plea for her man to pick up the phone and was sung with real emotion. While she sang a single spotlight focused on her and helped create my most memorable moments of the night.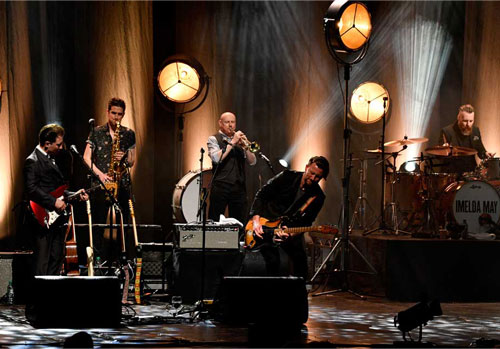 From the audience's strong reaction it was a master stroke, albeit a tad risky. It was followed by another quite mellow song in the heavily blues and gospel tinged 'When It's My Time' where May was able to showcase her substantial vocal power and range. It was another show highlight with some wonderful instrumental passages especially from the keyboards. Thus far, May had not only proved her ability to write simple but effective lyrics but also to create the most powerful melodies.
This being Liverpool there were a variety of messages shouted from the audience including a guy who asked may if she remembered him from a visit to HMV. May revealed her ability to respond naturally and with humour. She is indeed the total live package. The Spector-esque 'Human' livens things up by several degrees with a rock-pop song that by rights should be dominating the airwaves. May really belts this one out providing further evidence of a voice that can conquer all. 'Sixth Sense' slows to a crawl with a contemplative vibe dominating a very introspective song. It's another huge melody and a song that should be BBC Radio 2 fodder. May has never looked or sounded sexier…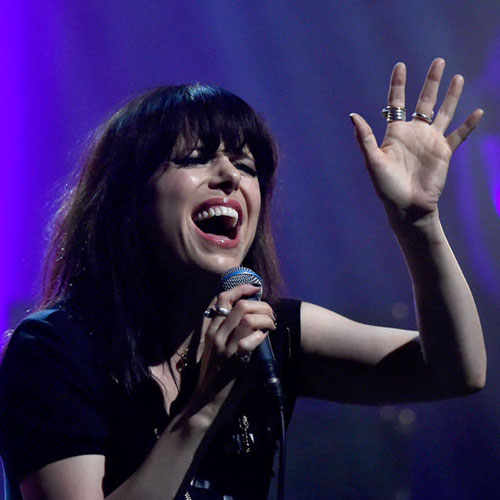 The show's setlist was masterful featuring all eleven of the new album tracks plus some older and very lively May rockabilly classics. In addition a couple of superb cover versions The Animals' 'I'm Crying' (when May played solo with her guitarist) and The Shangri Las ('Walking In The Sand'). There was a moving commemorative moment when 'Love And Fear'was dedicated to victims of the Bataclan terrorist attack which happened while May was actually in Paris.
An acoustic version of new song 'The Girl I Used To Be' completed a magnificent show on a reflectic note. There's no doubt that Imelda May has changed and significantly. My only question on the night was the sound management that seemed to require May to occasionally fight against her musicians, when her voice sounded a little rough. But she also proved that in this new guise and with a more eclectic song style she has become world class, and not a minute too soon. A parting thought: some of the best mements of the show were the quietest ones with minimum accompaniement. How about trying some smaller venues with just a guitarist?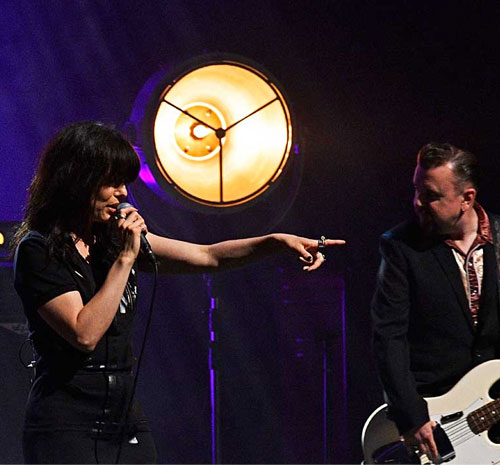 SETLIST
Call Me *
When It's My Time *
Human *
Sixth Sense *
Big Bad Handsome Man
Bad Habit *
Love and Fear
How Bad Can a Good Girl Be *
Black Tears *
Flesh and Blood
Levitate *
Should've Been You *
Leave Me Lonely *
The Longing
Wild Woman
Mayhem
I'm Crying (The Animals cover)
Johnny Got a Boom Boom
The Girl I Used To Be *
Walking In The Sand (Shangri Las cover)
* New album songs