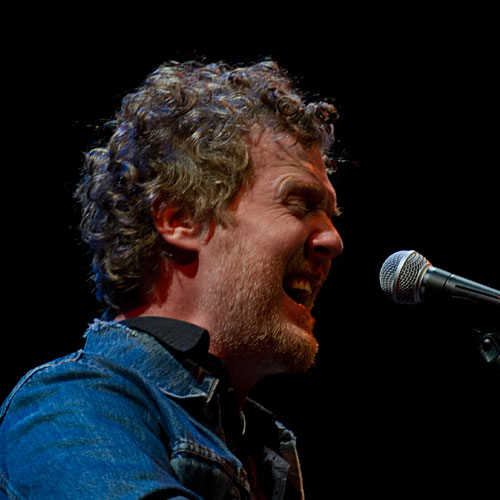 At 8:30pm Hansard's supporting musicians joined their instruments on stage followed finally by Hansard who after a broad, genuine smile and wave went directly to a set of keyboards stage centre. I have never seen so many musicians on stage for a Hansard/Frames performance. Above and beyond the standard Frames band of drums, bass, guitars and violin were cello, two violins, trumpet, sax and trombone. The opening song (from the new solo album) was 'The Storm, It's Coming', arguably one of the record's finest. This was a gentle, heart-felt and highly emotional opening gambit before Hansard. Next the first track on the new album and one of my favourites (the audience appeared to share my love of the song), 'You Will Become'.  The song appears to echo past romantic ambitions which failed to materialise and as usual Hansard's interpretation accurately reflected the high emotion involved.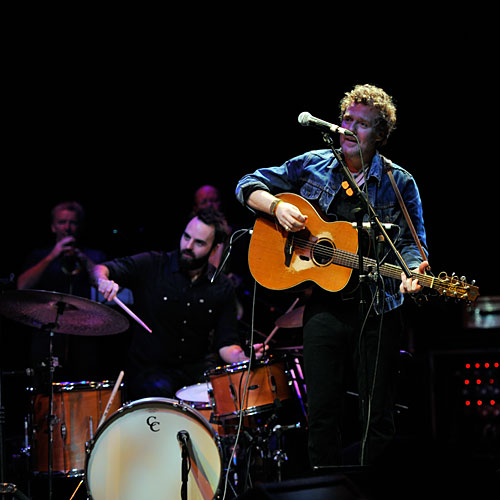 So far the new solo album had opened the show and continued with the country-tinged 'Maybe Not Tonight' with some stunning guitar work from Bochik. Another new song arrived in the upbeat 'Talking With The Wolves' when drummer Hopkins started to make his presence felt and then drove the message home with the next new song, 'Love Don't Leave Me Waiting'. The song also signalled the noticeable entry of the excellent brass section that became a surprisingly important feature of the night's proceedings. The next song, also from the new album, is another firm favourite. 'Philander' is a glacially paced contemplative song that is one the most emotional on the new album. I have always admired the passion and feeling that Hansard puts into his performances and this was no exception. He moved me beyond words…
I was pleased that Hansard chose to open the show with so many brand new songs from RHYTHM AND RESPOSE but it was good to hear some 'golden oldies' starting with an early Swell Season song that met with immediate positive audience response. 'When Your Minds Made Up' is certainly amongst the best and most popular on 2006 SWELL SEASON album with its dramatically building crescendo which both live and on record raises the hairs on the back of one's neck, especially when the piano kicks in along with the string section and drums… Wonderful, wonderful, wonderful stuff.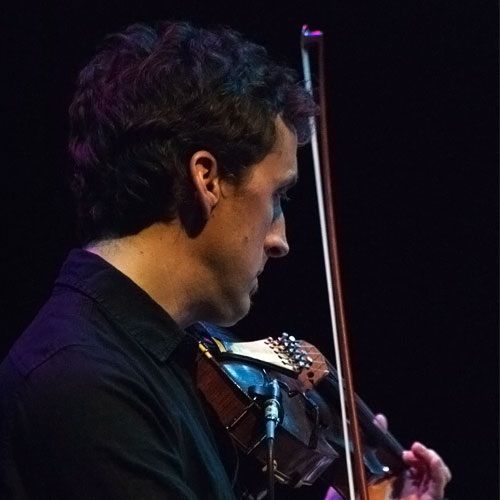 Then it's back to the new album with another cracker, 'Bird Of Sorrow'. The piano rhythm is mesmerising while Hansard's delivery is reflective, crystal clear and heart rending. The explosive closing crescendo is thrilling, and amazing. Right through the show Hansard tells the stories behind some of the songs including a dedication to a friend in New York who after several Chemotherapy sessions has decided that his last few months will be chemo-free and enjoyable. Hansard changes guitars often during the show but his well-worn and holed Takamine NP15 is a familiar and welcome friend.
As lead men go there are few rockers who can match Hansard's skill and ability to connect so intimately with an audience which seems the easiest thing in the world for him. Then another song that opens in quiet mode but ends in a crashing, stunning and heartbreaking crescendo. 'Leave' is again from the Swell Season's first album and featured in the movie ONCE.Then a brand new and charming song (which is yet to be recorded) called 'Pennies In The Fountain' (inspired by Hansard's recent support tour with Eddie Vedder with Hansard on Vedders's beloved Ukelele) before it's back to the present with  another country/pop tinged beauty called 'High Hope'. It's when one hears the new songs live that one realises just how good the album is, and it's amazing to me that journalists and broadcasters did not pick up on it…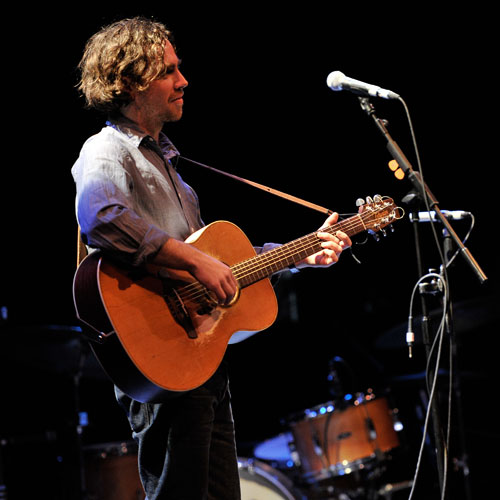 Time for another older classic in the building time-bomb of 'Rise' from THE COST followed by the winding title track from 1991's FITZCARRALDO with Hopkins, Bosnik and Iomaire in full and beautiful flight. I also believe that during the performance 'Back Broke' from Swell Season's STRICT JOY and a song from movie THE HUNGER GAMES were played. There was a brief spell when Hansard's team left the stage, he uncoupled his electrics and wandered to the front of the stage to play acoustically without any amplification. It was a special point in the show and the one where he was closest emotionally to his adoring audience. The show climaxed in another new and reflective song called 'Song Of Good Hope' that actually closes the new album. This was met with a standing ovation and , of course, mounting demands for an encore - met with the most unusual (and exhilerating) response from Hansard…
It all started with a solo acoustic/unplugged performance by Hansard of another track from the movie score of ONCE called 'Say It To Me Now' before he invited his band mates to join him for a sumptious unplugged version of another ONCE song called 'Gold' - one of the night's many very special moments (if you've seen the movie you'll know what I mean). Another followed immediately with Hansard telling the audience that he was sure Irglova wouldn't mind if he played 'Falling Slowly' - the song that sent Hansard's career sky-rocketing. Then the first surprise in this incredible show and encore. Hansard invited The Lost Brothers back on to perform with the full complement of musicians. The song was 'Corrine, Corrina' which dates back to the 1920s and proved immensely popular with both the musicians and audience. Hansard explained that this was the last UK show and so a few things were in store…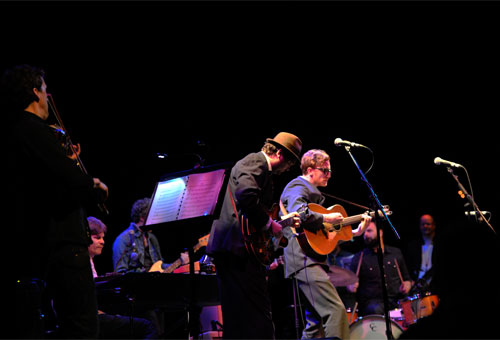 Surprise number 2: Ben the Manchester based cellist was given the chance to play and sing backed only by fiddler Iomaire. He played an original blues composition that floored everybody with his great voice and tune. Then surprise number 3: Hansard invited the merchandising girl up on stage to song a duet with him. The song was 'This Gift', an absolutely gorgeous track composed by Hansard and Irglova for the Disney film THE ODD LIFE OF TIMOTHY GREEN. Then the biggest surprise of all! All musicians assembled at the stage front to sing a gospel/blue grass song called 'Passing Through' (to send everybody home on an uplifting note) with audience participation requested and granted. Hansard and the musicians then dismounted the stage and still singing/playing walked up through the audience to finish the song in the theatre's foyer.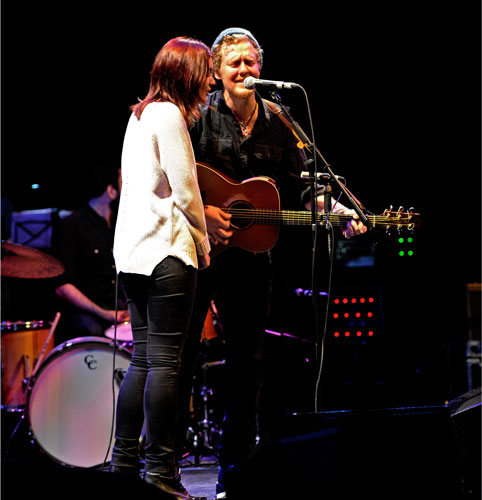 Only Hansard could have come up with this remarkable and welcome ending to a show that can only be regarded as a masterclass in live performance; a classic. And I thought I has already seen Hansard at his best… The setlist was well nigh perfect taking in no less than 5 albums and 2 movies plus music as yet unrecorded. It all finished gone 11pm - nearly 3 hours of unrivalled, meaningful entertainment and for me the firm conclusion that I had just witnessed the world's finest. Parting shots:
The Frames is shortly releasing a new full length DVD about the band including several live performances. It's Called IN THE DEEP SHADE: Filmmaker Conor Masterson worked closely with the band over an 18 month period beginning on their 20th anniversary tour in 2010. "The Frames have always been very positive collaborators. I felt this was an opportunity to make a film that could explore their creativity as people and musicians as well as capturing some of their very dynamic and exciting live perfomances in close up."
The film will make it's Irish debut at the Jameson Dublin International Film Festival on 17 February 2013.
Having witnessed yet another solo Hansard concert where Frames musicians played a key supporting role, including a spectacular contribution by Hopkins on drums, I am not alone in hoping that the band record and perform again soon as one. Seldom have I seen musicians share such emotional and musical empathy.