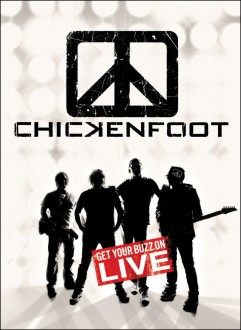 GET YOUR BUZZ ON "LIVE" CHICKENFOOT ROCKS OUT WITH ONE OF THE MOST EXCITING  BLU-RAY AND DVD LIVE CONCERT RELEASES OF THE YEAR -  FILMED IN HI-DEFINTION, MIXED IN DTS SURROUND SOUND
Eagle Rock Entertainment is pleased to announce the release of Chickenfoot: Get Your Buzz On "Live" - one of the most highly anticipated live rock'n'roll concert experiences of the year.
Filmed with 16 hi-definition cameras over three sold out concerts, Chickenfoot: Get Your Buzz On "Live" offers fans an unforgettable once-in-a-lifetime opportunity to experience four rock'n'roll legends sharing the stage and blowing the roof off with their explosive musicianship and dynamic onstage chemistry.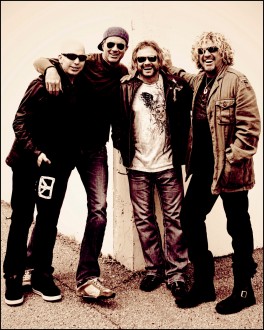 Chickenfoot, who won Best New Band of 2009 at the UK's prestigious Classic Rock Magazine Awards, and originally formed in 2008, features vocalist Sammy Hagar (ex-Van Halen, Montrose), bassist Michael Anthony (ex-Van Halen), drummer Chad Smith (Red Hot Chili Peppers) and guitar virtuoso Joe Satriani.
The band's self-titled debut album, released in heat sensitive packaging, was released to critical acclaim in June 2009, and has since been certified gold in both America and Canada with sales in excess of 750,000 copies. During the same year, the band embarked on a small North American club tour, performed in Europe in the summer including the Montreux Festival and returned to North America to perform two sold out tours, one in the summer, followed by another in the fall.
During the summer of 2009, the electrifying, hi-energy concert performances were filmed in hi-definition by award-winning director Daniel E. Catullo III (Rush, Creed, Godsmack, Smashing Pumpkins) and mixed in DTS 5.1 Surround Sound by Mike Fraser. The DVD features one full concert shot at the Dodge Theater in Phoenix, Arizona on September 23rd, 2009, plus live segments from shows at the Tabernacle in Atlanta, Georgia and The Rock & Roll Hall Of Fame in Cleveland, Ohio.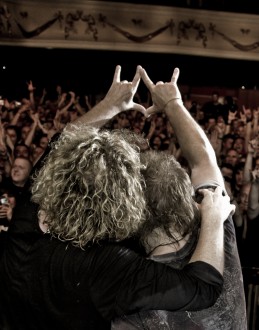 Track Listing: 1. Avenida Revolution 2. Sexy Little Thing 3. Soap On A Rope 4. My Kinda Girl 5. Down The Drain 6. Bitten By The Wolf 7. Oh Yeah 8. Learnin' To Fall 9. Get It Up 10. Turnin' Left 11. Future In The Past 12. Bad Motor Scooter 13. My Generation
Chickenfoot - Line-Up: Sammy Hagar - Vocals, Guitar Michael Anthony - Bass, Vocals Joe Satriani - Guitar, Vocals Chad Smith- Drums, Vocals
Shake Verdict: You have to admire these guys for not resting on their laurels and just sitting back taking the praise for being amazing, they went into the studio and produced one of THE rock records of the year and with their pedigree was their live show going to be anything less than amazing? The simple answer is a resounding NO!
This DVD captures four guys hanging out with a few thousand friends and playing some of the best, most original highly charged rock music you will hear anywhere, the musicianship is inspiring, the vocals sinply stunning, the audio has to be heard louder than hell and the visuals, well your ears won't believe your eyes, I hope the band make a second album and return to the UK to play a regional tour, or a festival appearence would be nice, but while we wait for that, Get Your (Chickenfoot) Buzz On… Right here… 5/5: Jj: 2010
Chickenfoot: Get Your Buzz On "Live" is released on DVD & Blu-ray in the USA by EMI America and in the UK by Eagle Rock Entertainment Further info: www.chickenfoot.us