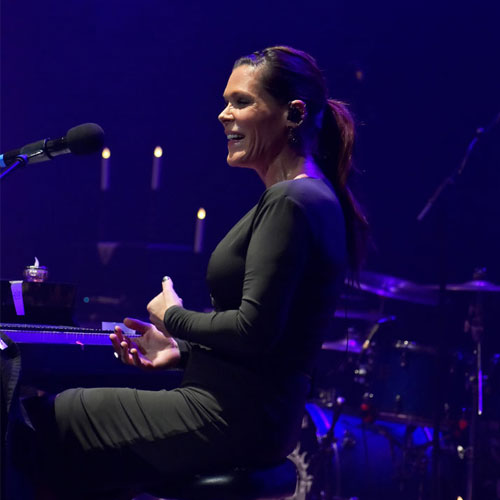 Bridgewater Hall Manchester, 21 November 2016
November and December 2016 have given up some of the best live performances of the year for us. Up to this point it had been a good year but not a great one, albeit one of the most diverse for a long time. Then came the amazing Christine and The Queens show in Manchester that blew me away with its skill, musicality and artistry. Rachael Yamagata maintained the momentum with her empassioned solo performance in a tiny pub venue in Manchester. Finally, Beth Hart who visited Manchester's wonderful Bridgewater Hall as part of her world tour. Three ladies, three genres, all at the very top of their art, and 100% in touch with their respective audiences.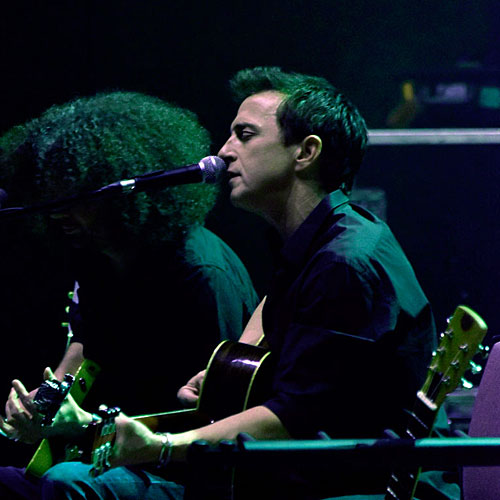 Vancouver blues man Colin James provided a more than adequate warm-up act along with sideman Chris Cadell. This was pure blues rock with wonderful guitar artistry and a vocal that was totally convincing. With numerous albums under his belt, James played a brief best-of that the audience loved.
I came to know Beth Hart via her masterful collaboration with Joe Bonamassa in 2011. The album was DON'T EXPLAIN; a collection of classic soul interpretations. If you love either artist or just love your music, you owe yourself this album. It was at this point in her recording career that Hart chose to use as she opened her concert in Manchester.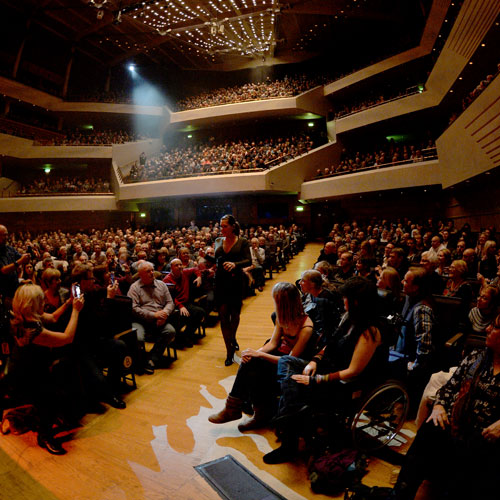 Hart's band arrived on stage and started the intro to 'Your Heart Is As Black As Night' when Hart's voice seemed to appear from nowhere. Then, looking back, Hart was at the rear of the venue singing her way down one of the aisles. I should mention that this special galleried venue was packed with several punters vying to shake Hart's hand as she went. She responded by hugging and greeting up to the point she reached the stage. It was a wonderful opening gambit and an appropriate introduction to a show that was generally highly personnel and emotive.
Then comes a rocky 'Rhymes' from her 2013 Joe Bonamassa collaborative album and an invitation from Hart to us to join in and boogy! There followed a best-of setlist which of course majored on the latest album, FIRE ON THE FLOOR, a more optimistic collection of songs that her previous, more intimate opus. Her band provided great support with an especially great rhythmic display from her drummer Bill Ransom.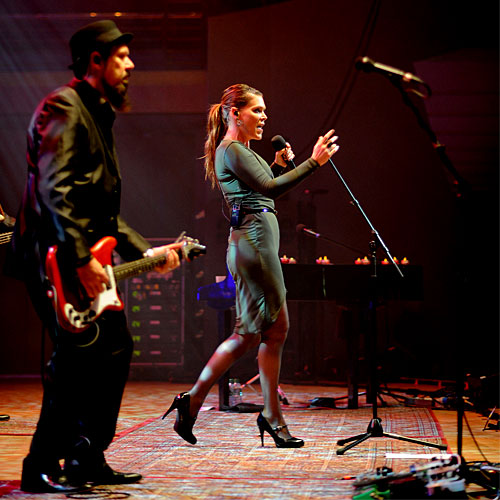 Special moments arrived one after another but if I was to pick just one it would be Hart playing at her piano performing 'Sister Herione' with its intimate meaning and deeply expressive delivery. Hart touches just about every genre but underneath the surface is always her commitment to the blues. Most songs performed came with a brief Hart background explanation and a feeling that she loved her audience who responded with great acclaim at every turn.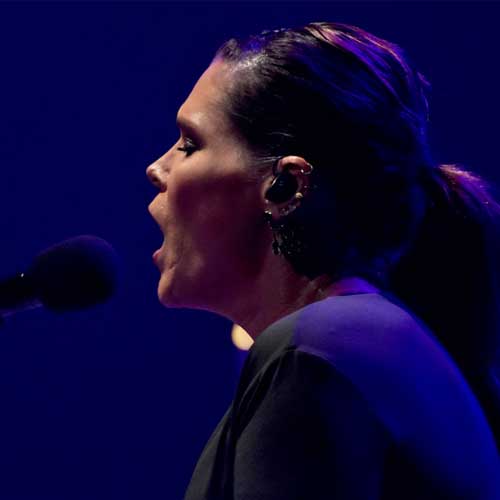 Finally the inevitable encore arrived which signalled another walk amongst the fans during 'Waterfalls'. Some years ago I witnessed a BB King arena concert and was taken aback by how powerful his voice was - it effortlessly reached every corner of the 11,000 seater venue. I was similarly struck with Hart's voice which was both powerful and able to adapt to the mood and vibe of her songs - at times deeply intimate, at others boldly rocky. This was the most passionate performance of the year from a true world star. Adele could learn something here…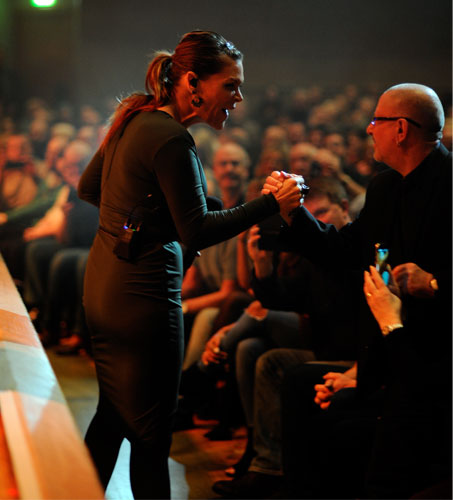 SETLIST
Your Heart Is as Black as Night 2011 (Melody Gardot cover)
Rhymes 2013 (Al Green cover)
Bang Bang Boom Boom 2012
Swing My Thing Back Around 2012
Love Gangster 2016
Good Day to Cry 2016
Delicious Surprise 2000
Let's Get Together 2016
I'll Take Care of You 2011 (Bobby "Blue" Bland cover)
Sister Heroine 2011
Leave the Light On 2007
Picture in a Frame 2016
Wash Your Feet
Today Came Home
St. Teresa 2015
Love Is a Lie 2016
Tell Her You Belong to Me 2015
Encore:
Waterfalls 2007
Fire on the Floor 2016
Woman You've Been Dreaming Of 2016
As Long as I Have a Song 2015