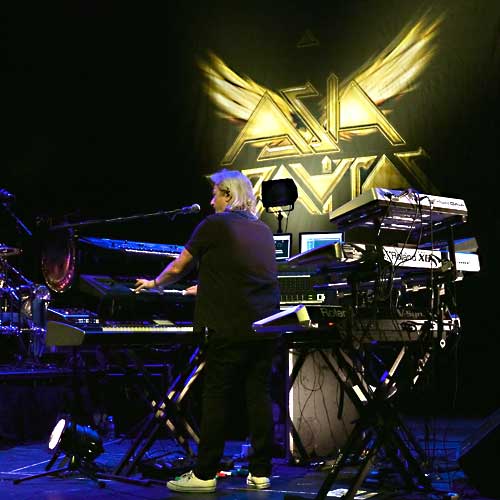 29 October 2014, Royal College of Music, Manchester
ASIA is:
John Wetton - lead vocal and bass
Carl Palmer - drums
Geoff Downes - keyboards
Sam Coulson - guitars
For their long-devoted fans, the band's return to live action cannot come soon enough. As drummer Carl Palmer says: "Performing on stage is where this band truly comes into its element. Seeing the fans reacting to our music is what makes it all worthwhile. It is the fuel that drives this train we call ASIA. We've played to audiences globally, but playing at home in the UK is always a major event for us."
As strange as it may seem,I have never heard or seen a note from this seminal band although I recognise the band's most distinctive logo which I remember seeing on vinyl LPs. It's therefore very interesting for me to see and hear for the first time a band whose debut LP was the world best seller back in 1982. For example: how do they compare with bands formed in the very recent past? As a freshman, I am about to discover…
The show is divided into two sets with a 15 minute intermission midway for drinks and merch sales. With the the opening track, 'Sole Survivor', I noted that leadman John Wetton probably needed a few songs for his vocal to warm up but the song fairly rattled along encouraged by a loud and genuine welcome from a near sell-out audience. Over to the right of the stage new guitarist Sam Coulson was already proving his worth and reminded a little of the great Brian May whom I suspect is amongst this young man's musical influences. Another uptempo tune followed with 'Wildest Dreams' but for me a problem seemed to be emerging…
Carl Palmer is a drummer of note and live reviews I've read (and there a just a few!) without exception heap high praise on this drummer. Tonight I was not so sure. Drums sounded dead-beat, lifeless and far too loud. Perhaps the latter was at the heart of the problem in that it's possible that the venue's acoustic does not emmpathise with heavy rock drumming. It's also possible that a poor job was done with setting up during sound check time. Who knows! 'Valkyre' (from the new album GRAVITAS) was another explosive song but this time with the most tangible melody and by this time Wetton was, as they say, "On song" albeit a little hard to hear with that aforementioned drum cacophony. In terms of audience connection, in Wetton the band has the most natural and easy communicator who introduced almost all songs (which was great for me) and understood his audeince so well.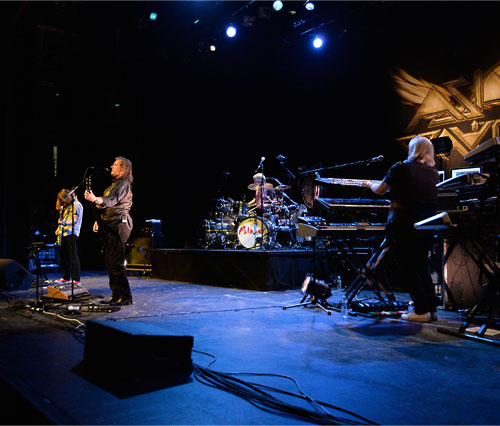 The highlight of the night for me was the very beautiful re-arranged 'I Know How You Feel' that the band should consider releasing as a Christmas single. This time it was Wetton and keyboards (programmed with wonderful orchestral strings) and for the first time that night I thought that Asia was indeed a special band. Wetton was brilliant as was Geoff Downes who was flanked on both sides by mountains of keyboards which he used to masterful effect.
'I know How You Feel' was another show favourite that started out quietly and innocently but built into the most epic and complex song of the night. 'Voice of America' also impressed especially in its acoustic interpretation. The band's setlist touched all the bases including three songs from the brand new album but fans loved every second and helped with choruses when asked. My only doubt on the night was the drumming but I'm pleased (and feel privaleged) to have witnessed one of the real classic rock bands proving that they still have a strong future - live and on record.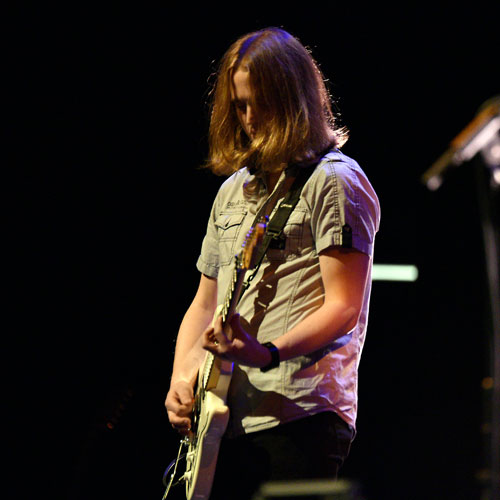 SETLIST
1.Sole Survivor
2.Wildest Dreams
3.Face on the Bridge
4.Time Again
5.Valkyrie (Gravitas)
6.Finger on the Trigger
(John Wetton & Geoffrey Downes cover)
7.I Know How You Feel
8.Voice of America
(Acoustic)
9.The Smile Has Left Your Eyes
10.An Extraordinary Life
11.Gravitas (Gravitas)
12.Boléro
(Maurice Ravel cover)
13.Days Like These
14.Go
15.Don't Cry
(with Carl Palmer Drum Solo)
16.Only Time Will Tell
17.Open Your Eyes
18.Heat of the Moment