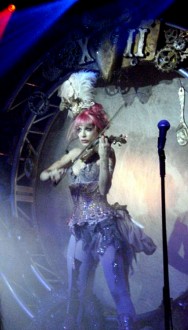 Emilie Autumn - Nottingham Rock City - 30th Jan 2010 - The Asylum Tour
You are currently Promoting your latest release "Opheliac" on this, your rather mammoth 'Asylum Europe and Australia tour.'
Yeah, this only our third date, but we've been really lucky In that, as I imagine things go with touring, things always go wrong at the start. The first date in Bristol, we kinda fell victim to the 'anything that can go wrong will', and it did. Most people have a hard time keeping my clothes on me, on the stage, but at that gig, nothing would come off, everything was getting knotted, and my rat mask that I made wouldn't come off, and I do this kind of strip show thing. I just gave up, I was like, I'm a clown, this is a theatrical show, but the audience got the joke, so as long as they are laughing with you it's ok. The second show was much better, and I think we'll kill it tonight. The crowds have been really good and acted like this safety net to our show, even when we're completely fucking up (laughs).
Do you think the sheer length and number of dates of this tour is going to affect anything?
Originally my management asked me to be realistic about the amount of shows I could feasibly play, but naturally I'm saying, 'nothing's going to be a problem.' For me, honestly, the place I feel most comfortable and at ease is on the stage performing, plus the girls I'm touring with are just like me, we are all theatre nerds with this geeky background that we all share, and it helps on a daily basis that we all share that. I also think that by the end my voice will be made of steel (smiles), and it will sound amazing, and the cover off Queens 'Bohemian Rhapsody' that we encore with, will just keep getting better. It's just going to be fucking amazing and I'm looking forward to every show, and being able to hopefully increment the show up every night.
I grew up in probably the nerdiest way, submersed in the classical, but at some age all of us here got turned on to the stage and the theatrical skill. I have the musical background, but then we have the burlesque stars and fire eaters, and people on stilts, and I guess in that way it a bit like this traveling circus, but we all have our own skills and when it comes together on the stage it's just fantastic to see.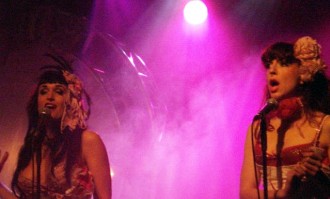 Was the progression into the more theatrical due to your disagreement with the classical mentality you where brought up with, or was it a more natural drive to perform?
Classical music is still my main love and it's still, well to me, the best, and no ¾ minute rock or pop song will ever compete with a Beethoven symphony or anything else like that, it just can't, its still technically amazing and written with such genious. I mean of course things like the Beatles or, you know, big rock tracks are still awesome, but they cant compete with that, not for me anyway, its s till my favourite music, it's still what I get off the most from playing, and nothing I write is ever going to work like that. So I just put my own creative spin on it. The great thing is, even if I'm not playing Bach on stage, I still get to use all of those techniques, and I play them on my electric violin, and those things that I practice 9 hours a day for (yeah, I know I have no social life), but I don't regret any of it at all. But being able to not compromise, and pack 40 life times into one… I refuse to compromise, and I don't want to have to choose between one genre or another, and the great part of that, is that I firmly believe that the path to creating truly new art is to take things that don't fit together and smash them together until they fit. That's how we've developed up till now, and it's a beautiful cycle, that you then have to repeat to advance.
Is your approach to composition a conscious decision in choices of keys and progressions or deliberately A-tonal works, or do you just let the more contemporary elements, like the beats and keys, influence you naturally?
It's definitely not a conscious thing, I know that happens with a lot of works, but I don't try to let that kind of thing affect me. I put everything together in my head, and it's honestly a lot more like just what I think, or what comes to me. I just let it happen that way, I can't deny my own influences and my training, which inevitably comes across. I love the fact that I have the playing capability to write and record all the parts myself, and create something that maybe sounds like the London Philharmonic, which is great, because we don't have the money to hire them (laughs). On the records I do everything myself and record all the instruments, so its very convenient to have that.