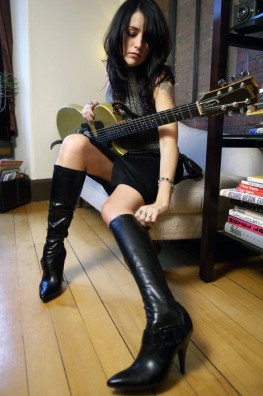 So Eileen, when I last saw you perform, I think, here in Wrexham, you were living in Essex. Now you're back 'home' in USA, and Nashville no less. Can you tell me about the how, why and when?
I lived in the UK for about 12 years. After 9/11 the world changed, of course, but for some reason I still haven't exactly pinned down, it got me pining for home. Also, my parents were getting pretty old (sorry, Mom) and I wanted to spend some time with them. I'm glad I did as it gave me some time with my Dad who passed away this year. I was booked to open for Frank Black on a pretty long US tour. So, I did that tour, then another US tour right off the back of that and then just sort of stayed. I didn't really officially plan to come back - typical of me, I never quite "officially" plan anything - I just drifted home. So, I moved back to Boston, stayed there until about a year ago this month (December), when I moved to Nashville.
You've always produced great albums, but this new one is just a bit special. I'd like to know how you feel about it and the writing, producing…
Thank you, it feels special to me too. So many reasons…not the least of which is the good fortune I have of working with The Legendary Rich Gilbert, as well as Nate and Josh (extremely talented, experienced players). Rich is one of those musicians that has really found his own voice and brings an intensity, passion and sincerity to anything he becomes involved with. Tommy Stinson recently called Rich "a hidden treasure" and he's right. The first time I saw Rich play, I was a teenager and I was stunned by his originality and fierceness. We've known of each other for years and years, watched each other perform but never worked together. As soon as we did, it just clicked for both of us. We come from the same place, musically. So, between the two of us, we produced this record ourselves and made the record we wanted to make.
This collection of songs and the performances we got on tape were reflections of a very intense couple of years in my life…my father's decline due to pancreatic cancer, the sudden death of my younger brother, the unravelling of important relationships, the building of new ones - emotional losses and gains, very intense ones, fuelled this record. They also gave me a stronger resolve to continue on my own path. Life is short. It really is.
Also, this is my fifth solo album. I think I'm finally starting to get good.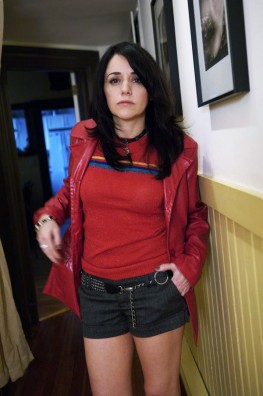 Love the new band Eileen. How did you get such a great band together?
I moved to Nashville. This town is full of some of the best players in the country. You have to really know your stuff to get work here - it's so competitive. So there is a great pool of talent to draw from. Through Rich, I've been lucky enough to develop relationships with Nate Stalfa, Joshua Hedley and Aaron Oliva - all very advanced players but who all have a varied backgrounds. They can play country (NOT an easy thing to do, despite what a lot of rock musicians might say) but also have spent plenty of time in more indie bands, playing less traditional forms of music. This album, my songs, they need players who can draw from both wells. They also need to be technically advanced as players but to put emotion and vibe first. It's difficult to find all that in one person who also has the right instincts. Then, you have to find three of them! Then, they have to think you're worth the effort! It's a small miracle to me that it happened. I'm very fortunate.
How is the music industry for you over there compared to this UK music hell-hole?
Oh, it's a hell-hole here too. The music industry is in tatters, actually - which is good and bad. Artists have new found freedom as we are no longer dependent on record companies and their ability to distribute, we have direct connection with our audiences, it is so easy and cheap to make your own albums now, etc. The only thing is, people don't pay for CDs anymore. So how do we earn? We play live, that's how and we try to get songs placed in film, TV and advertising. (Sorry, Tom Waits.) I love to tour, I love performing and I love travel. But, for an artist at my level, it's expensive to be out on the road therefore, hard to make a decent living out there. Promoters can't pay what they used to because they aren't selling as many tickets as they used to. I understand it - who can afford to spend much of their income on concert tickets? I can't so why would I expect that my fans can? But, we want to play and people, thankfully, want to see us. So we play where we can for as much as we can get - even though that sometimes is not so much - and just try to stay afloat.
The short answer to that question: Europe still loves me, thank you. In the US, I can't get arrested.