THE FEMINIST MYSTIQUE


(WITH KIND PERMISSION OF 'WOMEN WHO ROCK' MAGAZINE)
Ani DiFranco may call her latest record EVOLVE, but some things never change. She's still a musical maverick. She's still a political activist. And she's more determined than ever to convince people that there are far more dirtier words in the English language than 'feminist'.
By Michael Mueller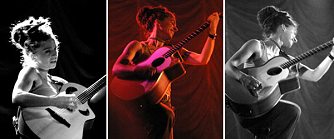 "How do I fucking define feminism?" asks siner/songwriter and warrior/poet Ani DiFranco, thumbing furiously through Webster's on her petite lap. "Ah, here it is: 'The theory that women should have political, economic, and social rights equal to those of men.' Now is that such a scary concept to identify with?"
Wait - I thought I was asking the questions here!
It's now going on 2:30 in the afternoon on a blustery day in Buffalo, and in a little over an hour I've been here at Ani's funky Victorian abode. We've discussed her new record; I've met her cat, Carlos; we've debated the delicate fan-performer relationship; and we're just in the midst of a high-spirited examination of feminism in today's society. About the only things we haven't discussed are the looming war in Iraq - oh, we'll get there - and the age-old 'story of Ani's indie success'; don't count your chickens on that one. But before we go any further, let's get you up to speed.
Sitting at a small table in the breakfast nook of her chef's kitchen, a couple of her signature Alvarez guitars handily nearby, the diminutive, dread-headed singer expresses relief that this isn't just another story on her DIY success. "There's been so much focus on my independence in the industry," Ani says. I remind her that she did, after all, set the standard for success as an independent artist. "But it's always the people who don't hear the music, who don't respond to the songs, that have asked me over and over again through the years, [takes on a reporter's voice] 'What is it about you, Ani, that has made you the indie success you are?' And it seems so obvious to me; it's just the relationship between the people and the songs. Ani pauses, and with a laugh, punctuates her rant: "People don't come out to my shows for my indie business savvy."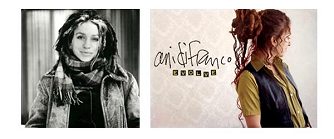 They do, however, come out for the music. Ani's latest record, EVOLVE, is her 20th Righteous Babe release - depending on how you count them - since 1989. To call her prolific is like calling a hurricane a pleasant summer breeze. It's also Ani's second album with her most recent electric band, which includes a three-piece horn section that contributes significantly to the laid-back jazz tones on the disc. "At least half of my band come from jazz backgrounds and music schools and know all that stuff that I don't know about music," Ani explains. "When I bring in a song, they talk to each other in that secret language of, like, E7, um, sustained to the, err …. But my own ears have been expanding as well. I listen to more and more jazz music myself, and I think my ideas about harmony and melody are growing from my folk roots." Ani says that going back to the standards and classics of Thelonious Monk, as well as Miles Davis - through all of his many incarnations - has helped her to musically bridge the experimental pop sounds of bands she was into (like Talk Talk) with her own brand of outside, jazzy, folk-pop on this record. Sultry numbers like the lead-off track, Promised Land, '70s funk/R&B pieces like In The Way, and the samba-like Latin heat of Here For Now all demonstrate different aspects of Ani's musical oeuvre.
Yet it's the last song recorded for the album, the title track Evolve that provides listeners with the clearest picture of Ani's 'indefinite' acoustic future. "It just sorta speaks to [my] growing out of a lot of clothes that I was wearing during the making and writing of those songs," she says of the riffed acoustic tune she recorded after letting her band go. "It really is sort of me embarking on something else, leaving behind the situation the album is mired in. There's a light at the end of the tunnel of this record that I think comes through that song."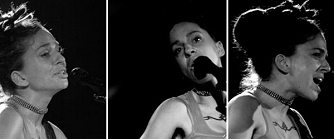 Gracious host that she is, Ani brews me some herbal tea. While we're making small talk, a rumble sounds from near my feet; it's Carlos, the same cat that appears on the back of Ani's LITTLE PLASTIC CASTLES CD. His voice, or meow, is freakishly low, rivalling the frat-boy beer belches from my college days. "yeah, he's a loud motherfucker!" says Ani with a laugh.
Speaking of loud motherfuckers, I saw Ani perform at New York's Beacon Theatre back in November. And the crowd, though loyal and supportive, occasionally drowned out Ani's voice and guitar with their loud cheers in the middle of songs. Such fan behaviour has made it easy for critics to posit the overarching stereotype of an Ani DiFranco audience as socially and politically conscious young feminists, more interested in a pep rally than music; but according to Ani, it's an unfair assessment. "It's been a little frustrating over the years," she sighs, "that the media has not noticed or seem to understand why people are there which is usually for the songs or the music."
Still, there is that contingent of fans who see 'Ani the activist' or 'Ani the feminist' rather than 'Ani the musician' a viewpoint that must be somewhat disconcerting to her. "Sometimes it is, if people only connect with just one part of the message," Ani admits. "After a number of years playing songs where the same line gets the cheering section every time - but a lot of other things in that same song go by - it does feel a little reductionist after a while." Taking a sip of tea, Ani quickly rebuts her own statement. "That's part of the glory of our differences as individuals," she says. "They're all there for different reasons, and we all see what we're looking at."
Earlier in the day, Chief U.N. Weapons Inspector, Hans Blix, had presented his Iraq report to the world, testimony viewed by many as a potential trigger for President Bush to pursue military action against Saddam Hussein and Iraq. Not since the Vietnam War era has the American public been so vocal in its anti-war protests. A staunch opponent of war, Ani is flying to San Francisco later in the week to take part in the NOT IN OUR NAME anti-war concert. "It's automatic, I'm a folk singer; this is what I do," she says with a chuckle that belies her passion on the issue. "It's hard for any of us not to feel powerless, voiceless, to feel like so much of our work is just futile," she continues. "Our power structure is not listening, changing, or abiding by the will of the people at all these days, nor is it representing [the people] through the media. I don't necessarily think we can get together and have a concert and stop a war, but we can get together to inspire, invigorate, reassure, and teach each other."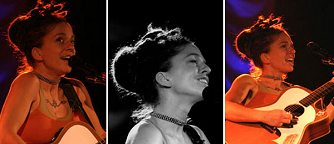 Ani previously expressed her displeasure with the current administration in her much talked-about spoken-word piece Self Evident which she penned in the days and weeks following September 11, 2001. The signature line of the poem reads, "And we hold these truths to be self-evident, that 1) George Bush is not our president…." referring to the 2000 election in which Mr. Bush lost the popular vote but won the office. "It just doesn't matter anymore, because they really don't even have to get elected, do they?" says Ani with frustration over the political process. "They just stroll into the Oval Office, especially if they can make a call to their youger brother in Florida. I really think that, once and for all, we have to become the media, as Abbie Hoffman would say: We have to spread the truth - that 'each one teach one' idea - that the power really does belong to the people. It kills me to see the untapped potential for us in this country squandered. Our supposed elected officials have forgotten themselves as public servants and have become paid corporate lackeys, by and large. Given that situation, what's the solution? It's really in our hands."
Carlos suddenly jumps into my lap. Not being much of a cat guy, I ask Ani what kind of feline he is. "Oh, you know, orange," she says, followed by spontaneous bursts of laughter from both of us. "Really, I'm not sure; I got him from the pound years ago. He's quite an extrovert."
This little distraction provides an opportunity for me to peruse the decor in Ani's breakfast nook. Amongst the photos, postcards, antique labels, art, and small knick-knack shelves containing religious icons that cover the pictachio-painted wall, is a nightlight with what appears to be the Virgin Mary flexing her biceps - a ready reminder of Ani's public support, through her music, of women's rights and feminism. "I just write from my experiences as a woman, and I don't try to mediate that for some kind of supposed universality based on a male standard," explains Ani on how the media, particularly male members, tend to wrongly interpret the messages of empowerment in her music, instead reducing her to just another angry girl. "I've become a caricature of my anger, when I'm actually so many other things," she says. "It's the ultimate irony of my existence, because I am one of the smiliest, happiest, friendliest people I know."
Because of these misconceptions, and to some extent the radical positions that women were froced to assume decades ago to gain attention to their cause, the term 'feminist' has taken on taboo status. "Who has turned feminism into a dirty word?" asks Ani with an understandably incredulous tone. "One of the things that bugs the shit out of me is the fact that we can't even use the word 'feminist' these days. It's been made taboo by a conservative media. The feminist movement in this country is one of the most powerful human liberation movements the planet has seen. We have greater women's rights here than just about any corner of the globe you look to. The world is so different, and we owe that to feminists, to women who gave their lives to secure these rights. So, to let this sort of conservative culture steal the feminist history from our consciousness and steal the respect from the people who fought and died so we could have such liberty is a travesty."
Realizing that one of the problems many people fall prey to in these types of discussions is that terms often aren't clearly defined. I suggest to Ani that we properly define 'feminism'. "Hold that thought," she says with a slap on my knee, leaving the breakfast nook to retrieve her dictionary.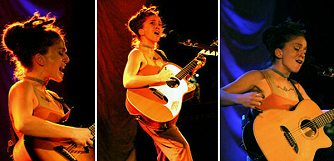 And now you're up to speed. In case you've forgotten, Ani has just given us the definition of 'feminist' according to Webster's and followed by asking this simple question: "Now, is that such a scary concept to identify with?"
Good question. In fact, it's more pertinent than many people - including many women - realize. Consider this: There is a scourge of young women today, refusing to identify themselves as feminists when they obviously are," says Ani. "That's largely because we live in a culture that has tried - so far successfully - to squash feminist history, respect of the concept, and as a result, even the word 'feminism.' The idea that any young woman who wants to make her own decisions in life is not calling herself a feminist just breaks my heart. They have no idea of the work that feminists did so that they could have the luxury of thinking that their rights are inherent."
Michael Mueller