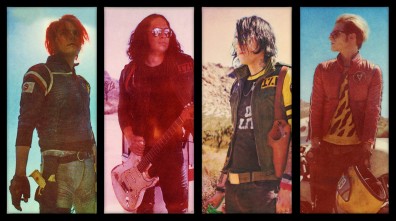 My Chemical Romance Confirm November 22nd release of new album 'Danger Days: The True Lives of the Fabulous Killjoys' on Reprise Records.
Album preceded by the single 'Na Na Na (Na Na Na Na Na Na Na Na Na)' released on November 8th
The wait for new original music from platinum-selling rock band My Chemical Romance is over. My Chemical Romance have announced that Reprise Records will release their highly anticipated fourth studio album, entitled Danger Days: The True Lives of the Fabulous Killjoys, on November 22nd, 2010.
New Warner Bros. Records Chairman Rob Cavallo, who produced the band's platinum-selling album The Black Parade as well as albums by Dave Matthews Band, Jawbreaker, and The Goo Goo Dolls, among many others, produced the album.
MTV announced a slate of exclusive cross channel programming initiatives that span multiple screens timed to the release of My Chemical Romance's forthcoming album, Danger Days: The True Lives of the Fabulous Killjoys, including the video premiere for the band's new single "SING" on November 18th, a live-stream performance of the band's record-release party on November 22nd, programming takeovers on MTV2, mtvU, and MTV Hits, and being named the MTV PUSH artist for the week of November 29th. The celebration will officially kick off on Thursday, November 18th, when MTV exclusively premieres the band's new music video for their new single, "SING" at 7:56 p.m. ET/PT. The video will debut shortly thereafter across MTV channels including MTV2, MTV Hits, and mtvU, as well as internationally. VH1 will debut the video on November 20 as part of its Top 20 Countdown.
On November 22nd, the day of the album's release, MTV.com and VH1.com will host an exclusive global live stream of the Live Nation event "Live in LA: My Chemical Romance" in which the band will debut tracks from Danger Days as well as fan favorites from their entire catalog. The concert, which will be made available to a global audience, will be available for free live streaming on the homepages of MTV.com and VH1.com beginning at 10 p.m. ET/7 p.m. PT. countries. During the live stream, fans can interact through a myriad of social media avenues. Fans in the UK and Ireland can view the show at www.MTV.co.uk. "We are really excited to partner up with MTV for the " SING" video and the record release party for Danger Days," says My Chemical Romance frontman Gerard Way. "The MTV platforms have always supported us and is amazing at getting our music and videos out there to our fans around the world, and we can't wait for them to share this event with us."
MTV2 will kick off a week-long My Chemical Romance takeover beginning November 22nd that will feature a variety of programming initiatives including music videos, exclusive interviews, and more. Subsequent takeovers will also take place on mtvU and MTV Hits. The band has also been selected to serve as MTV's PUSH artist for the week of November 29th. MTV will use its massive on-air and online reach to bring fans unparalleled access to the band ranging from live performances, music videos, interviews, and exclusive footage.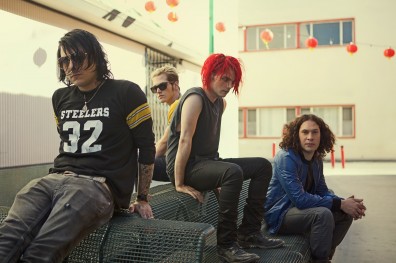 Danger Days is is the first new original music to be released by My Chemical Romance since October 2006 when the band unleashed their third album, The Black Parade, which shot to No. 2 on Billboard's Top 200 album chart, selling more than 240,000 copies in the States in its first week of release, and spawning four hit singles.
Dubbed "Album of the Year" by Blender Magazine, The Black Parade earned raves from critics (Rolling Stone called it "a rabid, ingenious paraphrasing of echoes and kitsch from rock's golden age of bombast," while Spin called it "savage and heartfelt") and cemented My Chemical Romance's status as a world-class rock band. Following the album's release, the New Jersey-bred band launched The Black Parade World Tour — their longest and most comprehensive trek yet that culminated in a triumphant hometown show at New York City's Madison Square Garden in May 2008.
** Shake online caught the band live in Manchester recently and suffice to say 'They Were Amazing. It Was A Gathering Of Souls, Not Just A Gig, An Event That Was Akin To Ziggy Stardust in 73′; A Moment In Time That Will Not be Replicated… Ever. The New Songs Sound Like David Bowie Fronting INXS With U2 Soundscapes. The Best Of The 70s, 80s, 90s In The 21st Century. This New Album Will Make Them Stadium Fillers…
The anticipation for the new record is incredible with both fans and the general public waiting to hear where this great band will take us next. It's been way too many years since bands connected with their audience like MCR do - this isn't simply music… It's a Religion!

 There will be some EXCLUSIVE ALBUM PROMO LAUNCH NIGHTS at Alternative Clubs in association with ACP Promotions with a variety of giveaways including T-Shirts, posters etc.
NOVEMBER 2010
Fri 19 London, Sin City @ The Electric Ballroom (from 10.00pm)
Sat 20 Sheffield, Reservoir Rocks @ The Corporation (from 10.00pm)
Sat 20 Newcastle, Legends (from 10.00pm)
Sat 20 Norwich, Meltdown @ The Waterfront (from 10.00pm)
Sat 20 London, St Moritz (from 10.00pm)
Sat 20 Birmingham, Subculture @ The Academy (from 10.00pm)
Sat 20 Nottingham, Distortion @ Rock City (from 9.00pm)
Sat 20 Manchester, Rock Kitchen (from 10.00pm)
Sat 20 Liverpool, Krazy House (from 9.00pm)
Sat 20 Glasgow, The Cathouse (from 10.30pm)
Sat 20 Cardiff, Bogiez (from 10.00pm)
Sat 27 Wolverhampton, Corrosion at The Civic (from 10.00pm)