Biography
Jessica Hannah "Jess" Glynne is an English singer/songwriter, signed to Atlantic Records. She rose to prominence as a featured artist on Clean Bandit's single "Rather Be" and Route 94's "My Love", both of which reached number one on the UK Singles Chart in 2014. Her debut solo single, "Right Here", reached the top ten the same year.
In 2015, she became the second British female solo artist to have five number-one singles in the UK, following her solo releases "Hold My Hand" and "Don't Be So Hard on Yourself" and her feature on Tinie Tempah's "Not Letting Go". Glynne's debut album, I CRY WHEN I LAUGH, was released in 2015 and debuted at number one on the UK Albums Chart.
Jess Glynne was born in Hampstead and raised in Muswell Hill, North London and is of Jewish origin. Her father is an estate agent and her mother worked in A&R in the music industry. She applied for the television show The X Factor when she was 15 years old, but dropped out of the audition process following a disagreement with the producers. After a period spent travelling the world, Glynne worked for a music management company in her late teens and began networking with songwriters and producers, eventually honing her artistry over four years.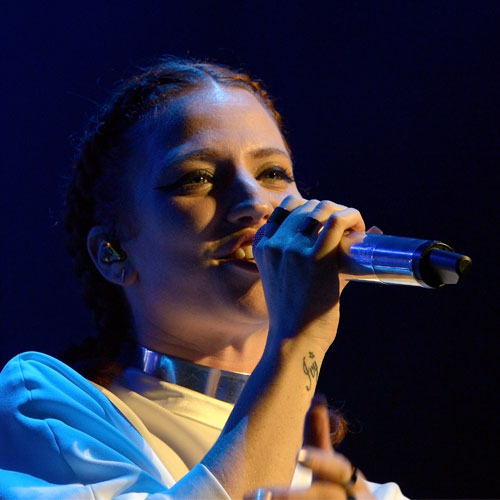 Glynne completed a year-long music course at an East London college, Access to Music London, where she met her future collaborators: songwriter Jin Jin and producer Bless Beats. One of Glynne and Jin Jin's compositions caught the attention of Black Butter Records, who signed Glynne to a publishing deal and introduced her to music managers and lawyers. Black Butter co-president Joe Gossa said of Glynne, "her voice just flipped me out…There was a fierceness to it. She can talk about everyday things in this way that's just epic". She signed a contract with Atlantic Records in August 2013, consequently leaving her job at the time in brand management for a drinks company.
Electronic group Clean Bandit heard previous single "My Love" and approached Glynne to feature on their song "Rather Be". Jack Patterson of Clean Bandit spoke of "a real subtlety of emotion in her voice…You can hear the fragility of her personality, but at the same time there's a raw power".
Released as a single in January 2014, "Rather Be" debuted at number one on the UK Singles Chart, becoming the third fastest-selling single and the most streamed song of 2014. The track attained number-one and top-five positions on charts across Europe and Oceania, and was a top ten hit on the US Billboard Hot 100. In February 2014, Route 94's "My Love" was released as a single; it also debuted at number one in the UK. Both "Rather Be" and "My Love" received nominations at the BRIT Awards for Best British Single. For her work on "Rather Be", Glynne won the Grammy Award for Best Dance Recording.
In February 2014, Glynne uploaded a music video onto the internet for her song "Home" (produced by Bless Beats). Her debut solo single, the Gorgon City-produced "Right Here", was released in July 2014 and charted in several countries, including at number six in the UK. Glynne appeared at several British music festivals during mid 2014, including Bestival, Glastonbury, Lovebox, Summer Series at Somerset House, V Festival,and Wireless. She toured around the UK from October 2014, beginning in Sheffield and finishing at the Electric Brixton in London.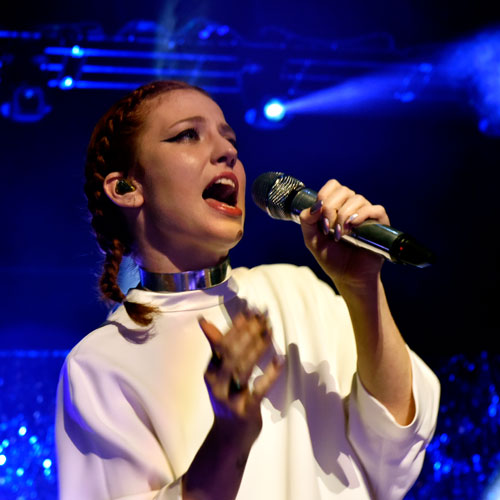 Glynne's single "Hold My Hand", her second as the sole credited lead artist, debuted at number one in the UK in late March 2015, where it spent three weeks. Glynne is featured on "Not Letting Go", a 2015 single by rapper Tinie Tempah that reached number one on the UK Singles Chart, bringing Glynne's total of UK number-one singles to four. She underwent surgery on her vocal cords in mid 2015 and consequently cancelled several live performances, including the Glastonbury Festival. Glynne's debut album, titled I CRY WHEN I LAUGH, was released in the UK in August 2015, following the single "Don't Be So Hard on Yourself".
Glynne's track "Take Me Home" was released as the official Children in Need 2015 charity single in November and peaked at number 6 in the UK becoming Glynne's eighth overall top 10 hit in the country.
Glynne's musical influences include Frank Ocean and Amy Winehouse. She cites Sam Cooke, Destiny's Child, Aretha Franklin, Whitney Houston and Etta James as inspirations for her vocal style and rappers such as Eminem, Jay Z and Kendrick Lamar for her songwriting. She has also listed India Arie, Beyoncé, Mary J. Blige, Mariah Carey and Mavis Staples as musical inspirations.Glynne said that Lauryn Hill's The Miseducation of Lauryn Hill was the album that motivated her to start writing songs.