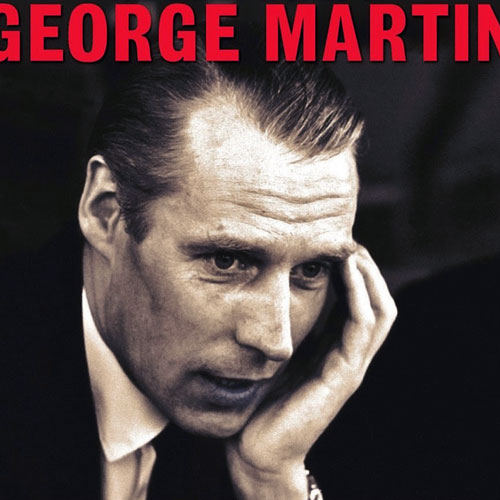 What if the Beatles had never met their producer George Martin? How different would the history of pop be? We cannot know but what we do know is that the Beatles and George Martin formed an extraordinary alliance, one that revolutionised popular music. The Beatles and George Martin turned the studio into a workshop, and the role of producer changed with it, from being a creative organiser into being a realiser.
While Sir George Martin is best known as the producer of most of the Beatles' recordings it should be remembered that his actual credits are diverse, encompassing artists ranging from 60's pop star Cilla Black, the comic talents of Peter Sellers and Spike Milligan, legendary vocalists like Shirley Bassey and Ella Fitzgerald and rock acts as different as Billy J. Kramer & the Dakotas, America and Celine Dion.
Biography
When he was six, Martin's family acquired a piano that sparked his interest in music. At eight years of age, Martin persuaded his parents, Henry and Betha Beatrice (Simpson) Martin, that he should take piano lessons, but those ended after only eight lessons because of a disagreement between his mother and the teacher. After that, Martin explained that he had just picked it up by himself. As a child he attended several schools, including a "convent school in Holloway", St. Joseph's elementary school in Highgate, and St Ignatius' College in Stamford Hill, to which he won a scholarship. When war broke out and St. Ignatius College students were evacuated to Welwyn Garden City, his family left London and he was enrolled at Bromley Grammar School.
"I remember well the very first time I heard a symphony orchestra. I was just in my teens when Sir Adrian Boult brought the BBC Symphony Orchestra to my school for a public concert. It was absolutely magical. Hearing such glorious sounds I found it difficult to connect them with ninety men and women blowing into brass and wooden instruments or scraping away at strings with horsehair bows."
Despite Martin's continued interest in music, and "fantasies about being the next Rachmaninov", he did not initially choose music as a career. He worked briefly as a quantity surveyor and then for the War Office as a Temporary Clerk (Grade Three) which meant filing paperwork and making tea. In 1943, when he was seventeen, he joined the Fleet Air Arm of the Royal Navy and became an aerial observer and a commissioned officer. The war ended before Martin was involved in any combat, and he left the service in 1947.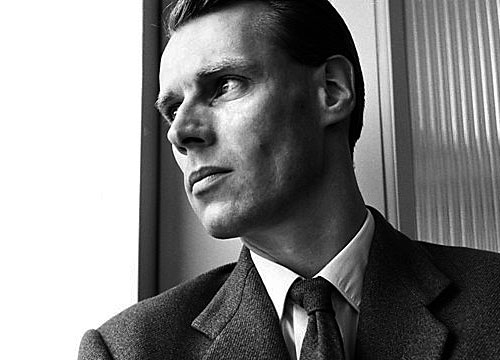 Encouraged by Sidney Harrison (a member of the Committee for the Promotion of New Music) Martin used his veteran's grant to attend the Guildhall School of Music and Drama from 1947 to 1950, where he studied piano and oboe, and was interested in the music of Rachmaninov and Ravel, as well as Cole Porter. Martin's oboe teacher was Margaret Eliot (the mother of Jane Asher, who would later become involved with Paul McCartney). On 3 January 1948 - while still at the Academy - Martin married Sheena Chisholm, with whom he had two children, Alexis and Gregory Paul Martin. He later married Judy Lockhart-Smith on 24 June 1966, and they also had two children, Lucie and Giles Martin.
Parlophone
Following his graduation, he worked for the BBC's classical music department, then joined EMI in 1950, as an assistant to Oscar Preuss, the head of EMI's Parlophone Records from 1950 to 1955. Although having been regarded by EMI as a vital German imprint in the past, it was then not taken seriously and only used for EMI's insignificant acts. After taking over Parlophone when Preuss retired in 1955, Martin recorded classical and Baroque music, original cast recordings, and regional music from around Britain and Ireland.
Martin also produced numerous comedy and novelty records. His first hit for Parlophone in 1952 with the Peter Ustinov single "Mock Mozart" – a record reluctantly released by EMI only after Preuss insisted they give his young assistant, Martin, a chance. Later that decade Martin worked with Peter Sellers on two very popular comedy LPs. One was released on 10″ format and called "The Best Of Sellers", the second released in 1957 being called "Songs for Swinging Sellers" (a spoof on Frank Sinatra's LP "Songs for Swinging Lovers"). As he had worked with Sellers he also came to know Spike Milligan, with whom he became a firm friend, and best man at Milligan's second marriage: "I loved The Goon Show, and issued an album of it on my label Parlophone, which is how I got to know Spike." The album was Bridge on the River Wye. It was a spoof of the film The Bridge on the River Kwai, being based on the 1957 Goon Show An African Incident. It was intended to have the same name as the film, but shortly before its release, the film company threatened legal action if the name was used. Martin edited out the 'K' every time the word 'Kwai' was spoken, with Bridge on the River Wye being the result.
The album featured Milligan, Sellers, Jonathan Miller and Peter Cook, playing various characters. Other comedians Martin worked with included Bernard Cribbins, Charlie Drake, Terry Scott, Bruce Forsyth, Michael Bentine, Dudley Moore, Flanders and Swann, Lance Percival, Joan Sims, and Bill Oddie. Martin worked with both Jim Dale and the Vipers Skiffle Group, with whom he had a number of hits. In early 1962, under the pseudonym "Ray Cathode", Martin released an early electronic dance single, "Time Beat" - recorded at the BBC Radiophonic Workshop. As Martin wanted to add rock and roll to Parlophone's repertoire, he struggled to find a "fireproof" hit-making pop artist or group.
As a producer Martin recorded the two-man show featuring Michael Flanders and Donald Swann called At the Drop of a Hat, which sold steadily for twenty-five years, although Martin's breakthrough as a producer came with the Beyond the Fringe show cast album, which starred Peter Cook, Dudley Moore, Alan Bennett and Jonathan Miller, and he would also produce the accompanying soundtrack album for David Frost's satirical BBC TV show That Was the Week That Was in 1963. Martin's work transformed the profile of Parlophone from a "sad little company" to a very profitable business.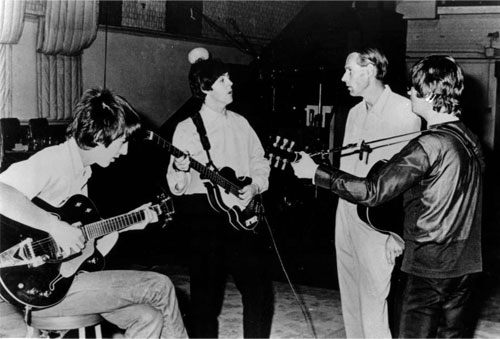 The Beatles
Martin was contacted by Sid Coleman of Ardmore & Beechwood, who told him about Brian Epstein, the manager of a band whom he had met. He thought Martin might be interested in the group, even though they had been turned down by Decca Records. Until that time, although he had had considerable success with the comedy records, and a number 1 hit with the Temperance Seven, Martin had had only minor success with pop music, such as "Who Could Be Bluer" by Jerry Lordan, and singles with Shane Fenton and Matt Monro. After the telephone call by Coleman, Martin arranged a meeting on 13 February 1962 with Brian Epstein. Martin listened to a tape recorded at Decca, and thought that Epstein's group was "rather unpromising", but liked the sound of Lennon's and McCartney's vocals.
After another meeting with Epstein on 9 May at the Abbey Road studios, Martin was impressed by Epstein's enthusiasm and agreed to sign the unknown Beatles to a recording contract without having met them or seen them play live. The contract was not what it seemed, however, as Martin would not sign it himself until he had heard an audition, and later said that EMI had "nothing to lose," as it offered one penny for each record sold, which was split among the four members. Martin suggested to EMI (after the release of "From Me to You") that the royalty rate should be doubled without asking for anything in return, which led to Martin being thought of as a "traitor in EMI".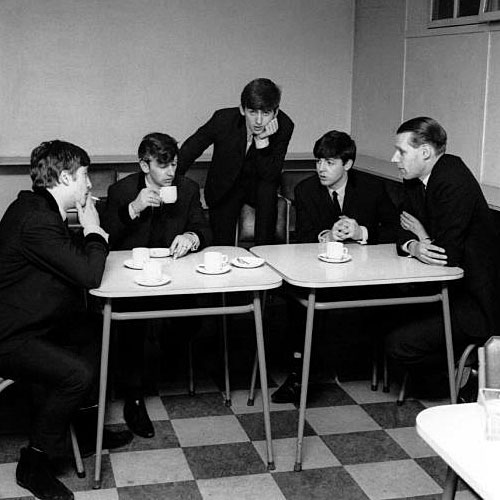 The Beatles auditioned for Martin on 6 June 1962, in studio three at the Abbey Road studios. Ron Richards and his engineer Norman Smith recorded four songs, which Martin (who was not present during the recording) listened to at the end of the session. The verdict was not promising, however, as Richards complained about Pete Best's drumming, and Martin thought their original songs were simply not good enough. Martin asked the individual Beatles if there was anything they personally did not like, to which George Harrison replied, "Well, there's your tie, for a start." That was the turning point, according to Smith, as John Lennon and Paul McCartney joined in with jokes and comic wordplay that made Martin think that he should sign them to a contract for their wit alone.
The Beatles' first recording session with Martin was on 4 September, when they recorded "How Do You Do It", which Martin thought was a sure-fire hit even though Lennon and McCartney did not want to release it, not being one of their own compositions. Martin was correct: Gerry & the Pacemakers' version, which Martin produced, spent three weeks at No. 1 in April 1963 before being displaced by "From Me to You". On 11 September 1962, the Beatles re-recorded "Love Me Do" with session player Andy White playing drums. Starr was asked to play tambourine and maracas, and although he complied, he was definitely "not pleased". Due to an EMI library error, a 4 September version with Starr playing drums was issued on the single; afterwards, the tape was destroyed and the 11 September recording with Andy White on drums was used for all subsequent releases. "Love Me Do" peaked at number 17 in the British charts, so on 26 November 1962 Martin recorded "Please Please Me", which he only did after Lennon and McCartney had almost begged him to record another of their original songs. Martin's crucial contribution to the song was to tell them to speed up what was initially a slow ballad. After the recording Martin looked over the mixing desk and said, "Gentlemen, you have just made your first number one record".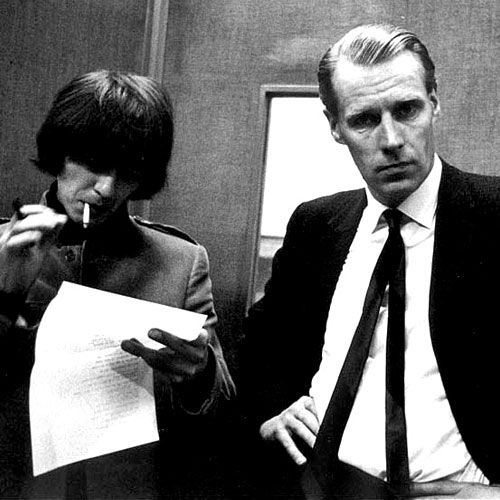 Martin directed Epstein to find a good publisher, as Ardmore & Beechwood had done nothing to promote "Love Me Do", informing Epstein of three publishers who, in Martin's opinion, would be fair and honest, which led them to Dick James.