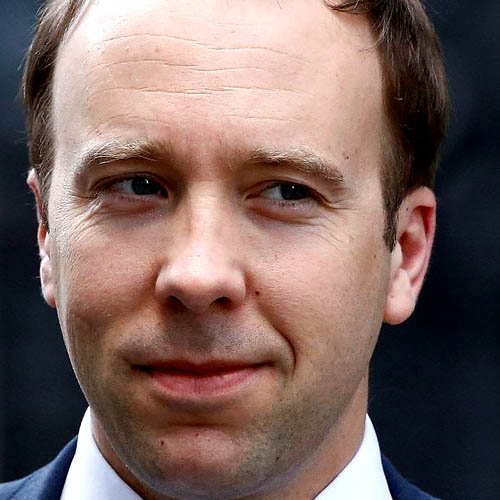 Matt Hancock - Secretary of State for Health & Social Care
In November 2018, Hancock was criticised after appearing to endorse a mobile phone health app marketed by the subscription health service company Babylon in the Evening Standard. Babylon allegedly sponsored the newspaper article. Justin Madders wrote to Theresa May accusing Hancock of repeatedly endorsing the products of a company that receives NHS funds for patients it treats, which contravenes ministerial guidelines. The ministerial code includes that ministers should not "normally accept invitations to act as patrons of, or otherwise offer support to, pressure groups or organisations dependent in whole or in part on government funding."
In April 2019, Hancock, who had previously said the NHS would face "no privatisation on my watch", was criticised for allowing 21 NHS contracts worth £127 million to be tendered.
Hancock continued in his role as Health Secretary in Prime Minister Boris Johnson's cabinet. He supported the prorogation of parliament in 2019 by Johnson which he had previously opposed while running for the leadership of the Conservative Party earlier in the year. The prorogation was later ruled on 24 September as unlawful by the Supreme Court.
In a September 2019 Channel 4 News interview, Hancock was asked to respond to allegations Boris Johnson had, at a private lunch in 1999, groped the leg of journalist Charlotte Edwardes under a table. Edwardes also claimed that Johnson did the same to another woman at the same private lunch. In his reply to the Channel 4 News question, Hancock said of Charlotte Edwardes, "I know Charlotte well and I entirely trust what she has to say. I know her and I know her to be trustworthy", a view shared by fellow Conservative MP Amber Rudd. Both Johnson and anonymous Downing Street officials denied the allegation.
Hancock drew criticism in November 2019, following the total seclusion of 18-year-old Bethany, an autistic teenager, for almost 3 years in the tiny rooms of psychiatric facilities across Britain. The minister publicly apologised "for the things that have gone wrong in her care" and claimed her case in particular was "incredibly difficult and complex." Bethany's case attracted national attention towards the detention of hundreds of young people living with autism or other learning disabilities in Britain, and demanded an inquiry into the mental health system by a parliamentary committee.
In April 2020, Hancock was heavily criticised when it emerged that the target he had set for 100,000 daily COVID-19 tests had been met only by changing the method of counting, to include up to 40,000 home test kits which had been sent, but not yet completed. This change was challenged by the UK Statistics Authority and labelled a "Potemkin testing regime."
The daughter of an 88-year-old man who died of suspected COVID-19 in a care home has formally begun legal action against the health secretary.
Sky News revealed earlier this month that Dr Cathy Gardner had served a pre-action letter on Matt Hancock demanding he retract his claim that he placed a "protective ring" around care homes, giving him 14 days to reply. She says that after failing to receive an adequate response, legal action for judicial review has begun against the health secretary, NHS England and Public Health England.
Last week, Matt Hancock, the secretary of state for health, claimed that the government had "thrown a protective ring around care homes" since the start of the coronavirus crisis.
Unfortunately, since that protective ring was thrown, 20,000 people have somehow found a way to die within it, so somewhat unsurprisingly, the quality of that protective ring, and the degree of protection it provides, is a subject on which Hancock was required to provide more detail to the House of Commons.
It has been regularly remarked upon of late that Hancock is tired. But he's not so much tired as traumatised.
At one point, the secretary of state for health found himself explaining that, actually, our care home death rate compares favourably with some other countries. Not all other countries. Not like South Korea, for example, where there hasn't been a single one. It was nevertheless an interesting comparison, given that last week, when the UK found it had the highest Covid-19 death toll in Europe, Boris Johnson began to describe country-to-country comparisons as "premature".
Hospitals discharged 25,000 patients to care homes WITHOUT testing them for Covid-19 at the peak of Britain's crisis in March and April, report reveals:
National Audit Office (NAO) report is first independent review of UK response
Found care homes shunned and  'at the back of the queue' during the pandemic
Officials also outright ignored warnings in 2019 to stockpile PPE, report found
NHS hospitals discharged 25,000 people into care homes during the peak of Britain's Covid-19 crisis without testing them for the coronavirus, a report has revealed.
Critics say the move, ordered to free up beds for an anticipated surge in seriously ill virus patients, was 'extraordinary' and shows care homes were an 'afterthought'.
The National Audit Office (NAO) report - the first independent review of preparations for the pandemic - said care homes were overlooked in order to protect the NHS.
It counted the 25,000 patients discharged between March 17 and April 15. The peak of coronavirus deaths in hospitals in England was on April 8.
More than 20,000 people have now died of Covid-19 in care homes in England and Wales, and they represent a growing proportion of all coronavirus fatalities.
Meg Hillier, chair of the public accounts committee, claimed it highlighted that care homes were shoved 'to the back of the queue' during the pandemic.
The NAO's report also revealed that plans to distribute personal protective equipment (PPE) were hampered because officials ignored warnings in 2019 to stockpile gowns and visors - and didn't have enough of them when the need arose.
This resulted in less than half of the necessary equipment being available to healthcare workers on the frontlines of the crisis.
At least 300 healthcare staff have died from coronavirus so far and bereaved families and health unions say a lack of PPE is partly to blame.
The NAO report identified a 'problematic' relationship between social care and the NHS, which saw 25,00 hospital patients discharged into care homes before there was widespread testing.
It said years of failed efforts to integrate the health service and social care sector were to blame for care homes being abandoned during the crisis.
More than one in three care homes in the country have suffered outbreaks of Covid-19.
Chair of the public accounts committee and a Labour MP in London, Ms Hillier, said: "Care homes were at the back of the queue for both PPE and testing so only got a small fraction of what they needed from central government."
RIGHT NOW, THE UK HAS THE HIGHEST DEATH RATE PER 1000 IN THE WORLD (OVER 44,500) , AND THE POOREST ECONOMIC OUTLOOK AMONGST EU COUNTRIES - THE STATE WE'RE IN