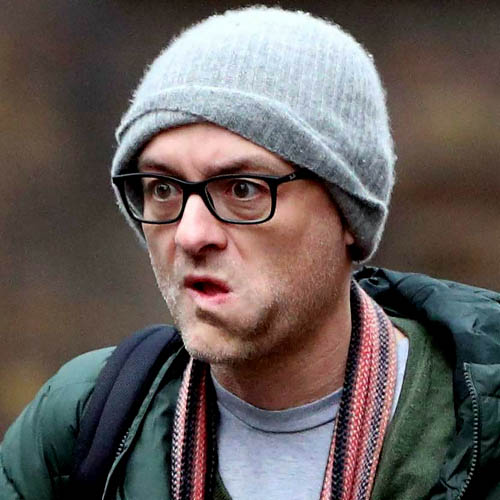 Dominic Cummings - Senior Advisor to The Prime Minister
Cummings worked for Conservative politician Michael Gove in various roles in opposition and government from 2007 to 2014. From February 2011 to January 2014 he was special adviser (spad) and Chief of Staff to Gove at the Department for Education (DfE).[9] His appointment was initially blocked by Andy Coulson from 2010 until January 2011. Cummings was later appointed in February 2011 after Coulson's resignation. In this capacity, Cummings wrote an essay titled "Some thoughts on education and political priorities", about transforming Britain into a "meritocratic technopolis"; the essay was described by Guardian journalist Patrick Wintour as "either mad, bad or brilliant – and probably a bit of all three"
n 2012, a senior female civil servant received a payout of £25,000 in a bullying case she took against Cummings and a senior member of Michael Gove's team, when Cummings was a special adviser at the Department for Education.
During his time as an official working for Gove, Cummings received a warning from the Information Commissioner's Office (ICO) for use of private Gmail accounts to deal with government business, saying it should be 'actively discouraged'. The ICO uncovered an email from Cummings in which he said: 'i will not answer any further emails to my official DfE account or from conservatives.com – i will only answer things that come from Gmail accounts from people who I know who they are'. Cummings said that this referred to the Conservative party conference, not government business.
Cummings became campaign director of Vote Leave upon the creation of the organisation in October 2015. As the leading strategist of the campaign he was credited with creating the Vote Leave slogan, "Take back control" and the claim that Brexit would allow an extra £350m a week to be spent on the NHS. His campaign strategy was summarised as: "Do talk about immigration"; "Do talk about business"; "Don't make the referendum final"; "Do keep mentioning the Charter of Fundamental Rights and the over-reach of the European Union's Court of Justice."
In March 2019, the Commons Select Committee of Privileges recommended the House issue an admonishment for contempt of Parliament after Cummings failed to appear before the Digital, Culture, Media and Sport Committee inquiry into claims of false news during the referendum campaign. The resolution admonishing him was passed by resolution of the House of Commons on 2 April 2019.
Cummings was accused by Layla Moran of hypocrisy when, not long after his appointment, it was reported that a farm that he co-owns had received €250,000 (£235,000) in EU farming subsidies. Cummings had previously described such subsidies as "absurd", complaining that some of them were handed out to "very rich landowners to do stupid things."
In August 2019 Cummings dismissed Sonia Khan, one of the Treasury's special advisers, without the permission or knowledge of Chancellor of the Exchequer Sajid Javid. The dismissal occurred during preparations for suspending parliament, which Cummings had planned and which would limit the time in which MPs could block a no-deal Brexit. According to The Guardian, Cummings believed that Khan had been dishonest about her recent contact with her ex-boss, previous Chancellor and no-deal opponent Philip Hammond, and, according to an unconfirmed report, dismissed her after summoning her to 10 Downing Street and viewing recent activity on her phones, and then asked an armed officer to enter the building and escort Khan off the premises. Former attorney general Dominic Grieve said that the cabinet secretary should hold an inquiry and that "it was wrong of the police to get involved". Dal Babu, former chief superintendent of the Metropolitan police, said it was "a shocking abuse of armed officers" and that the police should be asking questions of both Cummings and the Prime Minister about an abuse of process. The following month, The Times reported that Cummings had "seized new powers to sack ministers' advisers", as their new employment contracts stipulated that responsibility for disciplinary matters rested with the Prime Minister's Chief of Staff as well as with their respective ministers.
Javid "voiced anger" to Johnson over the dismissal of Khan and Cummings faced the prospect of a probe by a governmental ethics watchdog following the dismissal. In November 2019, following questions of a rift between Downing Street and Javid, Johnson gave his assurance that he would retain Javid as Chancellor after the 2019 general election.
However, in the weeks leading up to the reshuffle, a number of briefings in the press had suggested that a new economic ministry led by Rishi Sunak might be established, to reduce the power and political influence of the Treasury. Sunak was considered to be a Johnson loyalist, favoured by Cummings. By February 2020, it was reported that Javid would remain in his role as Chancellor and that Sunak would stay on as Chief Secretary to the Treasury, in order for Cummings to "keep an eye" on Javid.
On 13 February 2020, the day of the reshuffle, Javid resigned as Chancellor of the Exchequer, following a meeting with the Prime Minister. During the meeting, Johnson had said Javid could keep his position on the condition that he dismiss all of his advisers at the Treasury, who would be replaced with ones selected by Cummings. Upon resigning, Javid told the Press Association that "no self-respecting minister would accept those terms."
In March 2020, it was reported in The Sunday Times that during a private engagement the previous month, Cummings had said that the government's strategy towards the coronavirus was "herd immunity, protect the economy and if that means some pensioners die, too bad".
A joint investigation by the Daily Mirror and The Guardian, published on 22 May, alleged that Cummings had broken lockdown rules by travelling to Durham in late March. This report triggered criticism of Cummings at the time as the government had instructed people to remain at home unless absolutely necessary, with certain provisos. On 25 May, Cummings made a public statement in the garden of 10 Downing Street, giving the following account of his actions during the time in question.
The Mirror/Guardian investigation also alleged that police spoke to Cummings regarding a breach of lockdown rules. On 23 May, Durham Constabulary said that it was Cummings's father who had contacted them, instead of them contacting and speaking to Cummings, and that they had discussed, by telephone, matters relating to security. Following publication of the reports, the SNP leader in Westminster, Ian Blackford and the acting leader of the Liberal Democrats, Ed Davey, called for Cummings to resign if the allegations were to be confirmed, while Labour said 10 Downing Street needed to provide a "very swift explanation" for his actions. On 24 May, The Observer and Sunday Mirror alleged that Cummings had made a second trip to Durham during lockdown after returning to, and being photographed in, London. Cummings denied these allegations, and Downing Street said it would not waste time answering such allegations from "campaigning newspapers". Boris Johnson, as part of a televised update on the coronavirus situation on 24 May, defended Cummings and said he had acted "responsibly, legally and with integrity."
A YouGov poll conducted after his press conference found that 71% of the public thought that Cummings had broken the lockdown rules and 59% thought he should resign. By the following day, 61 Conservative MPs had criticised Cummings with 44 calling for him to resign or be sacked, increasing to 98 and 45 respectively by 29 May. Among Cummings's Conservative critics was Jeremy Hunt, who said that Cummings had made multiple moves that were "clearly mistakes" and risked undermining public health advice. He said that amongst these mistakes there were three apparent breaches of the advice or rules. The first was Cummings's brief return to work before they left for Durham, the second was the trip to Durham instead of staying at home and the third was the visit to Barnard Castle.
On 3 June, it was reported that Durham County Council was investigating complaints it had received that the cottage Cummings stayed in did not hold the relevant planning permission.