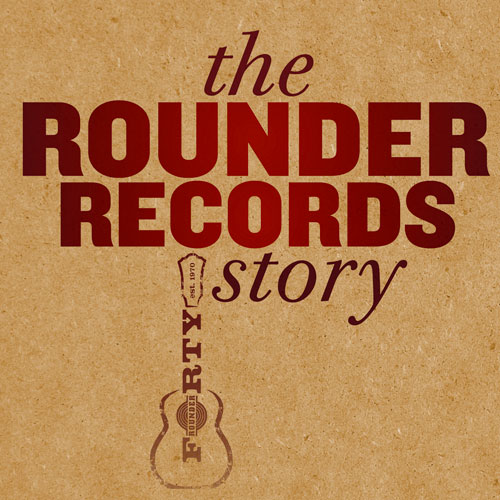 ROUNDER RECORDS 40th Birthday Year Ends With 4 CD Box Set: The Rounder Story 4 CD Box set has been put together by the Rounder Collective; which covers a decade a CD and was released at the end of November internationally. It contains one or two great pictures as in the Founders, Bill, Marian and Ken in a photo from 1971 and a 100 page story - details below. The 41st year announces new releases by Gregg Almann produced by T Bone Burnett, the very talented banjo player Abigail Washburn and Alison Krauss and Union Station, featuring Jerry Douglas, all at the top of 2011 for hopefully another great Rounder Year..
The Rounder Records Story. Produced by The Rounder Collective. Remastered by Jonathan Wyner at M-Works, Cambridge, Massachusetts. Photographs from the Rounder Archive.
With such a distinguished music history encapsulated into 40 years as an independent label, with a deep passion for traditional American music, there is obviously a major story to tell. Rounder is now owned by another great label, Decca, an understandable move considering Rounder's major and broad artist roster and the market as it now is. Rounder Records's story is an interesting, distinguished and important one, and is therefore presented here for our readers alongside the details of the music contained in this wonderful, historic and eclectic 4CD box set.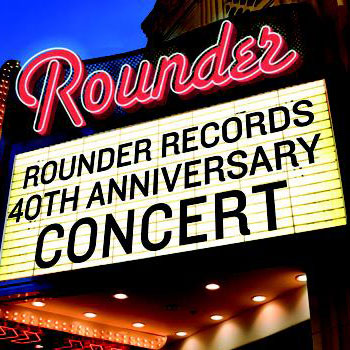 The 1970s
1. Old Home Place / J. D. Crowe and the New South 2:47
2. Take Me Back to Happy Valley / The Bailey Brothers 2:40
3. Armadillo Breakdown / Country Cooking 2:13
4. High on a Mountain / Ola Belle Reed 2:35
5. Killing the Blues / Woodstock Mountains 3:53
6. Johnson's Old Gray Mule / George Pegram 2:15
7. Cherry River Rag / Ed Haley 2:52
8. Sweet Lucy / Michael Hurley 4:03
9. Parlez-Nous A Boire / The Balfa Freres 3:42
10. Mrs. Scott Skinner / The Smith's A Gallant Fireman / The Earl of Seafield's Real / Joseph Cormier 3:39
11. Tom and Jerry / Mark O'Connor 2:14
12. Down Home Summertime Blues / Norman Blake 3:40
13. Memory of Your Smile / Boone Creek 2:32
14. Things in Life / Don Stover 3:05
15. Kitty Puss / Buddy Thomas 2:22
16. Who Broke the Lock? / Highwoods Stringband 2:51
17. Don't Put Her Down You Helped Put Her There / Hazel and Alice 3:45
18. Jula Jekere / Alhaji Bai Konte 5:02
19. The Only Way / Tony Trischka 4:17
20. Fluxology / Jerry Douglas 3:07
21. La porte dans arriere / D. L. Menard and the Louisiana Aces 3:24
22. I Ain't Broke But I'm Badly Bent / David Grisman 1:58
23. Sparkling Brown Eyes / Joe Val and the New England Bluegrass Boys 3:05
24. Who Do You Love / George Thorogood and the Destroyers 4:19
The 1980s
1. Frosty / Clarence Gatemouth Brown 3:46
2. Watch Your Step / Ted Hawkins 2:13
3. New Kind of Neighborhood / Jonathan Richman 2:43
4. I Never Go Around Mirrors / Keith Whitley. 3:17
5. Cold on the Shoulder / Tony Rice. 2:34
6. Mama's Hand / Hazel Dickens 4:30
7. A Freylekhe Nakht In Gan Eydn / Klezmer Conservatory Band 1:49
8. Babylon's Big Dog / Culture 3:58
9. Ya Ya / Buckwheat Zydeco 3:35
10. Tipitina / Professor Longhair 4:22
11. Zydeco gris-gris / Beausoleil 3:39
12. Cowboy Jubilee / Riders in the Sky 1:42
13. Let the Whole World Talk / The Johnson Mountain Boys 2:42
14. Happy Wanderer / Brave Combo 2:30
15. Classified / James Booker 3:16
16. Got To Have You Be My Man / Rory Block 2:22
17. Electricity / Sleepy LaBeef 2:20
18. Everybody Wants A Piece of Me / Johnny Copeland 2:55
19. Whitewater / Bela Fleck 3:10
20. Once In A Very Blue Moon / Nanci Griffith 2:34
21. My Blue Ridge Cabin Home / Bluegrass Album Band 3:09
22. Howjadoo / John McCutcheon 2:41
23. Viva Seguin / Flaco Jimemez 2:18
24. Me and the Boys /NRBQ 3:25
The 1990s
1. Birches / Bill Morrissey 3:20
2. Baby Now That I've Found You / Alison Krauss 3:49
3. One Endless Night / Jimmie Dale Gilmore 3:46
4. Sing It / Marcia Ball, Irma Thomas, Tracy Nelson 4:18
5. Do Whatcha Wanna, Pt. 3 / ReBirth Brass Band 4:29
6. A Virus Called the Blues / Charles Brown 6:50
7. Only One Shoe / Carrie Newcomer 3:15
8. There Is Always One More Time / Johnny Adams 3:41
9. Something in the Rain / Tish Hinojosa 5:02
10. Bed by the Window / James King 4:57
11. Give Him Cornbread / Beau Jocque 4:55
12. Valse de Kaplan / D. L Menard, Eddie LeJeune, and Ken Smith 3:19
13. High Lonesome / Longview 4:04
14. In the Palm of Your Hand / Alison Krauss and the Cox Family 3:25
15. False Friend Blues / Ruth Brown with Clarence Gatemouth Brown 4:26
16. Carnival Time / Bo Dollis & The Wild Magnolias 2:42
17. Standing Here at the Cross Roads / Roomful of Blues 4:17
18. It's Harder Now / Wilson Pickett 3:43
The 2000s
1. Don't Wait Too Long / Madeleine Peyroux 3:10
2. Down to the Wire / Son Volt 4:19
3. More than A Name on A Wall / Dailey & Vincent 2:57
4. Roll In My Sweet Baby's Arms / The Three Pickers: Earl Scruggs, Doc Watson, Ricky Skaggs 3:07
5. Man With The Blues / Willie Nelson 2:19
6. Rebel Rouser/ Jimmy Sturr 1:54
7. Versatile Heart / Linda Thompson 3:24
8. In the Middle Of It All / Irma Thomas 4:45
9. Please Read the Letter / Robert Plant and Alison Krauss 5:53
10. Through the Window Of A Train / Blue Highway 3:08
11. Resist / Rush 4:26
12. Small Swift Birds / Cowboy Junkies 3:39
13. Basement Apt. / Sarah Harmer 4:07
14. I Have a Need for Solitude / Mary Chapin Carpenter 3:42
15. Lonesome Wind Blues / Rhonda Vincent 3:02
16. Me and John and Paul / The Grascals. 3:13
17. The Crow / Steve Martin 3:23
18. The Only Sound That Matters / Robert Plant 3:44
19. Trashcan / Delta Spirit 3:37
20. Fibber Island / They Might Be Giants 2:10
21. Back To Me / Kathleen Edwards 3:31